Michelle Obama's $50,000 Luxury Shopping Spree Boosts Agent Provocateur Sales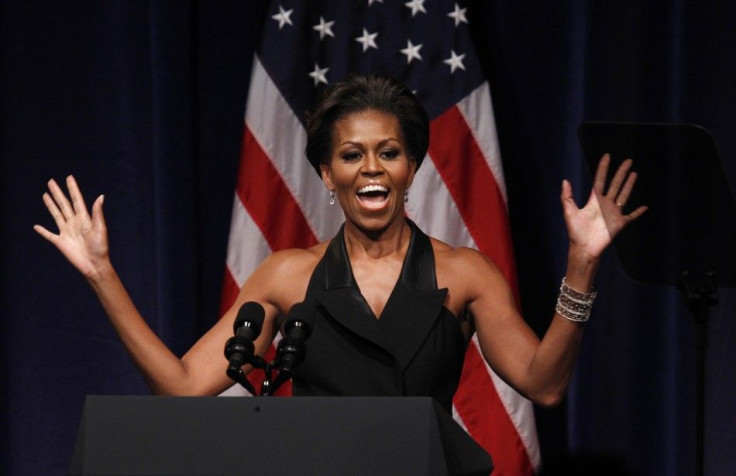 U.S. First Lady Michelle Obama has given the sales of luxury lingerie brand Agent Provocateur a major boost, following a $50,000 luxury spending spree along with the Queen of Qatar Sheikha Mozah.
Their lavish purchases contributed to a 12 percent increase in sales of the company, according to recent reports.
Founded in 1994 by Joseph Corré, famous designer Vivienne Westwood's son, the high-end lingerie retailer brand is known for its colourful and fashion forward creations. In fact, some of the brand's handmade Calais lace corsets sell for around £900.
Since its inception, the brand has been widely received by the celebrity community due to the celebrity models used for most of their advertising campaigns.
Celebrities, including Christina Anguilera and Beyonce Knowles, were often seen at the brand's stores in recent months. Although the brand's CEO Gary Hogarth did not confirm if the First Lady was among the company's high-profile clientele, he did mention that the label had garnered several unexpected famous names in the U.S. lately.
According to the Telegraph, last-minute purchases of lace corsetry and satin bras pushed Christmas trading across the eight weeks from Nov. 27 up 8.1 percent on a like-for-like basis, and 15.2 percent overall. In the last 43 weeks, trading has been up 12.5 percent on a like-for-like basis and 21.6 percent overall, outstripping most of its retail rivals.
The brand has around $40 million annual sales with a budgeted increase of nine percent same-store sales this year in the U.S., say reports.
Apart from this, the label is reportedly planning to have around 11 retailers in the U.S. this summer with a further increase in the number of total stores globally to around 100 in the next three years.
© Copyright IBTimes 2023. All rights reserved.