Microsoft Surface Pro Release Imminent: Specs, Battery Life Questions Answered By Panos Panay And Team On Reddit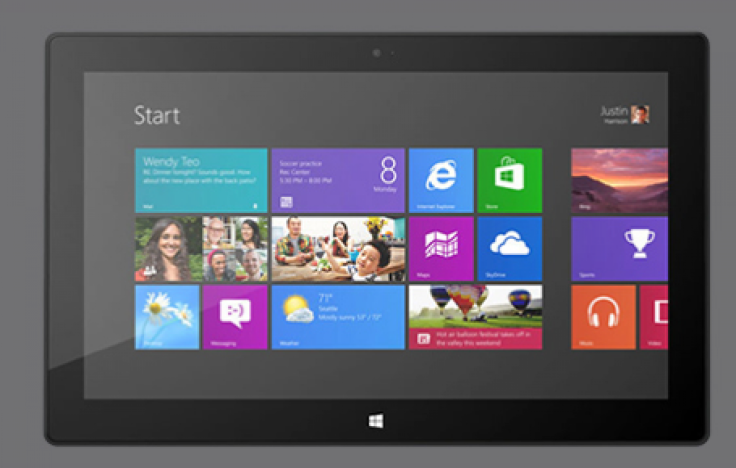 Microsoft is ready to release its Surface Pro tablet with Windows 8, better known as simply "Surface Pro," this Saturday, Feb. 9, via a range of retailers and resellers including Staples, Best Buy, and the company's own physical and online stores.
To help celebrate this long-awaited release, Panos Panay, corporate VP at Microsoft and general manager of the Surface project, took to Reddit with his Surface team on Wednesday afternoon to answer questions from users and fans about Windows 8, the Surface Pro, and other Microsoft-related products and services.
Here, we've compiled some of the best questions from Reddit, as well as the best answers from Panay and his Surface team.
Question: Can you explain the branding choice to use "RT" and "Pro." I am a Web Designer, and none of the people I work with understood that there was another version of Surface coming when RT first came out.
Answer: Thanks for asking this - Windows 8 introduced a lot of change from the UX to the app model to the store. Of course that all started with an expansion of the platforms we run on to include ARM. When we designed the new Windows runtime (WinRT) we designed it to be cross platform so new Windows 8 apps could run on both X86 and ARM platforms. Windows RT is what we called the version of Windows that runs on ARM because it is compatible with WinRT apps. You're asking a more general question and we haven't faced having to explain a range of platforms since the introduction of Windows NT and will keep investing in driving clarity.
Question: Why did Microsoft not work at improving the battery life of the Pro? Reviews put it between 4 to 5 hours of battery life, which is much lower than competitors. Surely something could have been done?
Answer: Awesome question. The product was designed to take full advantage of Windows 8 coupled with the Ivy Bridge core processor from Intel. We created a product that did not compromise speed, performance in any way. With that, we wanted to be the best notebook/laptop product in its class, but still deliver you the tablet form factor. This product is optimized in every way to take advantage of the full third-generation core i5 it runs, yet give the best battery life. If you compare it to say a MacBook Air, you will quickly see that pound for pound in battery size vs. battery life, you will find optimizations that puts Surface best in its class.
That said we picked a smaller battery to be sure we were able to give you the same performance and to keep it thin. This kept the weight under 2lbs, and still kept it thin enough to take advantage of our great Windows work for inking and give you a great inking experience (like pressure sensitive inking, ability to do kanji, great sketching). While these tradeoffs are challenges as much as they are opportunities, we think given the performance and experience you will be getting, it is an exciting product.
Question: Does Microsoft have any plans for an external battery or for a thicker keyboard cover that has an extra battery?
Answer: That would require extending the design of the accessory spine to include some way to transfer higher current between the peripheral and the main battery. Which we did ...
Question: Why did you allocate the storage space in the way you did? Surely you could have anticipated the bad press you're currently getting for shipping with relatively low free storage space?
Answer: We designed Surface Pro (and the allocation of disk space on our systems) to have the power of full Windows 8, the ability to have a simplified and fast upgrade to full Office and the confidence of a recovery image already available on your device. Beyond the flexibility and confidence this provides, we also include an ability to extend your storage via microSDXC, USB 3.0 and SkyDrive (including 7GB of free storage). Windows does provide tools that allow you to free space by easily removing applications you are not using as well as move the recovery image to a USB thumbdrive. (UPDATE) We decided to ship a Pro 64GB sku as it provides full Windows 8 and enough storage for a number of large application installs such as games, productivity apps, etc., which usually run in the multiple GBs. It also provides you flexibility to extend storage should you need. If you plan to carry more personal items with you locally, our 128GB may be the better option for you.
Follow-Up Question: Makes sense, but at the same time, wouldn't providing a (dirt cheap at this point) USB flash drive with the recovery image in the box have given nearly the same end result, while also removing this whole disk space issue?
Follow-Up Answer: We could have done this, but then there would be a chance it would be lost. We give you the ability to make one if you choose and free up the space. … Available disk space is a design choice and a tough one to make as an engineering team. It is a clear set of tradeoffs to provide the customer more space while providing them the tools out of the box. We created a simple disk image with only a few critical applications out of the box installed to provide choice.
There has [sic] also been questions about why including the recovery image by default. Ideally, you will never need your recovery image, however this is a choice we would prefer the customer to make vs. having the customer need the recovery image not realizing they needed to create one themselves.
Question: Why no docking station?? You're so close to full desktop replacement here!
Answer: Hey, this is Andrew Hill, I lead the Mechanical team. The docking connection is a great question; I have been using my pre-production unit as my main machine for a while now. When I am at my desk I plug in a Mini Displayport and a USB cable and go to work. Others among us take advantage of docking station solutions that are available to drive displays over USB3.
Follow-Up Question: You mean you plug in mini-DisplayPort, USB 3.0, and the power cord to go to work, don't you? Sure you can see how for future revisions, a single docking connector to provide all of those in one cord would be much better?
Follow-Up Answer: Hey, Ralf here. I use Solid Works and other CAD software on my Pro. I basically walk up to my monitor and plug the mini display port cable into my device and go to work. Surface is meant to be a super mobile notepad-style tablet, so we basically built our dock right into the product. Today you can attach different keyboards and find your style of color and typing, but this is not where it will stop. If you look at the Surface Pro connector, you will notice additional contacts that provide opportunity for more cool things to attach.
Question: Why (now that it's almost out) was there a three-month gap between the Surface RT and Surface Pro? Since it looks like you guys didn't get any super early access to Haswell chips (or any other tech), I'm not sure what the reason was behind the delay.
Answer: This is simple. We started the Pro 3 months after we started Surface RT :-) That is exactly when we staffed the team to go and bring this product to life.
Question: What additional pressure can MS put on partners like Twitter, Flixster, and others to create more robust Win 8 apps? I would love to see more partners take the approach of Major League Soccer, who have built a very functional app that is also a thing of beauty to use on the Surface and on desktops.
Answer: At Windows 8 launch we talked about the Store as a "grand opening" because even though we felt great about the day 1 app selection we knew we were just getting started. In the last two months we have seen over 100M app downloads and since GA we have seen the selection grow by four times over. I think we added 10K apps in the last month. Those are all big numbers but don't exactly address your question about what we are doing with the top ecosystem partners to make high-quality, in-depth apps. Our relationships with each of these partners is unique and in some cases we are supplying test hardware, engineering support or other kinds of support to help.
Question: Why the decision to go with the DisplayPort output instead of full HDMI? How will you continue to convince developers to create Windows Store applications of their existing x86 software while still selling this product?
Answer: Hi, this is Ed from the hardware development team. Displayport on Pro can drive an external monitor with resolutions up to 2560x1600p. We wanted to give the most flexibility with monitors available today, and generally speaking most HDMI monitors are limited to 1080p.
Question: As many reviews have pointed out, the Surface Pro has a very high resolution for a 10.6" screen, which has made it so that it is scaled to 150% to be usable on the desktop. Windows 8 doesn't allow you to run independent scaling between the Surface Pro and an external monitor when using an extended display option. I want to keep scaling at 150% on the Surface Pro, and have scaling on my external display at 100%. Are there plans to fix this in Windows 8?
Answer: The Windows team is aggressively working on this feature to fix this for all high-resolution Windows devices. We don't have a date yet to share, so sorry. But in the meantime here are some things I do to maximize my external monitor experience …
1. I personally use 125% scaling ... and like that better for what I use Surface Pro for … see more things on the screen ... and the size of the text suits me just fine.
2. Next I make sure my Second Screen is set to Extended mode.
3. Then I adjust my Office apps using the built-in zoom control (lower right of office apps) to set the desired text size. In Windows 8 the Desktop can be thrown on your second monitor and operate all your office apps ... nice.
4. For Outlook if I have on my second monitor I switch Outlook into mouse mode.
5. Also in Outlook you can change your Zoom Setting in new message (compose window under zoom) ... and it will also persist (which is nice).
6. In IE desktop ... same thing ... the zoom persists on the desktop.. And I use IE 10 desktop in desktop mode ... and the touch version of IE10 on my Surface modern screen.
7. You can also change the width of the cursor under Ease of Access.
8. Also … not a must but, if you use a high-resolution external monitor it also help a lot.
About The Surface Pro
Unlike the Surface RT tablet released in December, the Surface Pro is a fully realized tablet-laptop notebook hybrid that can run the new Windows 8 operating system from Microsoft. The components are packed into a dark titanium VaporMg case, measuring 275mm x 173mm x 13.5mm, and comes with a Surface pen for writing and a built-in kickstand for hands-free use.
Still, the key differentiator between the Surface Pro and the Surface RT is the processor: Simply put, Intel's presence in the Surface Pro allows Microsoft's laptop to take full advantage of the new Windows 8 platform. The Surface Pro is not inhibited by any incompatibilities between Windows 8 and the ARM processor in the Surface RT, which means it can run the full Windows 8 OS, as well as any standard Windows desktop applications, including support for any legacy apps or Windows 7 programs, as well as all the new Windows Store apps.
Microsoft's Surface RT was powered by an ARM processor, which simply can't achieve the computational speed of most modern laptops today. Microsoft believes it will have better luck with the Pro, which is powered by a beefier Ivy Bridge i5 Core processor with Intel's newest HD 4000 graphics and 4 GB of RAM.
The Surface Pro has the same 10.6-inch touchscreen as the RT model, but the Surface Pro's ClearType HD Full 1920 x 1080 pixel display resolution is significantly sharper than the RT's 1366 x 768 ClearType HD display. Better yet, the Surface Pro features 10 different points of multitouch support, compared to just five points of multitouch support on the Surface RT.
The Surface Pro features two 720p HD Lifecams centered on the tablet's front and rear sides, as well as a USB 3.0 port, a micro SDXC card reader, a mini DisplayPort, stereo speakers, a headphone jack and a cover port. The laptop itself is packed with an ambient light sensor, accelerometer, gyroscope, compass and support for wireless 802.11 a/b/g/n bands, as well as Bluetooth 4.0. However, since the Surface Pro is a laptop, the Pro can only achieve roughly four to five hours of battery life, compared to the Surface RT's 8 to 9 hours of life.
Starting this Saturday, Microsoft will sell the Surface Pro with 64 GB of storage for $899 and 128 GB of storage for $999.
© Copyright IBTimes 2023. All rights reserved.