MicroStrategy Sits On $30M Unrealized Profits On Its BTC Holdings As Bitcoin Pushes Above $30K
KEY POINTS
Bitcoin broke through the $30,000 price level Thursday
The price surge which later reached $30,245 gave MicroStrategy's BTC holdings a value of $4.2 bn
BTC saw a 0.65% loss and was trading in the red zone at $29,977.63 as of 3:11 a.m. ET on Friday
Enterprise business intelligence application software vendor MicroStrategy is currently sitting at approximately $30 million in unrealized profits from its $4 billion bet on Bitcoin, the world's largest cryptocurrency by market capitalization, as the crypto asset surged this week and traded above the $30,000 price level.
This year seems to be profitable for Bitcoin investors, and following a good first quarter, the positive momentum of the maiden crypto lingered into the second quarter where it breached the $31,000 price level in April.
While price correction ensued and the cryptocurrency market faced regulatory enforcement on some of its major players and large market crypto assets, BTC started its price rally again.
The uptrend began when the New York-based multinational investment company BlackRock filed for a spot Bitcoin ETF application in the U.S. Securities and Exchange Commission (SEC) and was continuously renewed as other Wall Street titans like Invesco, WisdomTree and Valkyrie hopped onto the bandwagon.
MicroStrategy, by far the largest institutional holder of Bitcoin after spending $4.17 billion to acquire about 14,000 BTCs at an average price of $29,803 per coin, was among those that benefited from the crypto asset's price rally.
When BTC traded above $30,045, the Bitcoin holdings of MicroStrategy nullified all the losses it incurred over the past couple of months. Later, BTC traded at $30,245 giving the company's Bitcoin holdings a value of $4.2 billion, with around $30 million in unrealized profits.
MicroStrategy has always been bullish toward Bitcoin, especially its co-founder and current executive chairman Michael Saylor, who is not only a Bitcoin maximalist but also a BTC evangelist.
His most recent tweets reaffirmed his conviction about Bitcoin and predicted that its market dominance could skyrocket by up to 80%, in the long run, should the U.S. regulators continue to crack down on other crypto assets, classifying them as securities.
Saylor, in his recent interview with Bloomberg, also "discussed the appeal of #Bitcoin for global citizens seeking wealth preservation while struggling with the challenges of political volatility, currency debasement, bank instability, & counterparty risk in countries like #Turkey."
Bitcoin, the world's first-ever crypto asset, retreated to a much lower price a few hours after it broke through the $30,000 price level Thursday.
BTC saw a 0.65% loss. It was trading in the red zone at $29,977.63 over the past 24 hours with a 24-hour trading volume down by 39.61% at $18 billion as of 3:11 a.m. ET on Friday, according to the latest data from CoinMarketCap.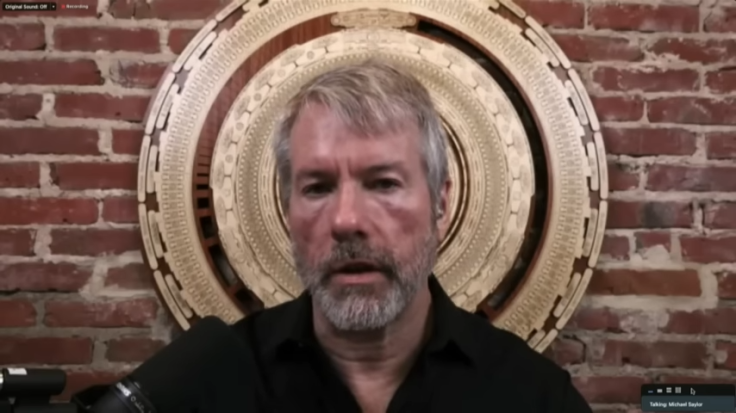 © Copyright IBTimes 2023. All rights reserved.