'Midnight, Texas' Official Trailer: 5 Things We Like About The New NBC Series [VIDEO]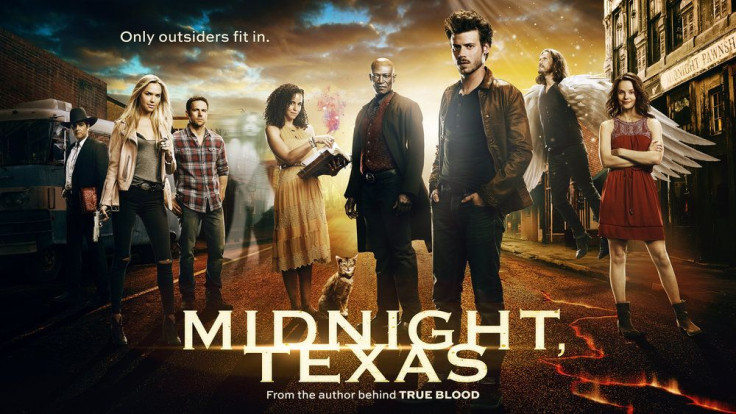 What happens when all of the world's supernatural creatures start living in one place? You get "Midnight, Texas"! NBC's new TV show, which premieres on Tuesday, July 25 at 10 p.m. EDT, tells the tale of a remote town in Texas called Midnight which acts as a haven for all supernatural creates – vampires, witches, werewolves, psychics, mysterious assassins and even angels!
The show stars "Blindspot" actor François Arnaud as a psychic named Manfred who can communicate with spirits. In the official trailer that was recently released by NBC, Manfred settles down in Midnight after running away from places (and people) his whole life to find that he isn't the only odd one living in this small town.
READ: "Shades Of Blue" renewed or cancelled by NBC?
Manfred meets Bobo (Dylan Bruce), a pawn shop owner, a witch named Fiji (Parisa Fitz-Henley), a beautiful and mysterious assassin Olivia (named Arielle Kebbel) and a wise vampire named Lemuel (Peter Mensah). He also romances a writer named Creek (Sarah Ramos) and acquaints himself with an angel named Joe (Jason Lewis). Midnight also is home to a Reverend Emilio Sheehan (Yul Vazquez), who most people believe is a werewolf.
In Season 1, a new and mysterious evil threatens to destroy the town and its inhabitants.
Here are five things we liked about "Midnight, Texas" so far:
1. It's Based On A Trilogy By Charlaine Harris, The Author Who Penned "True Blood"
Remember "True Blood"? The hit HBO show was based on a series of books written by Charlaine Harris. "Midnight, Texas" is based on a best-selling trilogy by Harris so you can expect some of the "True Blood" magic to be present in this new TV show.
2. It Might Fill The Void Left By The End Of Several Supernatural Shows
Given that "The Vampire Diaries" has ended and "Teen Wolf" is on its last season, many fans of these shows will feel a void in July. This new TV show might fill the vacuum left by the end of popular supernatural shows.
3. A Star-Studded Cast
The cast includes many known faces including "Sex And The City" actor Jason Lewis and Dylan Bruce from "Orphan Black."
4. A Supernatural Gang
When a witch, a vampire, a psychic, an assassin and a werewolf band together to form a gang to fight evil, there is sure to be lots of drama and interesting scenarios.
5. A Great Summer Series
With a number of fall shows winding down, summer is the perfect time to indulge in a new series.
"Midnight, Texas" premieres Tuesday, July 25 at 10 p.m. EDT on NBC.
© Copyright IBTimes 2023. All rights reserved.