Milo Yiannopoulos Book Deal: Banned On Twitter, Controversial Breitbart Editor Signs With Simon & Schuster For Autobiography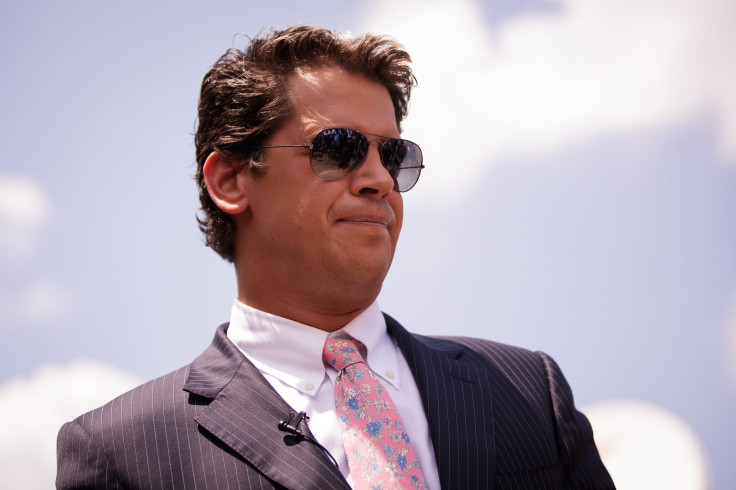 After being banned on Twitter, controversial conservative personality Milo Yiannopoulos resorted to a more traditional medium to share his views: a book. Yiannopoulos signed a deal to write an autobiographical book with an offshoot of publisher Simon & Schuster, the Hollywood Reporter said Thursday. Threshold Editions reportedly gave Yiannopoulos a $250,000 advance.
"I met with top execs at Simon & Schuster earlier in the year and spent half an hour trying to shock them with lewd jokes and outrageous opinion," he told the Hollywood Reporter. "I thought they were going to have me escorted from the building – but instead they offered me a wheelbarrow full of money."
Yiannopoulos, an openly gay right-wing commentator and outspoken critic of political correctness was permanently banned from Twitter in July after tweeting at Ghostbusters actress Leslie Jones. Yiannopoulos was accused of being racist and sexist following comments he made and promptly removed from Twitter.
"They said banning me from Twitter would finish me off. Just as I predicted, the opposite has happened," he told the Hollywood Reporter. "Did it hurt Madonna being banned from MTV in the 1990s? Did all that negative press hurt Donald Trump's chances of winning the election?"
Authors and journalists took to Twitter following the announcement of his book deal to decry Simon & Schuster's choice. Some called for a boycott of the publisher altogether.
"Paying a bigot to be a bigot is bigotry. Shame on you, @simonschuster," wrote author John Corey Whaley.
Yiannopoulos is also an editor for Breitbart News. He co-wrote an article for the outlet in March titled "An Establishment Conservative's Guide to the Alt-Right." Yiannopoulos has a large YouTube following and is currently on a tour of colleges and universities around the country in what is called his "Dangerous Faggot Tour."
"Every line of attack the forces of political correctness try on my fails pathetically. I'm more powerful, more influential and more fabulous than ever before, and this book is the moment Milo goes mainstream," said Yiannopoulos. "Social justice warriors should be scared – very scared."
© Copyright IBTimes 2023. All rights reserved.