Mingyu, Jeon Somi Dating? SEVENTEEN Idol Spotted At Star's After-Party
KEY POINTS
Kim Mingyu was recently spotted at Jeon Somi's "Game Plan" after-party
Mingyu attended the event alongside his bandmates Woozi and The8
Rumors circulated that Mingyu and Somi were dating after the two interacted
Another SEVENTEEN member got entangled in dating rumors. But this time, it's involving another famous K-Pop idol in the industry.
Fans speculate that Kim Mingyu and Jeon Somi could be dating after the former was spotted at the latter's after-party in celebration of her comeback album "Game Plan," released Monday last week.
Though the 26-year-old face of the group attended alongside his bandmates Woozi and The8, one eagle-eyed social media user observed that Mingyu seemed to have had a special interaction with the 22-year-old Canada-born singer.
On a South Korean online forum site, a user uploaded pictures from Mingyu and Somi's respective Instagram accounts. In one photo, the SEVENTEEN member could be seen flaunting his party outfit, which consisted of jeans, a striped shirt and a see through-cardigan.
The other photo, posted by Somi, showed off "Game Plan" merchandise worn by an unidentified person, whom some users speculated was Mingyu since he seemingly wore the same cardigan as seen in the other photo. Seeing the similarities, the user claimed that the two stars could be dating.
But most fans were not convinced by the photos and refused to believe the rumor.
"Spreading rumors again!!!" one user commented on the post, while another wrote, "Mingyu, The8 and Woozi went to Jeon Somi's event together. The bag was from the event."
"Even if they are really dating, I don't think they would make it this obvious since a member of the same group is being harshly criticized on SNS," a third user said, referring to SEVENTEEN member Joshua's recent dating controversy.
On the other hand, other users expressed how happy they were Somi seemingly used Mingyu's back to promote her merchandise, claiming that it was rare to see such interactions between K-Pop idols.
The "Fast Forward" singer's original post also included photos of her posing with other K-Pop idols such as TWICE's Chaeyong, Nayeon and Jihyo; BTS' RM, HyunA, GOT7's Yugyeom and her former I.O.I bandmates Chungha, Kang Mi-na, Yoo Yeon-jung and Lim Na-young.
Mingyu, Somi and their respective agencies — Pledis Entertainment and The Black Label — have yet to address the dating rumor.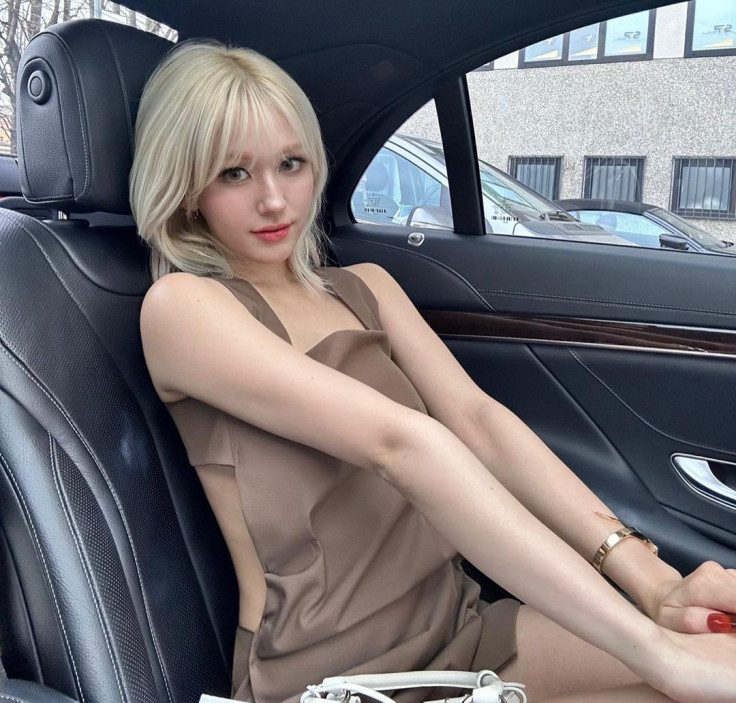 © Copyright IBTimes 2023. All rights reserved.