WATCH: Fans Go Crazy Over Viral Jeon Somi, HyunA Kissing Video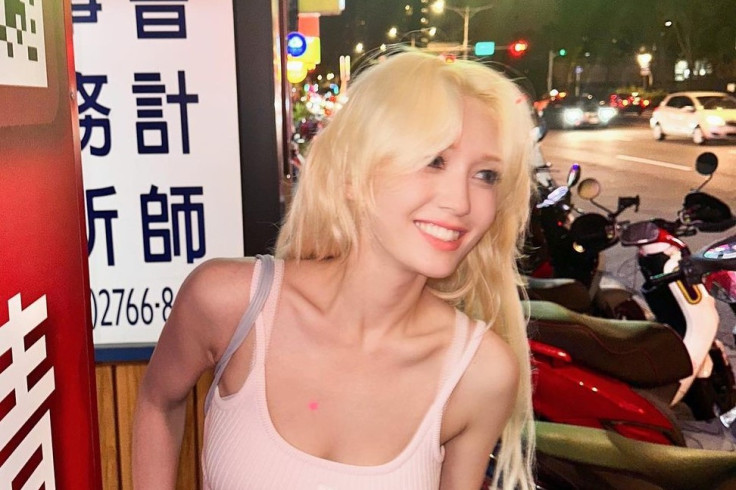 KEY POINTS
Singer-songwriter HyunA updated fans with a new Instagram post on Wednesday
In the post, she uploaded a photo and a video with South Korean singer Jeon Somi
The video showed Jeon Somi kissing HyunA first on the cheeks, then on her lips
South Korean singers Jeon Somi and HyunA turned heads for kissing on camera.
The two K-Pop stars went viral after HyunA's Instagram post got picked up by Pop Base, a Twitter account with 1 million followers featuring pop culture-related entertainment news and updates.
On Wednesday, HyunA took to Instagram to congratulate Jeon Somi for her latest music release. In the post, she attached a photo of them and a video showing Jeon Somi kissing her on the cheeks and the lips.
She captioned her post, "Congratulations, Somi. Eat well and show us all you have prepared."
Shortly after, Pop Base picked up the post and shared the kissing video on Twitter. The video went viral and has since gained 4 million views, over 11,200 reposts, 12,400 quotes, 94,600 likes and 6,558 bookmarks.
As of press time, more comments and tweets from netizens regarding the viral video are still coming.
The kissing video of the two female South Korean singers created a buzz online, with netizens sharing their reactions.
"Oh, Somi. Our lesbian queen!" one user claimed, while another said, "Somi dropping a gay anthem and now kissing girls... Oh, we know what you are."
"Everyone saying [these are] straight girls is so funny because Somi has been publicly flirting with women for her entire career. [S]he literally doesn't [give a f—]," another user commented. A different user wrote, "[B]etween this and the matching tattoos, the tattoos are gay-er."
"[O]h my GOD, [I] used to work with this older gay [K]orean man at [S]tarbucks, and he was always trying to set me up with his cousin, so [I] asked what she looked like and show[ed] me a picture of HyunA and [I] was like? [Be f—-- for real] and he said she's bi and maybe [I'm] starting to believe him," another user claimed.
"Well, now we know why [she] and Dawn broke up," claimed a sixth user.
While others labeled the two singers lesbians, others claimed it was how straight girls kiss.
"[They are] straight girls at a sleepover," said one user, while another one tweeted, "[You] can tell who has never had touchy straight friends based on how they interpret this video. [T]his is just a regular [T]uesday for heterosexual women."
"This is the straight girls hanging out meme," quipped another user.
HyunA seemed to be pertaining to Jeon Somi's latest comeback in her congratulatory post.
On Monday, Jeon Somi released her EP "Game Plan" and unveiled the music video for the album's title track, "Fast Forward," per NME Asia.
In the music video, the 22-year-old singer was seen riding a motorcycle and stopping outside a club before dancing her way through the crowd.
"Game Plan" came after Somi released her debut studio album "XOXO" in October 2021.
© Copyright IBTimes 2023. All rights reserved.