Miss USA 2011: Watch Alyssa Campanella, Miss California get crowned winner [VIDEO]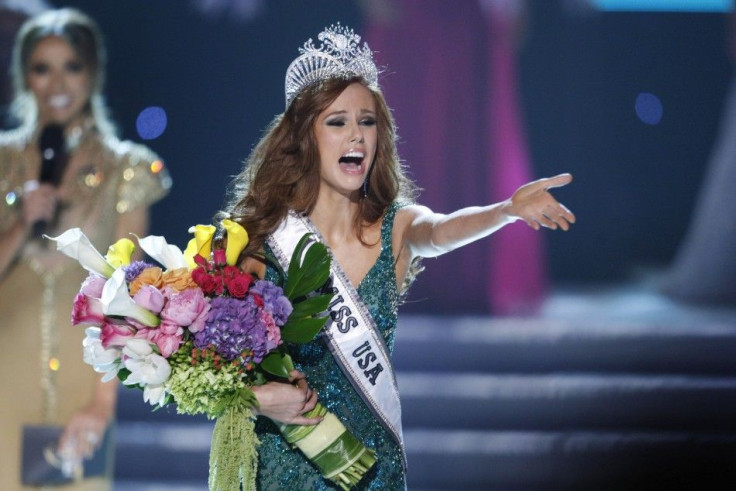 Meet the new Miss USA, 21 year old Alyssa Campanella from California.
The Miss USA Pageant was held on Sunday, June 19 at the Theatre for the Performing Arts at Planet Hollywood Hotel and Casino in Las Vegas, Nevada. Not to be confused with the other beauty competition, Miss America, Miss USA was hosted by Bravo's Andy Cohen and E!'s Giuliana Rancic.
Miss California, Alyssa Campanella, was crowned Miss USA. In the final, she beat out her self-described best friend, Miss Tennessee, Ashley Durham.
During the competition, Giuliana Ranic asked the 21-year-old model what she enjoys and Campanella answered that she's a true history geek.
She said, I'm obsessed with the Stuart and Tudor era. ... Whenever I go to Barnes & Noble, I'm always in the history section and that is where you will find me. I watch 'Games of Thrones,' I watched 'Camelot' - I know those are fantasy but I also watch 'The Tudors,' So I'm a huge history geek.
Next up for Campanella is a trip to Brazil in September to represent the United States at the Miss Universe Pageant.
Host Giuliana Ranic told OK! Magazine that she once vied for the title of Miss Maryland.
I actually was in the Miss Maryland USA pageant twice at 18 and 10, and had I won, I would be going to the Miss USA pageant, Rancic said to OK Magazine at the Planet Hollywood Resort and Casino in Las Vegas. But I totally bombed twice. One time, I was not feeling confident at all, and the next year, I actually made it to the semifinals, and my interview question, I went around in circles and gave the worst answer ever. I completely tanked the interview.
Rancic went on to reveal some details of the question that she believed ruined her chances to be crowned Miss Maryland.
It was something about 'what would you do with the title of Miss Maryland?' and I said, 'well, I want the title because it will give me - oh wow - it will give me the um' - what I was trying to say is that it would give me access to different organizations and opportunities, and instead, I said 'the key to' and then went 'the city.' It made no sense. You don't get the key to the city. It was hilarious, and then I started going in circles. I looked down at the audience, and I saw my family looking at me like 'what?' it was awful, so I bombed.
© Copyright IBTimes 2023. All rights reserved.