MLB 2015 Awards: Predictions For MVP, Cy Young, Rookie Of The Year For AL And NL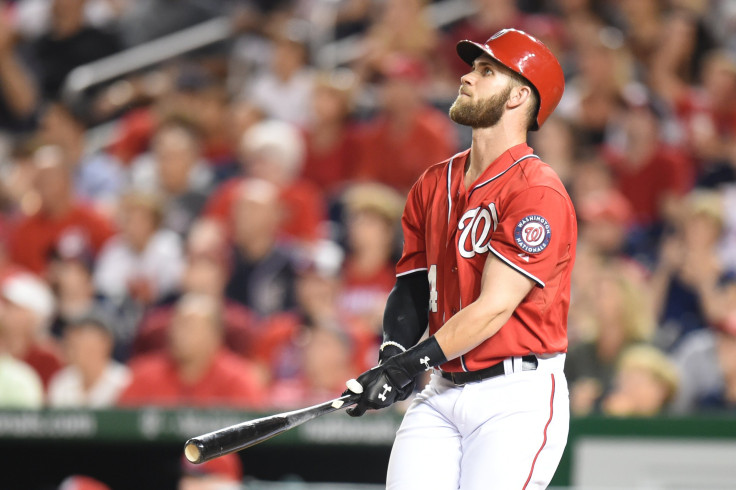 Now that the 2015 MLB season is over and the World Series has been decided, all that's left to do is hand out baseball's individual awards. In a season that saw numerous young players emerge as new stars, there should be multiple first-time winners.
After the Gold Gloves and defensive awards are announced, the major individual awards will be handed out. Rookies of the Year are set for Nov. 16, followed by Managers of the Year on Nov. 17. Both Cy Young awards will be announced on Nov. 18, and the MVP's will be announced on the following day.
Below are predictions for the 2015 MVP, Cy Young and Rookie of the Year awards for both the American League and National League.
AL MVP
Mike Trout (.299, 41 HR, 90 RBI) has been the AL's best player for four years running, but for the third time since 2012, the outfielder could come up just short of winning the MVP award. Trout led the league with a .991 OPS, but it's Toronto Blue Jays' third baseman Josh Donaldson (.297, 41 HR, 123 RBI) who's likely to be called the AL's best player for 2015.
It'd be hard to complain if either Trout or Donaldson are given the award. Both players hit the same number of home runs, and Donaldson's batting average was just two points behind Trout's. With the edge in both on-base percentage (.402 to .371) and slugging percentage (.590 to .568), Trout was the better hitter this season. But Donaldson was better in the field, and voters will give him the edge because his team performed better. Donaldson was the best player on the AL's second-best team, while Trout's club finished with just 85 wins and out of the playoffs.
Prediction: Josh Donaldson
AL Cy Young
Much like the MVP race, the final voting will come down to two players. David Price (18-5, 2.45) and Dallas Keuchel (20-8, 2.48) ranked in the top three in both ERA and wins, leading their teams to the postseason as aces of their respective staffs. The two starters had eerily similar numbers through 162 games, but the Houston Astros' 20-game winner is in a better position to win the award.
Price has the slight advantage in Fielding Independent Pitching (2.74 to 2.88), and he threw nine more strikeouts over the course of the season. After being traded to the Blue Jays from the Detroit Tigers, Price helped turn Toronto's season around and jump-started their run to the postseason. Keuchel, though, gets the edge because of his consistency throughout the season. His advantage in opponents' OPS (.575 to .621) should be enough to give him the requisite amount of first-place votes.
Prediction: Dallas Keuchel
AL Rookie of the Year
The award will be given to one of baseball's two top young shortstops. Houston's Carlos Correa (.279, 22 HR, 68 RBI) and Cleveland's Francisco Lindor (.313, 12 HR, 51RBI) had rookie seasons that mirrored each other, both coming to the Majors in June and playing 99 games.
Correa showed why he's a future MVP candidate, showcasing tremendous power with 22 home runs in less than 100 games. The Astros' rookie came into MLB with a lot of hype, and exceeded all expectations. Lindor hit for a much higher average, but their OBP's were comparable (.353 to .345) and Correa had a significant edge in slugging percentage (.512 to .482). Correa was the best hitter on a playoff team, and this likely won't be the first award he wins in his career.
Prediction: Carlos Correa
NL MVP
While the Washington Nationals fell short of expectations in 2015, Bryce Harpers sure didn't. The superstar outfielder was the best player in all of MLB, making him the easy choice for MVP. He led the NL in OBP (.460) and slugging percentage (.649), and his OPS (1.109) was more than 100 points higher than the next closest MLB player. He fell just three points shy of winning the batting title, and his 42 home runs were tied for first in the NL.
Arizona's Paul Goldschmidt shouldn't receive any first-place votes, but he might come in second. First basemen Anthony Rizzo and Joey Votto will get votes, as well.
Prediction: Bryce Harper
NL Cy Young
It's the toughest race to call, since it's the only one with three legitimate candidates. An argument can be made that Zack Greinke (19-3, 1.66), Jake Arrieta (22-6, 1.77) or Clayton Kershaw (16-7, 2.13) was the best pitcher in the NL this season.
Kershaw very well might have been baseball's most dominant pitcher in 2015, leading MLB in strikeouts (301) and FIP (1.95). But his ERA is above 2.00, and he won't get enough votes to win. Arrieta might have had the best second half in decades with a 0.75 ERA, and he allowed four earned runs in his last 12 starts. But Greinke gets the nod because he was so consistent throughout the year and led the NL with the best ERA since Greg Maddux in the mid-1990s.
Prediction: Zack Greinke
NL Rookie of the Year
This might be the easiest award to predict. Not only was Kris Bryant clearly the NL's best rookie in the regular season, but he was one of the league's best overall players. Joc Pederson tied him with 26 home runs, but Bryant's .275 batting average was 65 points higher, and he posted 16 more extra-base hits. Bryant's defense, as well as his improved play down the stretch to help the Chicago Cubs secure a playoff spot, also make him an easy choice for the award.
Matt Duffy could finish second in the voting, hitting .295 for the San Francisco Giants and driving in 77 runs. Noah Syndergaard is also in the hunt after a solid campaign over 24 starts.
Prediction: Kris Bryant
© Copyright IBTimes 2023. All rights reserved.