More Extreme Weather? Airlines Waive Change Fees Ahead Of Winter Storm Taylor
An incoming winter storm has airlines on alert with promises of snow, ice, and blustery winds from the Plains states to the Northeastern corners of the United States.
Winter Storm Taylor, which made landfall on Saturday morning, has airline companies scrambling to keep their customers on board, with many waiving change fees due to the anticipated cancellations and delays amid travel advisories.
Delta Air began doling out travel waivers as early as Thursday for 26 airports across the Midwest, including major transportation hubs for cities like Minneapolis and St. Paul, for March 9 and March 10.
In a similar fashion, American Airlines waived change fees for 16 Midwestern airports, and Southwest is waiving change fees for flights based at airports in Milwaukee, Minneapolis, and St. Paul.
While United Air has not made any moves to waive change fees, they have issued travel advisories for 14 airports.
The Midwest is expected to be one of the regions hit hardest by Winter Storm Taylor, a storm system which originated in California and the Rockies, dumping piles of snow in its wake.
The storm is expected to surge through the Plains, bringing a tempestuous mix of snow and freezing rain to parts of the Dakotas, Nebraska, Minnesota and northern Iowa on Saturday morning, accompanied by winds up to over 35 miles per hour, according to the National Weather Service.
Winter warnings have officially been issued from southeast Montana to western Wisconsin, where residents have been told to expect anywhere between 6 to 12 inches of snow.
After passing through the Midwest and Great Lakes region, the storm system will head through to the Northeast, bringing with it snow, sleet, and ice. Mid-Atlantic states will also be affected by Winter Storm Taylor, though to a lesser extent, with only rain forecast for the time being.
While parts of the Northeast will be hit with colder temperatures due to incoming high pressure from Canada, parts of western New York will incur unusually strong winds; cities like Buffalo and Rochester have been slapped with high wind alerts for Sunday, with gusts up to 60 miles per hour and many fearing downed powerlines and other damage in its wake.
While the crux of the storm will take place in northern areas of the U.S., the Southeastern corridor will not be spared. Heavy rain and severe thunderstorms are expected on Saturday evening from the central Gulf Coast to the Ohio Valley due to a humid and balmy air mass rushing across the region.
Certain locations will be heavily affected by the storm system, with large hail and even small tornadoes, an especially devastating turn of events for residents of Alabama, North Carolina, and the Florida panhandle still reeling from the devastation and debris caused a crop of tornadoes that landed on Monday, responsible for almost two dozen deaths in Alabama's Lee County.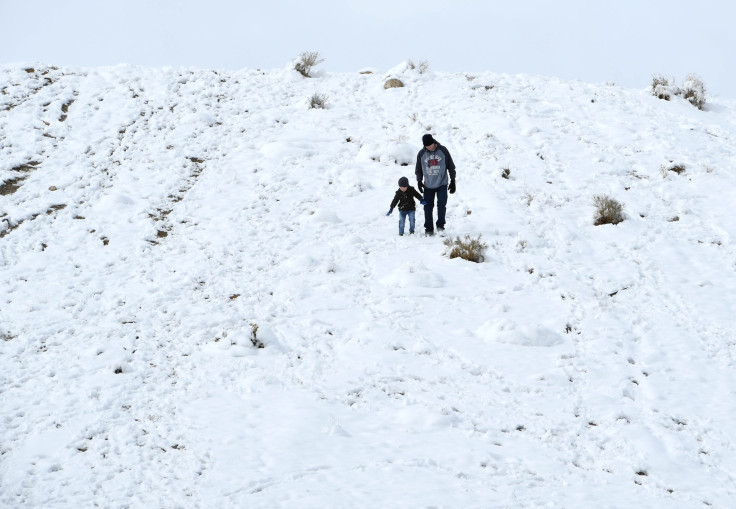 © Copyright IBTimes 2023. All rights reserved.