Most Anticipated Albums Of 2017 From Kanye West, Drake, Niall Horan And More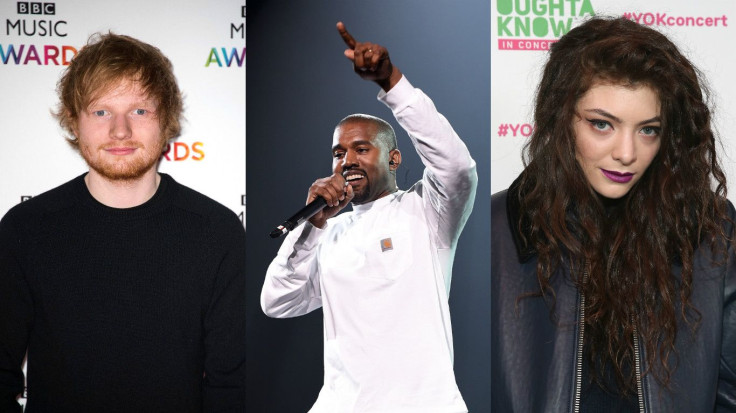 Beyonce's "Lemonade," Kanye West's "The Life of Pablo," Adele's "25," Solange's "A Seat At The Table," those were just some of the albums we got in 2016 which turned out to be a great year for music. With the year now coming to an end, music fans are already looking at what 2017 has in store. From Big Sean and Kanye West to Ed Sheeran and Lorde, check out the most anticipated albums of 2017:
Haim
Ever since the release of their 2013 debut album, "Days Are Gone," fans have been waiting for the Haim sisters to follow it up. Luckily, fans won't have to wait much longer as the siblings have announced the album should arrive in summer 2017. Describing it as a "more organic" album, the project will be mostly self-produced.
Iggy Azalea - "Digital Distortion"
Iggy Azalea's second studio album was supposed to release in July but after relationship problems with ex Nick Young, Azalea pushed it back. The album already had its first single, "Team," released in March, but no new music ever came after that.
Kanye West - "Turbo Grafx 16"
When it comes to Kanye West, you never know what the "Famous" rapper is up to but after the unusual release of "The Life of Pablo," Kanye promised another album for 2016. That album never came but recent reports show that Kanye is back in the studio making new music.
Ed Sheeran
We're not sure what Ed Sheeran is up to but after taking a social media hiatus, Sheeran returned in December and changed his social media account profile pictures to a light blue color. Amy Wadge, a collaborator of Sheeran, told BBC Newsbeat that an album was "done" and would be out "really soon."
Chris Brown - "Heartbreak On A Full Moon"
Although his last album, "Royalty," wasn't a flop, the reviews for the album were mixed. Chris Brown hopes to fix that problem with his upcoming album, "Heartbreak On A Full Moon."
Lorde
It's been three years since Lorde released her debut album, "Pure Heroine," and since then, the 20-year-old singer has stayed pretty low-key. Besides having a song on "The Hunger Games: Mockingjay" soundtrack and being featured on Disclosure's "Caracal" album, Lorde hasn't shown off any new music but has been teasing her second album all year.
Katy Perry
Not much is known about Katy Perry's next album but the singer has been previewing snippets of new music on social media. After spending some time campaigning for Hillary Clinton, perhaps Perry will get back to music in 2017.
Big Sean - "I Decided."
Following the success of his 2015 album "Dark Sky Paradise," which was certified platinum, Detroit native Big Sean is hoping to keep the success going with "I Decided." The rapper has been promoting the album all year with the singles "Bounce Back" and "Moves."
SZA - "A"
The Top Dawg Entertainment artist already has three EPs under her belt but fans are still waiting for her debut album, "A." The album was actually previewed in May during a listening party but according to the singer, her record label is holding the album back. Could 2017 be the year that we finally see the album release?
Shania Twain
While some artists on this list haven't put out new albums in a couple of years Shania Twain's last album, "Up!," was released in 2002. The one-time country superstar is back to working on new music and described her upcoming album as "kind of schizophrenic musically."
Niall Horan
As the members of One Direction are now focusing on solo albums, all eyes are on Niall Horan. While Zayn Malik has already proven he can be successful on his own, is there room for another solo One Direction artist in the pop world? As for Niall's album, the last time we heard about it, he said, "It should be coming soon, I guess."
Erykah Badu and D.R.A.M.
The neo-soul legend and the hip-hop newcomer already collaborated on his debut album, "Big Baby D.R.A.M.," but the unlikely couple will now work on a project together. While the project won't be a full-blown album, fans can still expect an EP in 2017.
Drake - "More Life"
Drake's upcoming project isn't an album, mixtape or an EP, instead the "One Dance" artist will put out what he is calling a playlist of new music. The playlist will feature music from Drake as well as other artists associated with his OVO Sound record label.
© Copyright IBTimes 2023. All rights reserved.