Move Over Bugatti Veyron, the Mustang Cobra Jet is Fastest Car in the World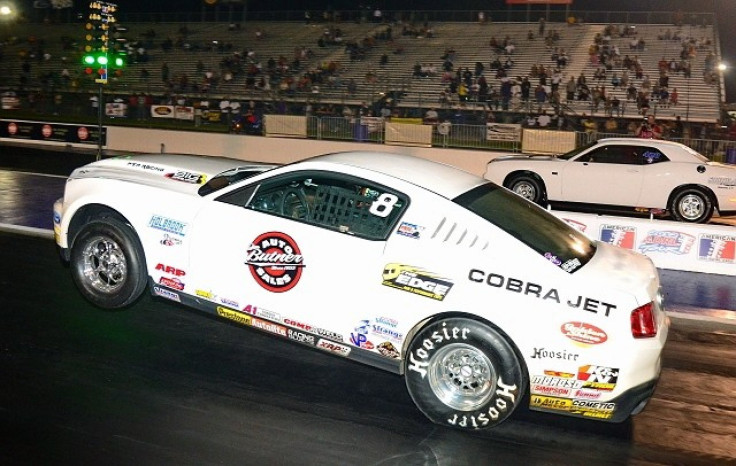 Pull over, Bugatti Veyron, the world has a new fastest car, the 2012 Ford Mustang Cobra Jet, and it demonstrated its speed on Monday when Bo Butner sprinted the beast in the opening race of the American Drag Racing League's SuperCar Showdown at Royal Purple Raceway in Baytown, Texas.
The 2012 Ford Mustang Cobra Jet destroyed the Bugatti Veyron Super Sport's record 0 to 60 mph time of 2.57 seconds by more than a second, clocking a 0 to 60 mph acceleration time of just 1.52 seconds, according to the American Drag Racing League. The new time makes the 2012 Ford Mustang Cobra Jet the fastest production car in the world.
Butner also smashed the record 0 to 100 mph time for a production car, blazing to 100 mph in only 3.26 seconds. Butner, a former world drag racing champion, had been unaware that his car was breaking records until ADRL officials check the telemetry of his Ford Mustang Cobra Jet.
The 2012 Ford Mustang Cobra Jet uses a production 5.4 liter, V8 engine with a 2.4 liter supercharger that pumps out power through a production automatic transmission. The car weighed 3,550 pounds and used 9-inch tires.
While the 2012 Ford Mustang Cobra Jet is a production car (there will be 50 of them made), it is a dedicated drag racer and is not street legal.
It is possible that the Cobra Jet could go on to break its own records in its next race.
The fact the weather conditions at Houston weren't really conducive to developing maximum power makes me really wonder how quick these cars can eventually run. We really haven't applied all the power-making techniques, such as changing gear ratios, to these cars yet. I have to believe they'll be quicker and faster in the coming SuperCar Showdown events, Butner said, according to the ADRL.
© Copyright IBTimes 2023. All rights reserved.