The NAACP Is Planning To Award Clippers Owner Donald Sterling With A Lifetime Achievement Award In May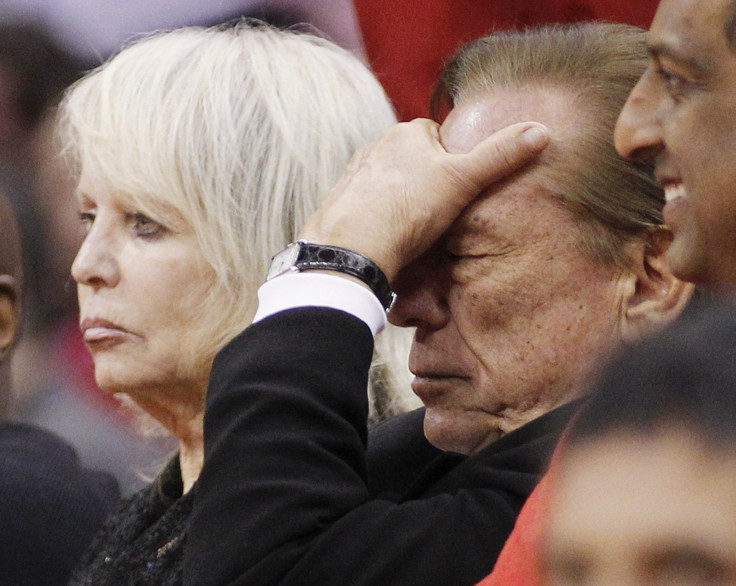 EDIT: 1:30 p.m. EDT Sunday - The NAACP has WITHDRAWN Sterling's Lifetime Achievement Award and has strongly criticized the comments in the phone call leak. Update via link.
ORIGINAL STORY:
Believe it or not, Donald Sterling, embattled owner of the Los Angeles Clippers, is set to receive another Lifetime Achievement Award on May 15 from the Los Angeles chapter of the National Association for the Advancement of Colored People, which is celebrating its 100th anniversary at the downtown Millennium Biltmore Hotel.
The timing couldn't be worse. Sterling is being roundly criticized for an unverified taped obtained and published by TMZ Friday that appears to begin in the middle of an argument on April 9 between him and his girlfriend, V. Stiviano, in which he decries her association with Magic Johnson because he's black. Sterling tells Stiviano -- who is black and Mexican -- not to bring Johnson to Clippers games and to not publicly associate with blacks, because people are "calling" him over it. Stiviano has been posting photos on Instagram of herself with blacks, particularly Johnson.
In a statement Saturday to TMZ, Sterling and the Clippers said, "We have heard the tape on TMZ. We do not know if it is legitimate or it has been altered," the statement said. "We do know that the woman on the tape -- who we believe released it to TMZ -- is the defendant in a lawsuit brought by the Sterling family, alleging that she embezzled more than $1.8 million, who told Mr. Sterling that she would 'get even.'"
Johnson told TMZ in a statement that Sterling's comments were distasteful. "It's a shame that Donald Sterling feels that way about African-Americans," the former L.A. Lakers star and businessman, said. "He has a team full of amazing African-American basketball players that are working to bring a championship to Clippers fans. The Clippers also have a strong minority fan base."
The NBA said that it is investigating the phone call. Clippers star guard, Chris Paul, issued a statement, in his role as president of the player's union. "On behalf of the National Basketball Players Association, this is a very serious issue which we will address aggressively," Paul said.
In a tweet Saturday evening, the California state NAACP, said: "As the investigation is in progress, we urge the LA Branch of the NAACP to withdraw Donald Sterling from the honoree list." The president of the California state NAACP, Alice Huffman, said, "Racism is not a footnote of our past but a reality of our present we must confront head on."
Despite Sterling's long history of racism, he has been honored twice previously by the NAACP's Los Angeles chapter. He was awarded a Lifetime Achievement Award in 2009, shortly after former Clippers general manager, Elgin Baylor, filed an employment discrimination claim against him. Sterling also received the NAACP Presidents Award in 2008.
The branch's president, Leon Jenkins, attempted in 2009 to explain why the august civil rights group would honor a man many consider a racist. Jenkins began, by telling the Los Angeles Times, that the NAACP's Los Angeles chapter had planned to honor Sterling long before Baylor's lawsuit. Seeming to sense the inadequacy of that response, Jenkins added the Clippers owner and real estate mogul's years of service to Los Angeles minority community.
"He has a unique history of giving to the children of L.A.," Jenkins told the Los Angeles Times, then. "We can't speak to the allegations, but what we do know is that for the most part [Sterling] has been very, very kind to the minority youth community."
Sterling is no stranger to racism accusations and has settled several discrimination lawsuits. He settled a lawsuit confidentially in 2005 that accused him of discriminating against black and Hispanic tenants at properties he owned. In another housing discrimination lawsuit in 2009, he paid $2.7 million to settle the claim. Sterling denied wrongdoing and said the settlement wasn't an admission of guilt, according to the L.A. Times.
Courtesy of TMZ, listen to the full leaked phone call, here:
© Copyright IBTimes 2023. All rights reserved.
FOLLOW MORE IBT NEWS ON THE BELOW CHANNELS