Nadya Suleman: Angry Octomom After Posing Nude Says 'I've Never Sacrificed My Morals And Values'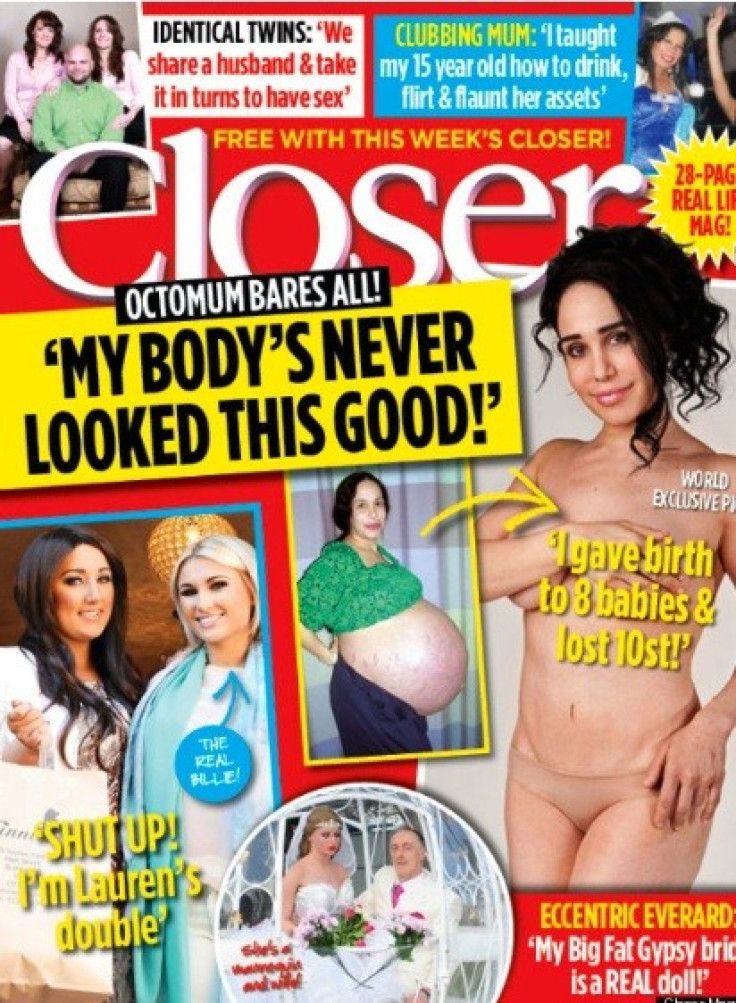 Two days after most media houses published Nadya Suleman's almost-nude pictures, criticizing the mother of 14 for bragging about her body and seeking media attention, a rather annoyed Suleman has spoken to media again. This time, justifying her stand.
Suleman, who has an Iraqi American father, gained media attention after giving birth to octuplets in January 2009. Suleman bounced back into shape, soon after the birth of her octuplets, and was offered $1 million to work in adult films by Vivid Entertainment. She, however, did not take up the offer.
Recently, eyebrows were raised when the octomom took up an offer made by Closer Magazine to pose in the nude. She was in desperate need of money, in order to be able to rent a house for herself and her 14 children.
You wanna know how much I got? I got $8,000. I have to do what I have to do to take care of my family, and I'm not ashamed. I'm not ashamed at all ... I've never sacrificed my morals and values, the 36-year-old told Anderson Cooper on his talk show Anderson, airing March 30, PEOPLE Magazine reported.
The single mother, in the interview with Closer Magazine, had said, I get too much male attention, but I won't date until the octuplets are 18 - I live for them.
She also spoke pretty highly of herself as a mother and said, I'm such a good mother. I'm so loving, and my kids are so happy. There's never been a time I've regretted having so many, she said.
In fact, according to Suleman, the nearly-nude pictures are not even racy. She says she has not bared everything, plus it was a well-thought-out decision by her.
I am covered. I had to think about that. I reflected on that quite a bit before choosing to do it, she tells Cooper. I discussed it with my children openly.
She also admitted she did it for money. I'll be honest, I did it for money, she said.
Suleman, who had told Closer Magazine that she knows she is beautiful and does not need a man to tell her that, told Celebuzz that she did not mind posing in the nude for a magazine, as compared to baring it all for a man she was not seriously dating.
I do wholeheartedly believe you need to be fully, fully in love with another human being before you give your body to that person, she tells Celebuzz. I would need to be with someone for years, not months, for something to manifest into anything more. I don't even touch my own darn self unless I'm washing with soap!
About her financial problems, she said she was struggling with mortgage payments and would have to move from her house soon. She added that she did not like to beset her children with her monetary problems and preferred to keep them happy and carefree.
I don't feel it's appropriate to burden [the kids] with that kind of stress, she says. I do my best to have life for them every day as happy as possible. We play, we enjoy the moments we have together and that's all that really matters.
Earlier Suleman, a divorcee, had said that even though she gets way too much attention from men, she is planning to stay single till her children turn 18.
So yes, she did the photoshoot for some money she needed to pay her bills and for her children. Our much-admired Hollywood actresses have done such shoots numerous times and no one raises eyebrows or points fingers at them. After all, Suleman catered to what people demanded. Is it really that bad?
© Copyright IBTimes 2023. All rights reserved.