Nancy Upton, Model Protester, is Bigger than American Apparel's 'Next Big Thing' [PHOTOS]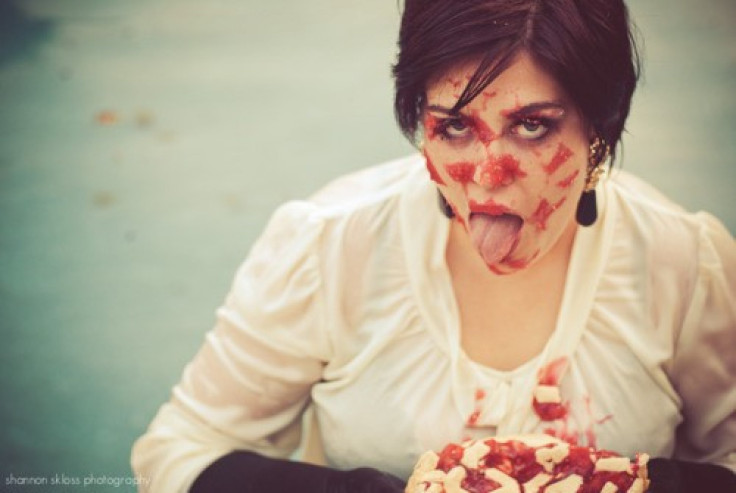 A Texas college student has singlehandedly subverted the premise of American Apparel's self-congratulatory foray into plus-sized merchandise -- which the retail chain defines as sizes 12 and 14.
Earlier this month, Nancy Upton submitted an entry to American Apparel's Next Big Thing online model search, which encouraged aspiring plus-sized talent to submit booty-ful photos of themselves, with the winner to be chosen by popular vote. Upton submitted photos of herself gorging on fatty food items while scantily clad in lingerie and various states of undress. [Click on the below image for the slideshow]
Upton made no secret of the fact that she was intending to mock the talent search -- her contest bio said, simply, I'm a size 12 and I just can't stop eating. Still, whether because of this or in spite of it, Nancy was ranked first among the voters when the competition ended a few days after she entered. Despite this, American Apparel did not declare her the winner.
Upton has blogged regularly about the contest, on a Tumblr with the headline That's Not Our Demographic, which is in reference to an American Apparel publicity gaffe in 2010: When plus-sized erotic performer and clothing designer April Flores asked an American Apparel showroom employee about larger sizes, the rep told her that plus-sizes were not the store's demographic.
Some believe the Next Big Thing competition is an attempt to compensate for the negative publicity the demographic comment generated. Indeed, American Apparel is a shrewdly media-savvy company, and the retailer is not letting any opportunity to cash in on attention pass them by.
In an interview with IBTimes, Upton said the Web page for the competition was removed within two hours of the contest's close: Until then, Upton was ranked as the most popular entry by online voters. American Apparel has since contacted Upton to inform her that she will not be receiving the prize.
On Wednesday evening, American Apparel's Creative Director Iris Alonzo sent Upton a lengthy e-mail explaining the retailer's position in declining to offer her the prize. The e-mail was addressed to Upton alone, but shortly after she received the message, media inquiries began pouring in asking about the correspondence -- which strongly suggests the letter was distributed to a press list. (No reporter Upton spoke to confirmed how or when they received the letter).
While you were clearly the popular choice, Alonzo wrote, we have decided to award the prizes to other contestants that we feel truly exemplify the idea of beauty inside and out, and whom we will be proud to have representing our company. (The full text of the letter appears on Upton's Tumblr feed.)
Upton likened the results of the competition to the 2000 U.S. presidential election: I won the popular vote, but the Electoral College disagreed, she told IBTimes. Still, the end result would have been the same even if American Apparel had acknowledged her as the winner: Upton was clear from the start that she would have no part of an American Apparel ad campaign.
But Upton remains supportive of other women who genuinely desire to participate in the promotion. They had a lot of really talented, beautiful women in the contest to choose from, Upton said. American Apparel has prided itself on using undiscovered talent ... I really hope American Apparel actually goes for the unknown, she added, referring to the fact that some of the entries were from semi-professional models signed to agencies.
Upton described the contest win and associated media coverage as completely unexpected, and said she will be careful how she parlays her newfound fame.
When you take a picture of yourself covered in ranch dressing you don't expect it to end up on CNN, Upton said. (The story will appear on The Situation Room with Wolf Blitzer on Thursday.)
When asked if she had any regrets about the publicity the story has generated for American Apparel, Upton was evenhanded in her response. I feel like it doesn't matter, she said. People say there's no such thing as bad press, right? I definitely don't ... feel bad that it's giving them press. People will form their own opinions about it.
Upton acknowledged a point that Alonzo brought up in her letter: That American Apparel provides thousands of jobs in the U.S., and is reportedly committed to sustainable business practices. That's a great thing, if people want to support a company for that reason, Upton told IBTimes.
Upton also suggested that she and Alonzo may soon continue the discussion in a private phone conversation, and sounded eager for the opportunity to do so.
I'm not trying to rake this company over the coals because of an agenda that I have, she said. I'm trying to keep it as positive as possible.
All images reprinted with permission, and are the property of photographer Shannon Skloss.
© Copyright IBTimes 2023. All rights reserved.