NBA All-Star Game 2015: Prediction, Betting Odds, Players For East vs. West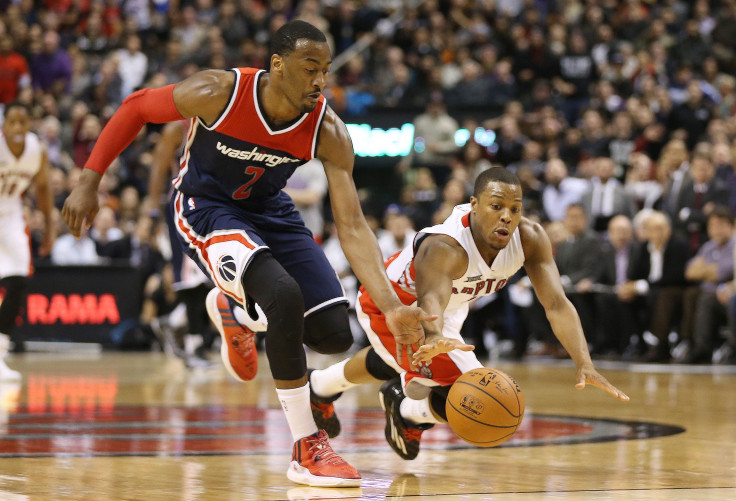 The Eastern Conference seeks its first back-to-back victory over the Western Conference for the first time since 2006, as they compete against the Western Conference in the 64th annual NBA All-Star Game on Sunday night at Madison Square Garden in New York.
Last year, the East received 31 points and 14 assists from eventual-MVP Kyrie Irving in a 163-155 win, snapping the West's three-game streak in the exhibition. As a 21-year-old, the Cleveland Cavaliers point guard became the second youngest player to win the event's MVP award
Irving made the first All-Star Game start of his young career in 2014, but he's been relegated to the reserves in favor of Washington Wizards point guard John Wall and the Toronto Raptors' Kyle Lowry as the starting backcourt.
Cavs forward LeBron James earned his 11th straight All-Star game, as voted in by fans, and Chicago Bulls center/forward Pau Gasol and New York Knicks forward Carmelo Anthony round out the East's starting five.
Banged up due to injuries before the All-Star Break, the West will counter with an equally impressive and guard-centric starting lineup, led by the Golden State Warriors' Stephen Curry and Klay Thompson, Houston Rockets guard and NBA leading scorer James Harden, Memphis Grizzlies center Marc Gasol.
The fifth member of the West's starters is currently unknown after New Orleans Pelicans forward Anthony Davis pulled out due to a shoulder injury. Warriors and West head coach Steve Kerr selected Dallas Mavericks and now 13-time All Star forward Dirk Nowitzki to take Davis' place on the roster but to date hasn't tabbed anyone to fill out the starting lineup.
Injuries have mangled both rosters a bit. In the East, Miami Heat guard Dwyane Wade won't make an appearance but his absence allowed 11-year veteran and Atlanta Hawks guard Kyle Korver to join his first All-Star team.
East and Hawks head coach Mike Budenholzer might also be short Bulls guard Jimmy Butler after he also suffered a shoulder injury earlier this week. However, Butler's status is unknown and he could make an appearance however brief.
In the West, Los Angeles Lakers superstar Kobe Bryant was voted into the starting lineup and would have made the 17th appearance of his career but will miss rest of the season with a torn rotator cuff in his shoulder.
Sacramento Kings center DeMarcus Cousins was named Bryant's replacement, while Portland Trail Blazers point guard Damian Lillard will take the place of Clippers forward Blake Griffin.
A number of young players will make their first All-Star appearances. Lowry, Butler, and Atlanta's Jeff Teague and Korver will debut on the big stage for the East, as will the West's Thompson and Cousins.
The full rosters for both squads are below.
East Starters
G John Wall, Washington Wizards
G Kyle Lowry, Toronto Raptors
F LeBron James, Cleveland Cavaliers
F Carmelo Anthony, New York Knicks
C-F Pau Gasol, Chicago Bulls
East Bench
G Dwyane Wade, Miami Heat
G Jeff Teague, Atlanta Hawks
G Kyrie Irving, Cleveland Cavaliers
G-F Jimmy Butler, Chicago Bulls
F Paul Millsap, Atlanta Hawks
C-F Al Horford, Atlanta Hawks
C Chris Bosh, Miami Heat
West Starters
G Stephen Curry, Golden State Warriors
G Kobe Bryant, Los Angeles Lakers (Out due to injury)
F Blake Griffin, Los Angeles Clippers (Out due to injury)
C-F Anthony Davis, New Orleans Pelicans (Out due to injury)
C Marc Gasol, Memphis Grizzlies
West Bench
G Chris Paul, Los Angeles Clippers
G James Harden, Houston Rockets
G Russell Westbrook, Oklahoma City Thunder
G Damian Lillard, Portland Trail Blazers (Griffin's replacement)
F LaMarcus Aldridge, Portland Trail Blazers
F Kevin Durant, Oklahoma City Thunder
F Tim Duncan, San Antonio Spurs
F Dirk Nowitzki, Dallas Mavericks (Davis's replacement)
C DeMarcus Cousins, Sacramento Kings (Bryant's replacement)
Betting Odds: West by two points
Over/Under: 296 points
Prediction: East over West, 130-115
© Copyright IBTimes 2023. All rights reserved.
FOLLOW MORE IBT NEWS ON THE BELOW CHANNELS