NBA Free Agency 2014: Who Are The Top Players Available This Summer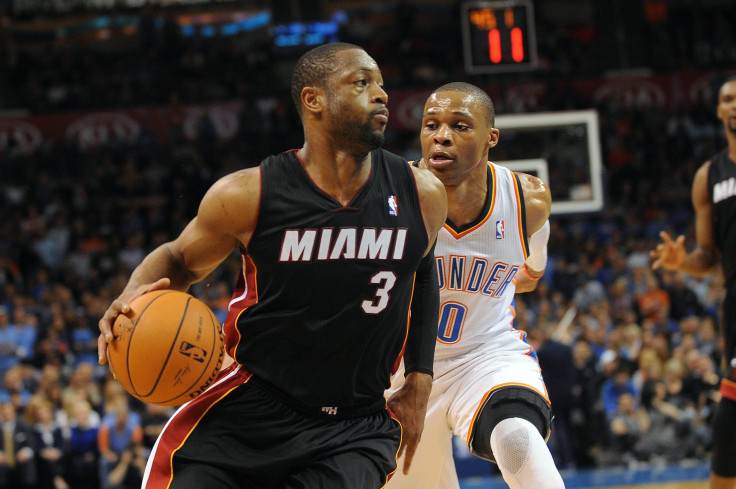 With the trade deadline now over, the focus of NBA teams, depending on where they are in the standings, will be transfixed on the loaded upcoming draft, the playoffs, and or free agency.
This summer could be a monumental turning point in the NBA, with the likes of LeBron James, Carmelo Anthony, and Dwyane Wade possible hitting the open market, scaring their respective teams while giving hope to several struggling franchises itching to land a superstar.
The teams expected to have the most cap space this summer include the Cleveland Cavaliers ($32 million committed to contracts in 2014-15), New Orleans Pelicans ($47 million), Utah Jazz ($16 million), Phoenix Suns ($36 million), Dallas Mavericks ($26 million), Charlotte Bobcats ($44 million), Detroit Pistons ($41 million), Philadelphia 76ers ($26 million), Washington Wizards ($45 million), Boston Celtics ($46 million) and the Los Angeles Lakers ($35 million).
It's long been rumored the Lakers were hoping to pair Anthony and James in L.A., but they'll need to convince the superstars that a title is just around the corner after a dismal season and the aging Kobe Bryant still on the mend.
The below list assumes several of the league's biggest names will employ the early-termination clause (ETO) in their current deals, not only to test free agency, but to possibly sign new, longer deals with their current teams. Both restricted (RFA) and unrestricted free agents (UFA) were considered, with the former distinction allowing teams to match any offer.
Some of the biggest names that could hit the open market are broken down below.
LeBron James, Miami Heat, ETO
The reigning MVP and best player in the league has said before that he deserves more credit for taking less money to team up with Dwyane Wade and Chris Bosh in Miami. James learned from the mistakes made before and immediately following "The Decision" when he left Cleveland, and has smartly deflected or ignored any questions about whether he will leave Miami. The only real reason James leaves the Heat is if he believes Wade won't be as viable a running mate in the next few years.
Carmelo Anthony, New York Knicks, ETO
The real reason Anthony can't escape talk that he's leaving New York has less to do with the Knicks struggles this season than it does how awfully the team is positioned over the next few years. The trade deadline came and went, and Anthony still doesn't have a second superstar to help him, and the soonest New York will have any cap room to sign a running mate will be 2015.
Dwyane Wade, Miami Heat, ETO
He's not the same "Flash" but Wade is still one of the all-around best shooting guards in the league, and from a public relations standpoint losing him could make Miami team president Pat Riley look even worse than if he lost James. However Wade's prime is entering its final few years, and offering him a maximum level contract could hurt the Heat's cap for years.
Chris Bosh, Miami Heat, ETO
The third fiddle for the last four years, but extremely integral in the two-title run, Bosh is the least likely of the Big Three to opt-out. But depending on what James and Wade do, Bosh could land anywhere, even his native Texas with the Mavericks.
Zach Randolph, Memphis Grizzlies, Player Option
Randolph rejuvenated his career and image in Memphis but he holds a $16.5 million player option for next season, which leaves the Grizzlies with little cap wiggle room. He was trade bait for much of the season but despite his terrific post moves, teams were hesitant to take on his contract. Randolph won't get as comparable a salary on a new deal elsewhere, so his best bet is to stay put in Memphis.
Dirk Nowitzki, Dallas Mavericks, UFA
Having already captured a title, it seems high unlikely Nowitzki would sign with any other team, especially with team owner Mark Cuban being so loyal and supportive to the 35-year-old German. Dallas also has plenty of cap room to bring Nowitzki reinforcements for a second title run in the next two to three years.
Tim Duncan, San Antonio Spurs, Player Option
Rumors, stoked by former NBA coach George Karl, indicate Duncan could retire at the conclusion of the season. Duncan has quietly handed the keys to the franchise to Tony Parker in recent years, but he's still one of the best and most durable big men in the league.
Luol Deng, Cleveland Cavaliers, UFA
The market will be wide open for Deng as he inks the last maximum-level contract of his career. He'd fit in most any lineup and could be the target of such rising teams as Phoenix or Utah. Re-signing with Cleveland could of course be a possibility, but based of the instability both on the court and in the Cavs front office, the chances appear slim.
Greg Monroe, Detroit Pistons, RFA
Monroe is part of a Pistons frontline that could dominate the league for the next five years, and Detroit would be wise to match any offer he receives. He's a 51 percent career shooter, and if he develops more of an outside game Monroe is the excellent complement to emerging center Andre Drummond.
Eric Bledsoe, Phoenix Suns, RFA
The knee injury has hurt Bledsoe's value, but the Suns gave up too much for the two-way point guard and have enough space to match any offer he receives and even pair him with a top flight scorer.
Gordon Hayward, Utah Jazz, RFA
A paltry $16 million committed to salaries next year, Hayward should don a Jazz uniform for the next four or five years. Who else they can convince to move to Utah remains to be seen.
Pau Gasol, L.A. Lakers, UFA
Over his 13-year career Gasol has made more than $137 million in contracts, so it's possible he moves on from Bryant and L.A. for a low-paying deal with a contender. But he could do the same for the Lakers if they manage to sign James and or Anthony.
Lance Stephenson, Indiana Pacers, UFA
Stephenson carved out his starting spot with the Pacers after his incredible play in last year's postseason, and he nearly made the East All-Star squad as a reserve. One issue might involve Stephenson's perception as to how much he's worth. He's easily one of the best perimeter defenders in the league, but his offense is streaky. He'd best fit as Indiana's third option or the second option for a younger team.
Evan Turner, Indiana Pacers, RFA
Arguably no player won more at the trade deadline than Turner, who could play a huge role in Indiana's run for the first title in franchise history after leading the rebuilding Sixers in scoring. The Pacers have avoided the luxury tax for years, so it's unclear if they would re-sign Turner, but he could earn a bigger restricted offer with a solid second half of the season and playoffs.
Rudy Gay, Sacramento Kings, Player Option
Gay's always been an excellent scorer, but has never been the type of player to lift a team to the playoffs. Thus he'd be smart to exercise his $19 million option for next season, and then test free agency in 2015.
Kyle Lowry, Toronto Raptors, UFA
An excellent combo guard who has flourished for playoff-bound Toronto, Lowry was snubbed for the All-Star team but should enjoy a healthy offer from plenty of teams. The Lakers were interested in a trade earlier this year, but could outright sign him this summer.
Paul Pierce, Brooklyn Nets, UFA
Pierce is averaging career lows in points (13.3) and minutes (28.9), which could be a sign of his age (36) or Brooklyn might be preserving him for a playoff run. Pierce hasn't hinted at retirement before, so he could play a role for several contenders next season, assuming he'll take a pay cut.
Andrea Bargnani, New York Knicks, ETO
The Knicks would do backflips if Bargnani opts-out of the remaining $12 million on his contract, but his injury history, including the elbow knock that's kept him out for the last month, along with a lack of physical and mental toughness, mean he won't get a better deal this summer.
Marcin Gortat, Washington Wizards, UFA
An excellent rebounder and highly skilled center worth more than the $7.2 million he's earned this season. If he helps Washington pull off a first round upset in the playoffs, Gortat could pick up a huge pay bump.
Mario Chalmers, Miami Heat, UFA
A former second-round pick, Chalmers has become a bit of a three-point specialist after six years in the league, but Miami will have to do some serious finagling to keep its three stars and Chalmers.
© Copyright IBTimes 2023. All rights reserved.