NBA Free Agency: N.Y. Knicks Interested In Nate Robinson, Metta World Peace, Samuel Dalembert, And Al Harrington?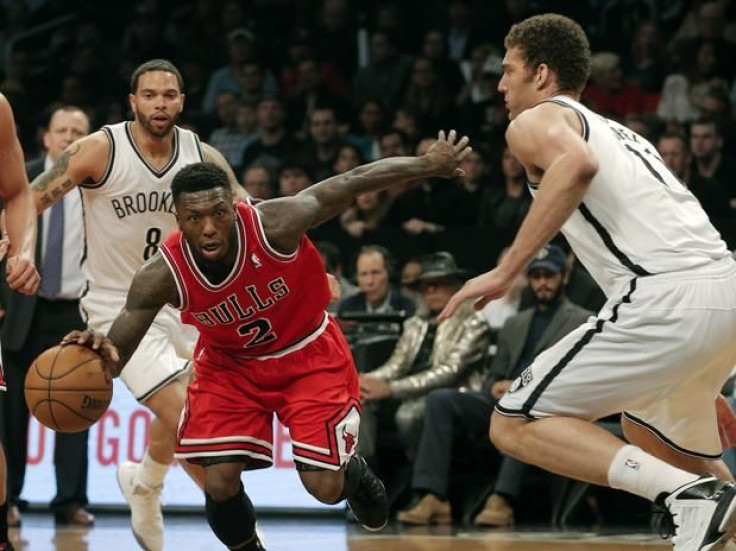 While the New York Knicks are reportedly hopeful that bruising small forward Metta World Peace somehow clears the waiver wire, the team is still perusing the free-agent market for some help inside.
Unfortunately for the Knicks, they will have to find players willing to take a pay cut for a minimum contract or mini-midlevel exception.
The Knicks were eliminated by the Indiana Pacers in the second round of the playoffs in part to their lack of an interior presence, and were helpless to defend center Roy Hibbert. That loss has made additional big bodies in the frontcourt a high priority, especially with division rival Brooklyn trading for renowned defender and future Hall of Famer Kevin Garnett.
World Peace would be a solid fit alongside Carmelo Anthony, picking up on defense where the scoring champion leaves off. The club will find out late Sunday if any team under the salary cap has picked up World Peace, and if not can sign him outright as a free agent.
General manager Glen Grunwald has also set his sights on center Samuel Dalembert, according to a report from ESPN. Citing a "player source," the report said Grunwald and Dalembert's agent were seen talking on the first day of summer league play in Las Vegas.
At 32 and his best years in Philadelphia behind him, Dalembert may have lost a step, but at 6-foot-11 he'd be excellent relief for Tyson Chandler next season. Over his 11-year career, Dalembert has averages of eight points, 8.1 rebounds, and 1.8 blocks. He made $6.6 million last year with Milwaukee, but the Knicks can only offer him the $1.7 million remaining on their mini midlevel exception.
That low a price could take the Knicks out of the running for Dalembert, since Dallas can offer him almost double the amount. The Mavericks are supposedly in the lead for the Haitian.
The Knicks are also reportedly taking a look at two former Knicks to fill out the perimeter. The New York Daily News reported late Saturday that the Knicks recently reached out to speedy point guard and former slam dunk champion Nate Robinson.
Since the Knicks trade him to Boston in 2010, Robinson has played for four different clubs, including an incredible run with in Chicago last season where he helped fill the void left by Derrick Rose's injury.
However Rose's imminent return next season means Robinson won't be re-signing with the Bulls. The Daily News said Robinson would only consider another stay in New York if he doesn't land a bigger pay day elsewhere. Besides his scoring, Robinson could provide pesky perimeter defense that the Knicks sorely need.
Fifteen-year veteran swingman Al Harrington is another former Knick who could make a return. The New York Post suggested the 33-year-old as a candidate since Orlando is expected to buyout his contract, and pointed out his work with Anthony back in Denver.
Harrington appeared in a career-low 10 games last year due to a nasty staph infection that required several surgeries. In those 10 games for the Magic, Harrington averaged 5.1 points and 35 percent shooting from the field.
The Post pointed out that New York may re-sign power forward Kenyon Martin, but Harrington could provide more of a punch on offense.
© Copyright IBTimes 2023. All rights reserved.