NBA Free Agency: Spurs, Lakers Highlight Winners And Losers Of 2015 Offseason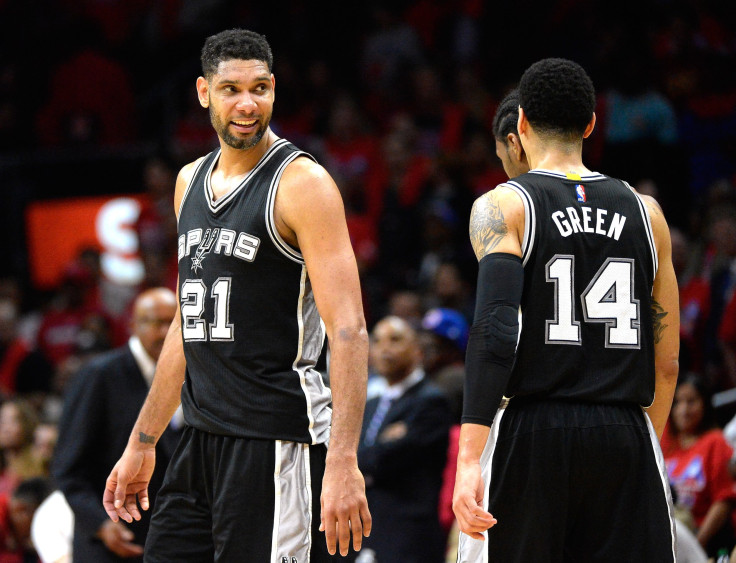 NBA free agency for the 2015 offseason is just a few days old, but the landscape of the league has been greatly affected since July 1. With multiple All-Stars signing new contracts, a few teams have emerged as clear favorites for the 2015-2016 season, while others could be in for a rough year.
LaMarcus Aldridge and DeAndre Jordan agreed to max contracts with new teams in the West, possibly shifting the balance of power in the conference. The Golden State Warriors didn't make any new additions, but they were able to keep Draymond Green and remain in good position to defend their title.
The Chicago Bulls and New Orleans Pelicans didn't spend a ton of money on new players, but they won't have to worry about losing their top, young stars. Jimmy Butler and Anthony Davis both signed large contracts to stay with their current teams.
Below is a look at the big winners and losers of 2015 NBA free agency, and how the moves this summer will affect the 2015-2016 season.
Winners
San Antonio Spurs
The Spurs have probably had the best offseason of any NBA team. They made the biggest splash of the summer, signing LaMarcus Aldridge to a four-year contract. While San Antonio was forced to trade center Tiago Spiltter to make the deal happen, they'll have Aldridge and Tim Duncan in the frontcourt next season, making them the favorites in the West. The summer hasn't only been about whom the Spurs have added. Duncan will return for another year, and San Antonio re-signed Kawhi Leonard and Danny Green to new deals. Not only will San Antonio be a force to be reckoned with next season, but they have a young core in place that should keep them competitive for years to come.
Cleveland Cavaliers
LeBron James is still without a contract, and the Cavaliers haven't signed any new free agents. But this offseason has definitely been a win for the defending Eastern Conference champs. Kevin Love was no guarantee to return to Cleveland, but he didn't even entertain offers from other teams, agreeing to a five-year contract with the Cavs. Iman Shumpert will be back next year, and though a deal still has to be worked out with Tristan Thompson, the most likely scenario has the big man playing in Cleveland next season. James almost helped the Cavs win a championship without Love and Irving in the NBA Finals, so Cleveland could be the league's best team when they have their full complement of stars.
Dallas Mavericks
Owner Mark Cuban might have overpaid his newest acquisitions, but the additions have made the Mavericks one of the top teams in the West. Signing DeAndre Jordan should help Dallas improve defensively, and while he isn't a great offensive player, his skill set compliments that of Dirk Nowitzki. There's no telling how good Wes Matthews will be coming off his Achilles injury, and there's a chance Dallas will regret giving him a four-year contract. But he was terrific for the Portland Trail Blazers before he got hurt, and adding a strong defensive presence on the wing that can shoot threes could be huge for the Mavericks. The team still needs help at point guard, but they might add someone like Jeremy Lin, who would fit well with the team. Dallas should be able to withstand the losses of Monta Ellis and Rajon Rondo.
Milwaukee Bucks
The Bucks made one of the most surprising moves of the offseason, signing Greg Monroe. The big man was being courted by both the Los Angeles Lakers and New York Knicks, but the free agent decided to play for the smaller market team. While there have been conflicting reports regarding the amount of money Monroe was offered by each team, the fact that Monroe chose Milwaukee is an encouraging sign for the Bucks. Because Jabari Parker missed most of his rookie campaign, Milwaukee will essentially be getting two new additions to their starting lineup after making the playoffs. With a young core that made major strides last year, the Bucks appear to have a bright future.
Losers
Portland Trail Blazers
After winning 105 combined regular-season games in the last two years, the Trail Blazers could have a tough time making the playoffs next year. They lost Aldridge to the Spurs for nothing, and Matthews also went to a top team in the West. Portland locked up Damian Lillard for the next five years, and their four-year deal with Al-Farouq Aminu will go under the radar as a good signing. But there's no question that Portland got worse. Losing two of their three best players, as well as center Robin Lopez, in a conference as tough as the West, won't bode well for Portland in 2015-2016.
Los Angeles Clippers
L.A. still has two of the 10 best players in the NBA, but losing the second runner-up for NBA Defensive Player of the Year will hurt the Clippers. Not only did the Clippers lose Jordan, but the center signed with one of their Western Conference rivals. While teams like the Mavericks and Spurs are getting better, Los Angeles failed to sign one of their top players. Last season might have been the best chance that Chris Paul and Blake Griffin will ever have to win a championship, and they blew it after leading their second-round playoff series 3-1. Paul's time as a superstar might be limited, considering he's battled a lot of injuries and played 10 years in the league. The Clippers signed Paul Pierce, which should help them defensively, but teams like the Spurs and Warriors have separated themselves as part of the top tier in the conference.
Los Angeles Lakers
For the second consecutive offseason, the Lakers had an extraordinary amount of money to spend and were unable to sign a top free agent. Los Angeles was so bad last year that there was never a real chance for them to become a top team this offseason, but they were expected to land one or two above-average players. The Lakers were considered by some to be the favorite to sign Aldridge, but they seemingly knocked themselves out of the running when they met with the free agent. They also missed out on signing Love, Jordan and Monroe. Trading for Roy Hibbert should improve the Lakers defensively, but it could be a while before L.A. is back near the top of the league.
© Copyright IBTimes 2023. All rights reserved.