NBA Free Agents 2014: LeBron James, Carmelo Anthony, Dwyane Wade And Others To Test Market?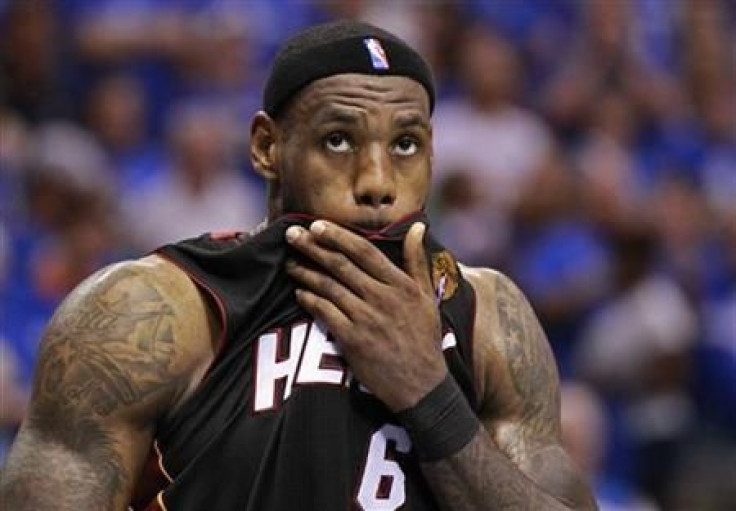 LeBron James is likely to headline the 2014 NBA free agent class, following the Miami Heat's loss to the San Antonio Spurs in the Finals.
In 2010, James headlined a star-studded free agent class. This summer, the class could be even better, as many of the league's top players will have a chance to opt out of their contracts.
"I will deal with my summer when I get to that point," James said, after Miami was eliminated in Game Five. "Me and my team will sit down and deal with it. I love Miami. My family loves it. But obviously right now, that's not even what I'm thinking about."
James is still under contract for two more years, and set to make over $42 million. He does not have to become a free agent, and can wait until next season to opt out of his deal. However, it's likely that he'll test the market on July 1.
Along with James, Dwyane Wade, Chris Bosh, and Carmelo Anthony appear to be the biggest names that will become available this summer. Wade and Bosh have similar contracts to James. If Anthony doesn't opt out of his deal, he'll become a free agent in 2015.
Of all the potential free agents, Anthony might be the one most likely to switch teams. He has expressed his desire to stay with the New York Knicks, but Anthony also wants to win a championship. Since he was drafted in 2003, the forward has never reached the NBA Finals. In four years with the Knicks, he won just a single playoff series.
Staying in New York does not give Anthony the best chance to win a title. The Knicks missed the playoffs with 37 wins in 2013-2014, and have no room under the salary cap to improve their roster this offseason. They are also without a first-round draft pick.
New York can offer Anthony approximately $33 million more than any other team, but the 30-year-old's quest for a ring could force him to leave that extra money on the table. Dwight Howard was in a similar situation last year, and left the Los Angeles Lakers, who offered him a more lucrative contract than the Houston Rockets.
Anthony will have several options. According to ESPN.com's Marc Stein, he'll consider signing with the Rockets and Chicago Bulls, who can maneuver their way under the salary cap. Anthony will also take a look at the Dallas Mavericks, whose best player recently expressed an interest in playing with the seven-time All-Star.
"If Carmelo would really love to come here, we'd love to have him," Dirk Nowitzki told 105.3 The Fan in Dallas.
There have also been reports that the Heat will pursue Anthony. After losing four Finals' games by an average of 18 points, Miami may be looking to make some changes in the offseason. Adding Anthony to the "Big Three" would make them overwhelming favorites to win another title.
There's no guarantee that James, Wade and Bosh will return to Miami. However, the options for the All-Stars may be limited.
If James leaves Miami, a return to the Cleveland Cavaliers might be the most likely scenario. The team has a promising future with Kyrie Irving at point guard and the first overall selection in the upcoming draft. Still, the organization hasn't made the postseason since James's departure and the Cavs won just 33 games this past year.
Wade has spent his whole career in Miami, and isn't likely going anywhere. He looked like he was past his prime in the Finals, and missed 28 regular-season games, which could make teams wary of giving him a max contract.
Bosh might have the best chance of leaving. After being the third-best player with Miami for four season, he could move onto a team that allows him to be the first or second option.
Even if none of the major stars switch teams, the odds are heavily in favor of them at least testing free agency. All are in line to get significant raises with their potential new contracts.
© Copyright IBTimes 2023. All rights reserved.