NBA Playoffs 2013 Betting Odds: Miami Heat, Oklahoma City Thunder Favored To Meet In NBA Finals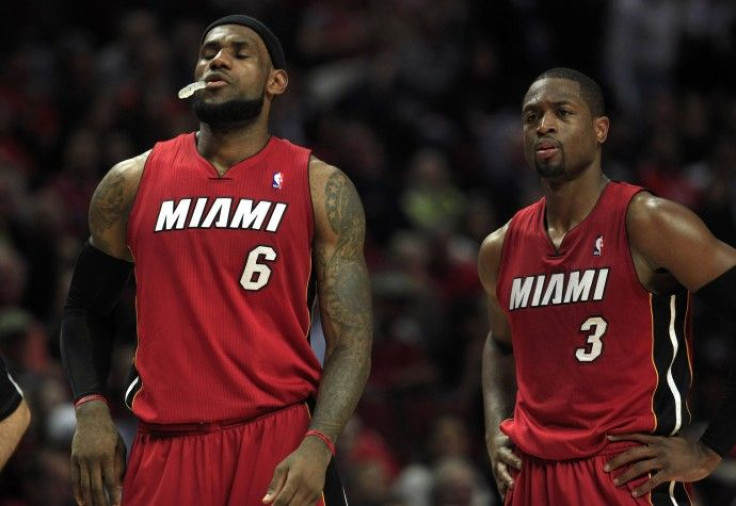 Last year, LeBron James, Dwyane Wade and Chris Bosh led the Miami Heat to an NBA championship. This year, they're expected to do the same.
With the 2012-2013 regular season coming to a close on Wednesday, the Heat enter the playoffs as the favorites to win another title. According to the online betting Web site Bovada, Miami's betting odds of repeating are set at 2/3.
If the oddsmakers are correct, 2013 will see a rematch of the 2012 NBA Finals between the Heat and Oklahoma City Thunder. OKC has been given the second-best odds at 4/1.
The Thunder followed up their five-game defeat in last season's NBA Finals with the best record in the Western Conference. Even after trading James Harden in the offseason, Oklahoma City finished with 60 wins. Kevin Durant came just shy of winning his fourth straight scoring title.
Durant fell short of his fourth-straight scoring title as Carmelo Anthony led the NBA in scoring for the first time.
It was a particularly strong season for Anthony, who helped give New York their best regular season since 1997. With 15/1 odds, the Knicks have been given the best chance to beat the Heat in the Eastern Conference.
Despite being the last team to clinch a playoff spot, the Los Angeles Lakers have better listed odds than seven other teams. Dwight Howard will look to help L.A. pull off the first round upset against the San Antonio Spurs. Kobe Bryant won't play in the postseason after tearing his Achilles. The team is hopeful that Steve Nash will be able to battle through a hamstring injury and contribute in the postseason.
L.A. defeated the Houston Rockets in the final game of the season, making Jeremy Lin and company the eighth seed in the West. Their odds are set a 100/1.
The Milwaukee Bucks odds are twice as high as any playoff team at 300/1. They are the only club remaining that finished the year with a record under .500.
Below are the complete betting odds for each remaining team to win the 2013 NBA championship.
Miami Heat 2/3
Oklahoma City Thunder 4/1
San Antonio Spurs 10/1
New York Knicks 15/1
Denver Nuggets 22/1
Los Angeles Clippers 22/1
Indiana Pacers 22/1
Memphis Grizzlies 35/1
Los Angeles Lakers 40/1
Brooklyn Nets 50/1
Chicago Bulls 50/1
Boston Celtics 60/1
Golden State Warriors 100/1
Houston Rockets 100/1
Atlanta Hawks 125/1
Milwaukee Bucks 300/1
© Copyright IBTimes 2023. All rights reserved.