NBA Rumors: Mark Jackson To Cavs? Brook Lopez To The Miami Heat?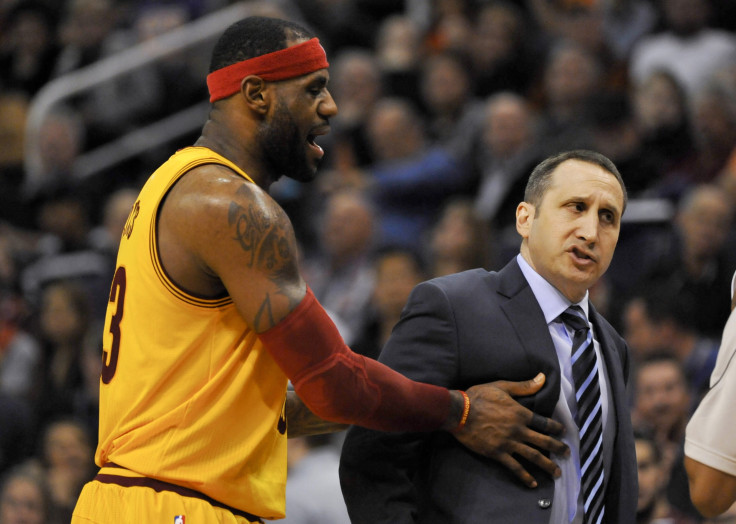 What was once a promising season filled with championship aspirations has slowly morphed into despair for the Cleveland Cavaliers. Cleveland has lost six straight to fall to 19-20 with a 4.5-game lead over the last team out of the Eastern Conference playoff picture.
There are multiple reasons behind the team's struggles. Superstar prodigal son LeBron James has battled injuries for much of the season, missing nine games. There was also the rough adjustment period between James, forward Kevin Love and point guard Kyrie Irving, to say nothing of recently traded shooting guard Dion Waiters. The defense hasn't been there either, ranking 19th in the league by allowing 100.1 points per game.
Over the last week, first-year head coach David Blatt has faced significant scrutiny for his failure to mold the team into the juggernaut of the East. A story published Wednesday by ESPN suggested Cavs players are in open revolt against Blatt, pointing to examples of players ignoring play calls from the bench, talking to opposing players about coaching "issues," and even assistant coach Tyronn Lue calling timeouts behind Blatt's back.
If Blatt's fate has already been decided, Yahoo! Sports' Adrian Wojnarowski insinuated in a report Wednesday that former Golden State Warriors head coach Mark Jackson might be waiting in the wings.
The report indicates that Jackson, who was dismissed by the Warriors at the end of last season for an apparent lack of chemistry with both the team and the front office, fired his agent and signed on with Klutch Sports, which not only represents James but is run by his long-time friend Rich Paul.
Wojnarowski also points out how Klutch Sports, with James's backing, has already impacted the Cavaliers. Forward Tristan Thompson is up for an extension on his rookie deal, and while he's not a star in the league, he's a solid hustle player who was offered a four-year, $52 million deal by the Cavs. The extension was reportedly turned down, and its believed Paul is trying to "leverage" his and James's influence into landing a mega-deal for his client Thompson.
There has been no report that Blatt is in danger of losing his job just 39 games into the season, especially following the Cavs full and public support of Blatt when he was hired before James announced his return to the club. But if James is already exerting pressure on the front office for his friend's business interests, it's also reasonable to believe he has even more say with who coaches the Cavs.
Jackson, one of the top point guards in his days with the Indiana Pacers, might be the type of defensive-minded coach the Cavs need. In his first year with Golden State he posted a 23-43 record, and followed up with 47-35 and 51-31 campaigns, completely revamping a team that was one of the laughingstocks in the NBA.
In other NBA news, James's old squad, the Miami Heat, could be in the market for Brooklyn Nets center Brook Lopez, according to ESPN New York.
Sitting just two games behind Cleveland at 17-22 for the No. 7 seed, the Heat are presently 30th in the league in rebounding and 26th in blocks thanks to a serious knee injury suffered by power forward Josh McRoberts, and only two players averaging more than six total rebounds a game, forward Chris Bosh and center Hassan Whitehead.
The Nets have reportedly had the 7-footer Lopez on the trading block for the last month, perhaps trying to bank on his healthiest season in years. Averaging 14.6 points, 6.3 rebounds, and 1.6 blocks per game, Lopez has played in 29 out of 39 games this season. Battling foot and back injuries, Lopez appeared in only 17 games last season, and missed eight games in the 2012-13 season and 77 in the year prior.
The move could be viewed as a salary dump for the Nets, who have the highest payroll in the league at $91.2 million and with $76.7 million devoted to player contracts next season should remain the biggest spenders in the league.
The Heat have very little cap space to absorb the remainder of Lopez's deal next season, and his contract would clog up any attempts to land free agents next summer. Lopez is owed $15.7 million this season, and he owns a $16.7 million player option for next year as well.
© Copyright IBTimes 2022. All rights reserved.
FOLLOW MORE IBT NEWS ON THE BELOW CHANNELS