NBA Rumors: More Nets Trades Coming? BK Eyes Roster Upgrades Around Kevin Durant By Deadline
The Brooklyn Nets might not be finished making moves after sending Kyrie Irving to the Dallas Mavericks. The Nets appear to be buyers at the NBA trade deadline, looking to improve the roster around Kevin Durant.
The Nets are going to be aggressive in trying to trade draft picks ahead of Thursday's deadline, according to ESPN's Adrian Wojnarowski. Brooklyn received an unprotected 2029 first-round draft pick and second-round picks in 2027 and 2029 in the Irving trade.
Spencer Dinwiddie and Dorian Finney-Smith also went from the Mavericks to the Nets. Durant has praised Finney-Smith in the past. Brooklyn will reportedly consider trading Dinwiddie in an attempt to build a championship-caliber roster.
The Nets can also include a future Philadelphia 76ers' first-rounder in a trade. Brooklyn received the pick as part of last year's James Harden-for-Ben Simmons swap.
Despite speculation that Durant might ask for a trade in light of Irving's departure, the Nets are likely to keep the superstar forward until at least the offseason. Brooklyn is the No. 4 seed in the Eastern Conference and 4.5 games behind the Boston Celtics for the No. 1 seed. Durant could potentially return from his knee injury before the All-Star break.
The Nets are interested in Minnesota Timberwolves center Naz Reid, according to The Ringer's Kevin O'Connor. Brooklyn has been linked to the Toronto Raptors ahead of the trade deadline, The Raptors have reportedly had trade talks over Pascal Siakam and O.G. Anunoby.
Durant was an MVP candidate before getting injured. The two-time NBA Finals MVP is averaging 29.7 points, 6.7 rebounds and 5.3 assists per game.
Durant is shooting a career-best 55.9% from the field.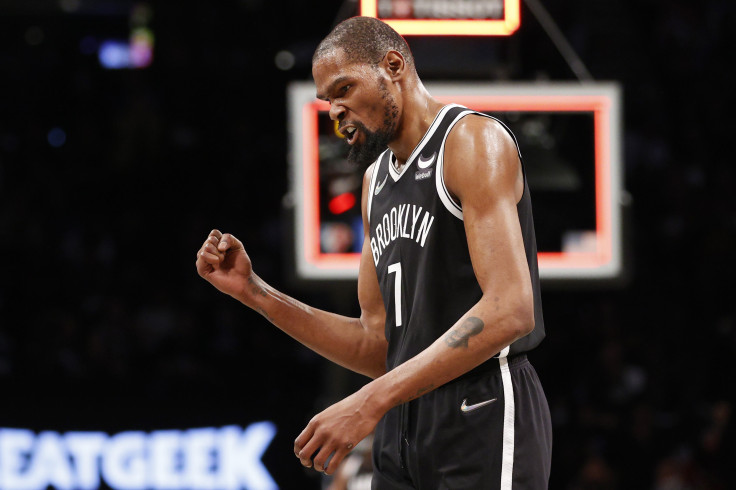 © Copyright IBTimes 2023. All rights reserved.