Knicks Trade Rumors: Raptors' OG Anunoby Targeted By NY Before 2023 Deadline
The New York Knicks are eyeing one of the best players who could realistically be available before the 2023 NBA trade deadline. According to multiple reports, the Knicks are interested in Toronto Raptors forward OG Anunoby.
The Knicks have indicated that they would trade multiple first-round draft picks in exchange for Anunoby, according to The Athletic. SNY has reported that the Knicks spoke with the Raptors about Anunoby's availability earlier in the season.
Anunoby has been in trade rumors for weeks, and he will likely be a topic of discussion until the Feb. 9 deadline. The Raptors are expected to be sellers. With a 23-28 record, Toronto has the No. 12 seed in the Eastern Conference and does not appear to be headed for any kind of meaningful playoff run.
There's a good chance that the Raptors will trade point guard Fred VanVleet. Because the veteran can become a free agent in the summer, Toronto is expected to move VanVleet instead of risking him leaving for nothing at the end of the season.
Anunoby's availability is far less certain. The 25-year-old is under contract for at least one more year and has a player option for the 2024-25 campaign. Toronto could try to retool with the hopes that Anunoby will be part of the roster when it is potentially ready to contend again in the East.
New York or another team could make Toronto an offer that is difficult to turn down. The Phoenix Suns are also interested in Anunoby, according to The Athletic. If the Raptors trade Anunoby and VanVleet, they could use their new draft picks to build around Pascal Siakam and 2022 Rookie of the Year Scottie Barnes.
The Knicks are in contention to make the play-in tournament, at the very least. With 10 days left until the trade deadline, New York has a 27-24 record, good for the No. 7 seed in the East. Maintaining that spot in the standings would give the Knicks two chances to win one play-in game at home for a playoff berth.
The No. 6 seed Miami Heat are only one game ahead of the Knicks in the playoff picture.
Anunoby is averaging 16.9 points, 5.5 rebounds and 2.0 assists per game. Considered to be one of the league's best defenders, Anunoby's 2.1 steals per game rank first among all players who qualify.
The Knicks rank eighth in offensive rating and 17th in defensive rating.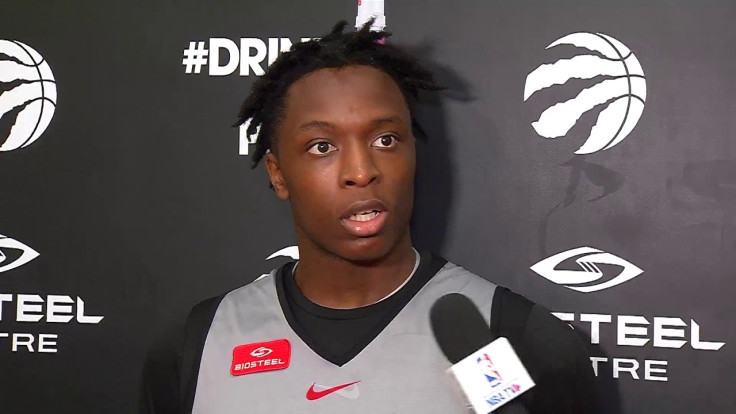 © Copyright IBTimes 2023. All rights reserved.