NBA Trade Rumors: Bulls, Lakers All In On Carmelo Anthony? Knicks Star 62-Point Game No Guarantee He Stays In New York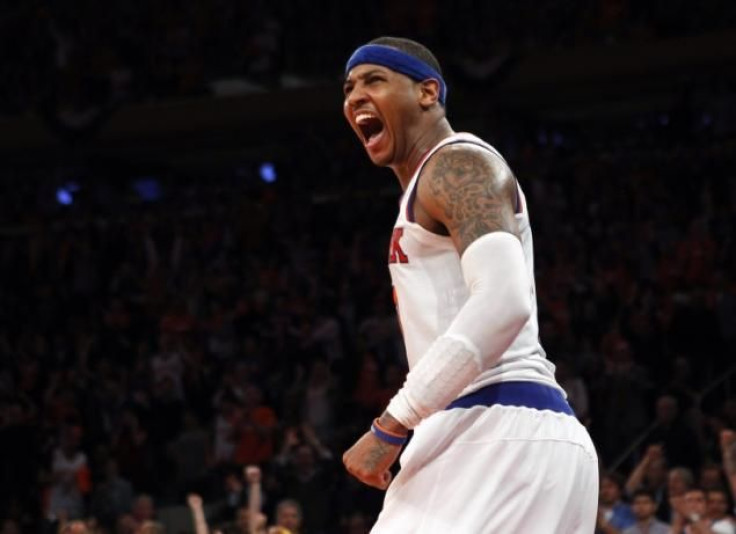 Less than 12 hours after his thrilling, record-setting 62-point game, New York Knicks forward Carmelo Anthony is once again at the center of free agency rumors.
In the Knicks 125-96 drubbing of the Charlotte Bobcats on Friday night, Anthony went 23-for-35 from the field, including six three-pointers, along with 13 rebounds, and reclaimed the Madison Square Garden single-game point record from Kobe Bryant.
Unfortunately, Anthony can't revel in his incredible performance for too long, and will once again face questions about his plans for this coming summer. Citing an anonymous source, Yahoo! Sports reported that should Anthony opt-out of his contract the likely destination would be New York's rival Chicago Bulls, not the Los Angeles Lakers.
The Lakers could remain in the mix, but Yahoo!'s source pegged Chicago more likely. The Lakers will have tons of cap room this summer, but it's unclear if Anthony wants to play second fiddle to Bryant with all of L.A.'s history looming over him.
Anthony's incredible game should boost the Knicks and fans morale as they struggle to climb back into the Eastern Conference playoff race. Instead, the team's ceaseless woes and losing streaks have put the 29-year-old, six-time All-Star's future at MSG in jeopardy.
The report cites Chicago's several moves throughout the season, like the Luol Deng trade that saved them more than $14 million in salary cap space, and the likelihood team general manager Gar Forman uses the amnesty clause on the $16 million owed to power forward Carlos Boozer next season.
Both of those calculated measurements would give the Bulls enough cap space to sign Anthony to maximum-level contract, albeit with one less year than the Knicks can offer him.
Yahoo!'s report clearly states that moving to Chicago doesn't guarantee Anthony a shot at a championship, with Derrick Rose's status and career mired in doubt, along with an ownership group that seems to be more interested in maximizing profits than winning titles.
However, the Knicks are stuck with several bad contracts mucking up their cap space. Amar'e Stoudemire is still owed $23 million next year, making him nearly untradeable, and Andrea Bargnani's recent elbow injury means he's likely to stay in New York until at least this coming summer. Then there's shooting guard J.R. Smith, who's technically owed more than $12 million over the next two seasons but his spats with head coach Mike Woodson have drawn almost as many headlines as the Knicks' losing season.
New York will have to sell Anthony not on next year, but in the two to three years after, when the team can compete for likely free agents Kevin Love and LaMarcus Aldridge.
Until then, the Knicks may struggle to bring Anthony any more re-enforcements for a title push.
© Copyright IBTimes 2023. All rights reserved.