NBA Trade Rumors: Cavs Pursuing Joe Johnson, Jamal Crawford In Deals?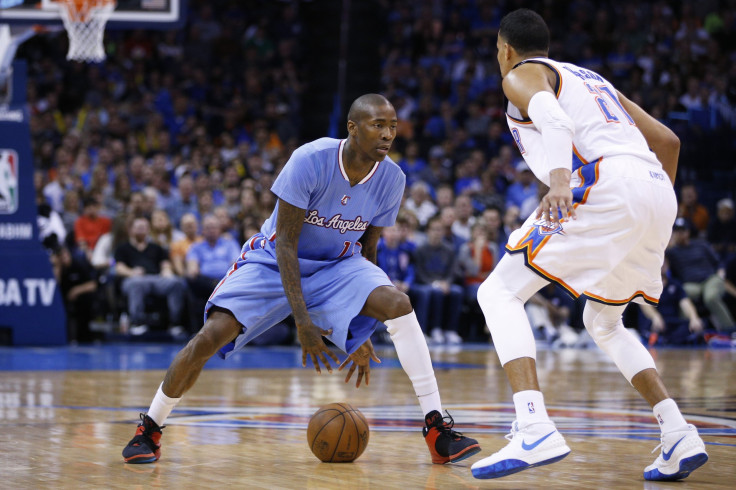 Injuries and a glaring lack of depth and scoring beyond LeBron James left the Cleveland Cavaliers two victories shy of their first NBA title, and now the team is pursuing several options to bolster its backcourt this offseason. James put on a clinic during the NBA Finals, but with Kevin Love and Kyrie Irving both sidelined with injuries and a patchwork group of guards unable to find their own shot, the Cavs ultimately fell to the Golden State Warriors in six games.
Coming that close to a championship has evidently emboldened Cavs general manager David Griffin and owner Dan Gilbert to shell out millions this offseason, and Cleveland could be adding even more to its already hefty payroll next year.
According to ESPN, Cleveland is reportedly considering a trade for Brooklyn Nets veteran shooting guard Joe Johnson and his $24.9 million expiring contract. In turn the Cavs would send center Brendan Haywood and his non-guaranteed $10.5 million contract for next season, one that could be waived before Aug. 1 and has considerable value to a cap-strapped team like the Nets.
However, the report stresses that in order to make contracts match for the trade to go down, the Cavs might have to include another player, who could be big man Anderson Varejao and his $9.6 million salary for next season.
Given that Varejao is coming off a ruptured Achilles, one of the worst injuries a player can overcome, and that Cleveland just gave power forward of the future Tristan Thompson a maximum-level contract, the Cavs might be willing to part with 6-foot-11 Brazilian if it means adding a scorer of Johnson's caliber.
Johnson's scoring average dipped to 14.4 points a game last season on 44 percent shooting, but with the Cavs he wouldn't be tabbed to play starters' minutes and might be more effective as the first guard off the bench.
Though the addition of Johnson, even if his deal comes off the books after next season, drastically raises Cleveland luxury taxes.
Another trade that might allow the Cavs to keep Varejao involves the Los Angeles Clippers and veteran guard Jamal Crawford. L.A. might have to add another player to make the deal work, but Varejao would be off the table.
One caveat to consider with Crawford, a two-time Sixth Man of the Year winner with a career scoring average of 15.6 points per game, is that he's likely seeking a contract extension either with the Clippers or any other team that acquires him. The 35-year-old will be an unrestricted free agent in 2016 after making $5.7 million next season.
Essentially instant offense right off the bench wherever he's played the last 15 years, Crawford might be a stronger addition than Johnson but that could leave little room for J.R. Smith or Matthew Dellavedova. However Stein also reported the Cavs do plan to bring both Smith and Dellavdova back.
The Cavs already added veteran guard Mo Wiliams for $4.3 million over two years and re-signed Iman Shumpert for $40 million in four years, likely leaving enough room on the rotation for one or two other guards.
© Copyright IBTimes 2023. All rights reserved.