NBA Trade Rumors: Pistons Still Want Celtics Rajon Rondo? Brandon Jennings To Boston?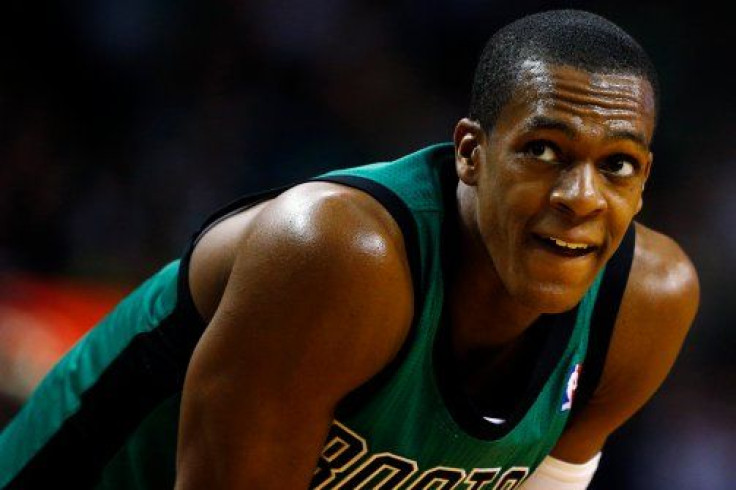 The Detroit Pistons appeared to have their point guard of the future when they acquired Brandon Jennings in a sign-and-trade deal, but the club is reportedly still keen on Rajon Rondo.
According to the Boston Globe, the addition of Jennings hasn't diminished Detroit's interest in the Celtics All-Star point guard. Instead they may use Jennings to lure Boston into a deal for the injured playmaker. Jennings reportedly agreed to a three-year, $24 million deal, when he was originally seeking a max-level deal from Milwaukee.
In July, Pistons team president Joe Dumars initially denied a potential trade with Boston that would have sent Rondo to Detroit and Brandon Knight to the Celtics.
Rondo is still recovering from the torn ACL he suffered in January, and speculation suggested the injury stunted Boston team president Danny Ainge's plans to move the 27-year-old veteran like he did Kevin Garnett and Paul Pierce to jumpstart the club's rebuilding process.
A deal may not be imminent, but with the season less than three months away, plenty of teams like Detroit will monitor Rondo's progress.
It's unclear if Rondo even wants to participate in either team's rebuilding efforts. He's currently in his prime and has averaged a minimum of 11 assists a game over the last three years, leading the league the last two.
But Rondo could be intrigued by Detroit's young roster. The Pistons have more young and talented pieces in place than the Celtics, who appear to be angling for better position in the loaded 2014 NBA Draft.
Detroit's gamble paid off on athletic big man Andre Drummond, and forward Greg Monroe is one of the more versatile frontcourt players in the league. Dumars also signed Josh Smith via free agency, while drafting swing man Kentavious Caldwell-Pope. The only thing missing from that core group is someone to feed them the ball.
The Celtics will probably wait for Rondo's health to improve in order to increase his trade value. Boston will probably covet draft picks and salary cap relief over the long haul. Detroit could offer the expiring contracts of Charlie Villaneuva and Rodney Stuckey ($17 million combined), along with Jennings, which would just about match the two-years and $25 million remaining on Rondo's deal.
© Copyright IBTimes 2023. All rights reserved.