Netflix Berlin Wall Movies: Top 5 Flicks To Watch To Honor 2014 Anniversary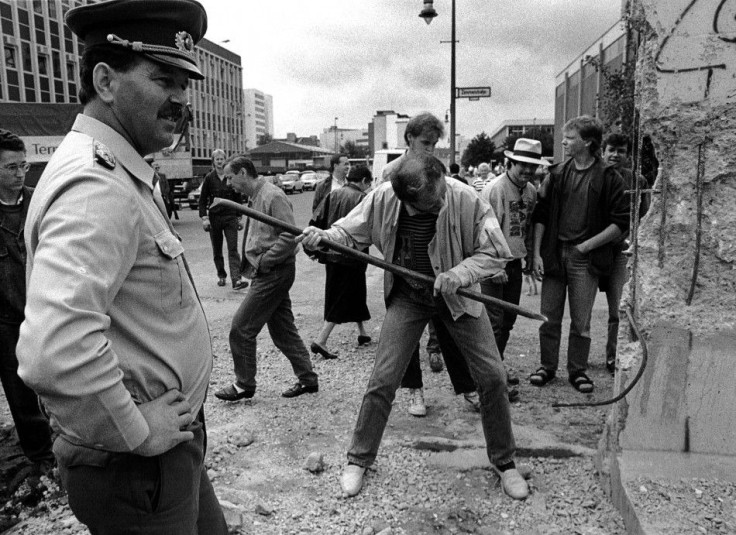 Sunday marks the 25th anniversary of the fall of the Berlin Wall, which led to the reunification of Germany. For nearly three decades, 28 miles and 2 million tons of concrete split a city and divided a nation. To celebrate the fall of the Berlin Wall, curl up on the sofa with a Berliner Weisse and watch these must-see movies, available on Netflix.
GOOD BYE, LENIN! (2004)
This comedic drama by Wolfgang Becker is about a young East Berlin man's attempt to keep his mother happily ignorant by making time stand still in 1989. Alex's loyal Communist mother suffers a heart attack and falls into a coma after seeing her 20-year-old son in an anti-government protest. Christiana remains comatose through the fall of the Berlin Wall and the German Democratic Republic. Alex begins an elaborate scheme to keep the GDR alive within their apartment upon his mother's awakening, knowing Christiana's fragile condition and to protect her from shock. Rotten Tomatoes gave the film a 90 percent reading and critics called it a "funny and poignant social critique of German reunification." This movie is available on Netflix DVD.
BERLIN TUNNEL 21 (1981)
Following the rise of the Berlin Wall, an American soldier and a pessimistic engineer struggle to build a secret tunnel under the wall to unite five refugees in West Berlin with their Eastern-sector loved ones. This made-for-TV thriller is based on Donald Lindquist's book -- a true story that had been previously dramatized in the 1962 TV special "The Tunnel." Critics gave this film 4.5 out of 5 starts on Netflix, where it can be streamed.
A WOMAN IN BERLIN (2008)
Set in Berlin at the end of World War II, this drama tells the story of a German photojournalist's forbidden relationship with a Soviet officer, and is a "gripping testament to women in war," where the fight for basic survival is daily life, said one Netflix critic. Based on the 1959 anonymous memoir by a German woman, "Eine Frau in Berlin," the film was praised at the 2009 Berlin Film Festival for its portrayal of a morally complex and brutal period at the end of the Third Reich. This two-hour-long film can be streamed via Netflix.
GO FOR ZUCKER (2004)
The two parts of one Jewish family -- from East and West Germany -- are forced to reunite in Berlin when a mother suddenly dies. Journalist-turned-hustler Jaeckie Zucker feels he is a loser as a result of the political changes in Germany after 1989. In order to claim his inheritance, at his mother's last will, he must reconcile with his estranged and humorless brother. Critics called this German comedy by Dani Levy "charming" and "heartfelt." This movie is available to stream on Netflix.
TWO LIVES (2012)
This German drama set in 1990, just after the Berlin Wall fell, follows the life of Katrine, a "war child" -- the offspring of a romance between a German occupation soldier during World War II and a Norwegian woman. Katrine claims to have escaped from East Germany and reunited with her mother in Norway, with whom she lives a happy life. But when a lawyer asks her and her mother to testify in a trial against the Norwegian state on behalf of the war children, she wrestles between losing the happy life they lived together or the lie it is based on. Among other prizes and recognition, the film was selected in 2013 as the German entry for the Best Foreign Language Film at the 86th Academy Awards. The 90-minute movie is available to be streamed on Netflix.
© Copyright IBTimes 2023. All rights reserved.