New Emily Dickinson Photo Reportedly Found; Poet Is Pictured With Rumored Lesbian Lover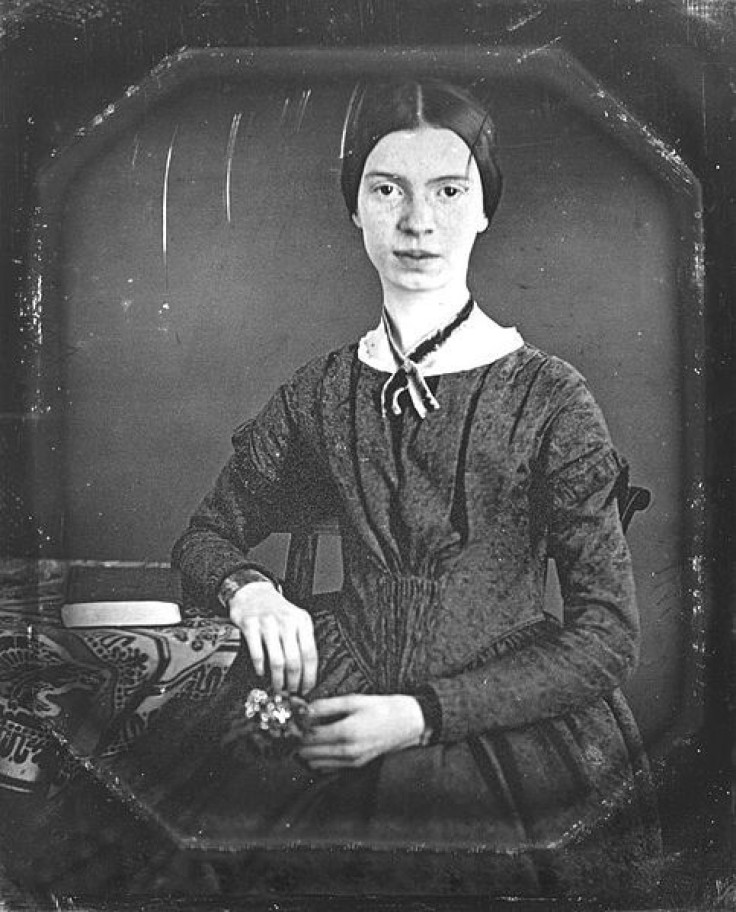 Researchers and historians think they've found a new photograph of poet Emily Dickinson. If the scholars are right, it would be only the second known photo of the revered American poet.
An anonymous collector bought the picture in 1995 and took it to scholars at Amherst College in Massachusetts, where the Associated Press reports it has been analyzed since 2007. It made its public debut last month during the Emily Dickinson International Society conference in Cleveland.
Dickenson was approximately 30 years old when the photo was taken.You can see it by clicking here.
The photo is a daguerreotype, the first commercially successful photo forman, according to the Library of Congress. The image seems to portray Dickinson sitting next to her friend -- and rumored lover -- Kate Scott Turner, around 1859. There hasn't been official confirmation that the image is of the two, but Mike Kelly, head of the archive and special collections department at Amherst College, told the AP that he's confident that the photo's subjects are Dickenson and Turner.
"This is photographic evidence of their friendship, whatever the nature of that friendship was," Kelly said.
A book that came out in the 1950s claimed Dickinson was in a lesbian relationship with Turner. It is widely believed that by the mid-1850s, Dickinson became a recluse.
After her mother fell ill, Emily Dickenson had to take on increased domestic responsibilities. During that time, Dickinson collected her poetry into manuscripts that wouldn't be found until after her death in 1899. Much of her work focused on gardens and reflected a fascination with pain and death.
"This is really when she's coming into the height of her powers," Kelly said. "To see her as this fully mature woman rather than this sickly little girl, I think it just shifts the way people think about what she's writing."
© Copyright IBTimes 2022. All rights reserved.
FOLLOW MORE IBT NEWS ON THE BELOW CHANNELS