New 'Fifty Shades Of Grey' Trailer: 5 Moments You May Have Missed From The Latest '50 Shades' Promo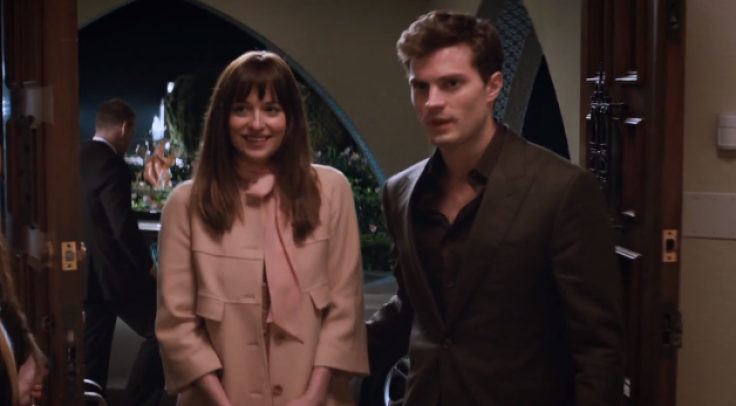 "Fifty Shades of Grey" fans not only gained a glimpse of stars Jamie Dornan (Christian Grey) and Dakota Johnson (Anastasia Steele) onstage at the 72nd annual Golden Globe Awards Sunday night, they also got a new trailer for the highly anticipated erotic film. Ahead of the best-selling book adaptation's Valentine's Day release, here are five things you may have missed from the latest "Fifty Shades of Grey" promo:
Christian Grey's mom
While previous promos for the "Fifty Shades" film have focused on Ana and Christian, the new trailer introduces Christian's mother. Marcia Gay Harden portrays the sadistic billionaire's adoptive mother, Dr. Grace Trevelyan Grey. Harden's introduction into the franchise comes in the way of Ana's first appearance at the Grey family dinner party.
"You have no idea how delighted I am to meet you," Dr. Grey says in the trailer.
Anastasia Steele shines
In the beginning of the "Fifty Shades of Grey" book series, Ana is timid, only to later blossom following her relationship with Christian. Apparently, the same can be said for the movie version of Ms. Steele. In the new trailer Ana can be heard telling her true thoughts to her billionaire boyfriend.
"There are some people who say that I don't have a heart," Christian says.
"Why do I get the feeling that that is not true?" Ana asks.
Ana shows off her spunky side again when she winks at Christian while teasing him for attempting to have a real relationship with her despite his love for the BDSM lifestyle.
Ana and Kate's apartment
While it is safe to say that "Fifty Shades of Grey" fans will be more excited about seeing the inside of Christian's apartment than Ana and Kate's residence, viewers were given a glimpse into their humble digs in the new promo. In one scene, Ana can be seen making a sandwich while her best friend Kate (Eloise Mumford) looks up images of Christian on what appears to be Ana's souped-up MacBook Air, courtesy of Grey Enterprises.
More red room of pain
Christian's red room of pain made a quick appearance in the film's first trailer in July 2014, but fans were given a better glimpse of his sex den Sunday. One shot shows Christian placing an eye mask on Ana. Another shows him kissing her thighs. After recently securing its R rating from the MPAA, we are willing to bet that the film will get much steamier when it premieres next month.
Pancake breakfast
While it is understandable that "Fifty Shades" filmmakers had cut out on some of the book's scenes for the adaptation, fans will be happy to learn that not all of their favorite moments were axed. The new trailer shows that Ana and Christian will still have their adorable pancake breakfast, after their first night together, in the film.
Which "Fifty Shades" scene are you most excited about seeing on the big screen? Sound off in the comments section below!
"Fifty Shades of Grey" will make its international debut at the Berlin Film Festival Feb. 11. The movie premieres in the U.S. Feb. 13.
© Copyright IBTimes 2022. All rights reserved.
FOLLOW MORE IBT NEWS ON THE BELOW CHANNELS