'Fifty Shades Of Grey' Trailer: 9 New Christian Grey And Anastasia Steele Scenes From The New Promo Video, Including The Red Room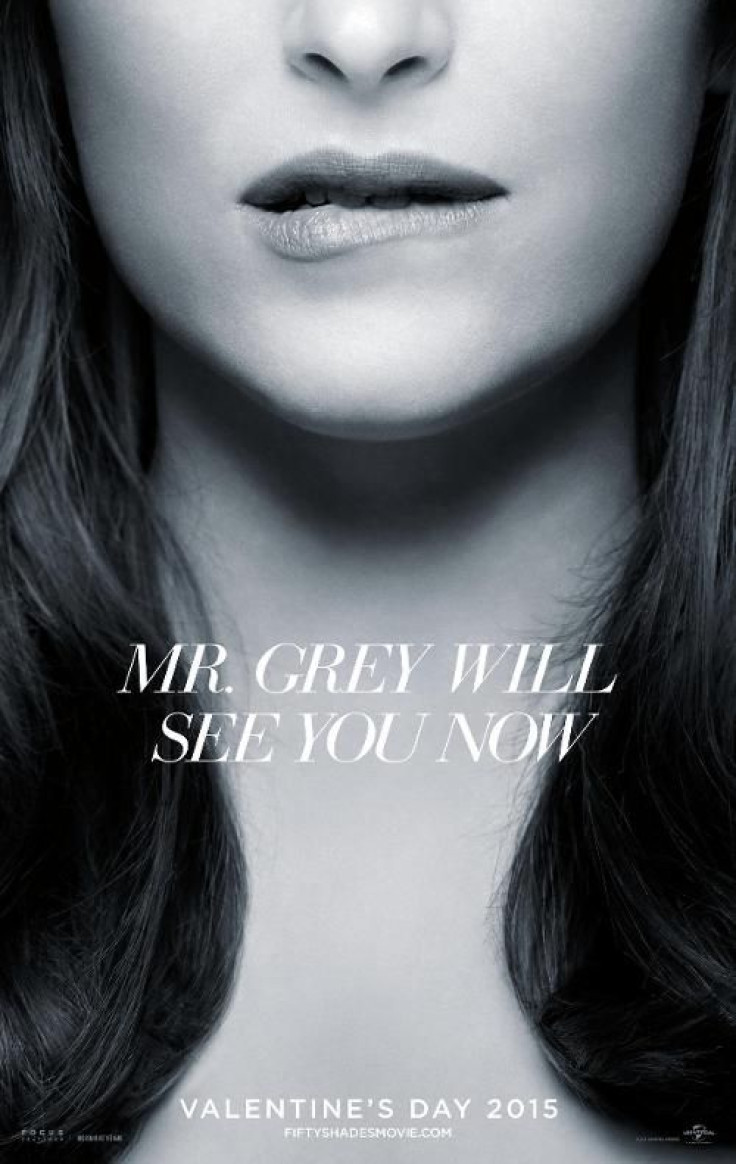 The new trailer for "Fifty Shades of Grey" is finally here. Fans watching "Scandal" on Thursday night were treated to a first look at the sexy new promo video, and it's jam packed with more steamy footage of Dakota Johnson and Jamie Dornan's Anastasia Steele and Christian Grey.
The latest trailer features a lot of footage from the initial trailer that was released over the summer. However new goodies for fans include a shirtless Christian Grey, a look at the Grey family, and of course a peek inside the "red room of pain."
Check out our break down:
Hello, Kate
Eloise Mumford makes her debut in the trailer as Kate, Anastasia's best friend. "You do realize he hasn't stopped looking at you," Kate says to Anastasia at one of Christian's photo shoots.
Nosy Mom
Anastasia's mom, Jennifer also makes her debut in the trailer. Played by actress Carla May Wilks, fans can see her questioning her daughter about her love life. "Have you met someone?" she grills Anastasia.
The Hardware Store
"Fifty Shades of Grey" book lovers will remember that Anastasia worked at a hardware store when she first met Christian. The new trailer gives a glimpse at Anastasia's surprise when Christian walks into her place of work. "You free?" he asks her.
Buckle Up
It's the simple touches between Anastasia and Christian that drive fans wild. The latest one to be included in the promo video is the sweet scene where Christian buckles Anastasia in when they ride in his helicopter.
Holy Undressing!
Things heat up around the 1:24 mark when Christian begins undressing Anastasia. You've been warned. "You should stay clear of me," Christian warns her over a montage. "I'm not the man for you."
Their sexual chemistry says otherwise …
The Burn Marks
Fans get to see a quick look at Christian Grey's burn marks when he undresses. "I had a rough start in life," he tells Anastasia when she asks why he won't let her in. "That's all you need to know."
The Red Room
Pay close attention to the 1:44 mark to see the "red room of pain." The "Fifty Shades of Grey" promo video shows Christian unlocking the door and giving Anastasia a first look at his BDSM lifestyle.
Let The Romance Begin
"Why are you trying to change me?" Anastasia asks Christian. "I'm not," he tells her. "It's you that's changing me."
The Grey Family
The trailer shows Anastasia meeting Christian's entire family ... but she's still not sure about her relationship with him. "I don't know if I could be with him the way he needs me to," Anastasia says.
"Fifty Shades of Grey" hits theaters on Feb. 13, 2015. Watch the new trailer below:
© Copyright IBTimes 2023. All rights reserved.