New iPad: The Plus and Minus Points of the Tablet; Apple to Face Tough Competition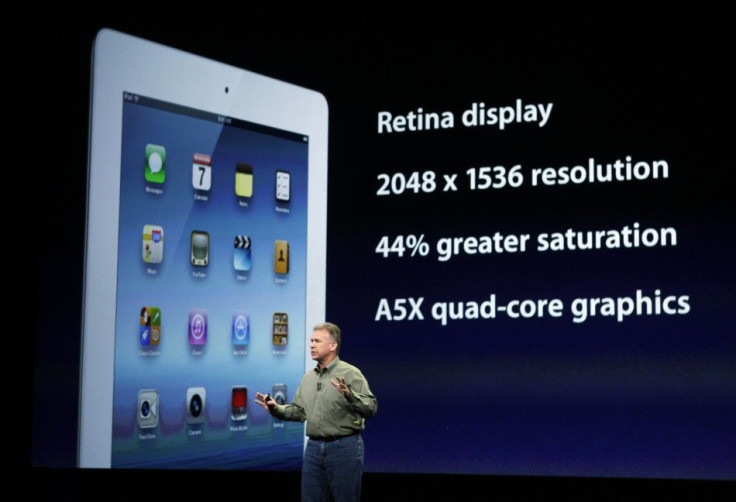 Apple unveiled its New iPad, which the company executives termed as revolutionary, Wednesday.
As in the case of all gadgets, the next generation iPad has also some plus and minus points and it is advisable that the potential buyers should be aware of them before setting out to buy one. It is also advisable that they should be familiar with the tablet's rivals in the market.
Plus Points
Retina Display: With Retina Display, Apple has done a commendable job - as the New iPad display consists of 3.1 million pixels, which the company claims to be a higher screen resolution than a HDTV.
Gadget geeks, who are fond of using photos and videos, are excited about the Retina Display which has 2048 x 1536 pixels of resolution.
The New iPad comes with a 9.7-inch (diagonal) LED-backlit glossy widescreen Multi-Touch display with IPS technology and has a Fingerprint-resistant oleophobic coating as well.
Faster Processor: It was assumed by industry analysts that the new iPad would come with a quad-core A6 processor. However, clearing all the clouds, Apple brought a new version of A5 GPU - called as A5X SoC processor.
According to the company, it offers two times the processor speed of NVIDIA's Tegra 3, and four times the GPU performance and has been solely designed to support the high-resolution Retina Display technology.
Camera: The New iPad camera flaunts a 5 megapixel iSight camera, which features the same lens technology as Apple's iPhone 4S, and is capable of recording full 1080p HD video up to 30 frames per second with audio.
It includes all special features like autofocus, tap to focus, and tap to set exposure with the help of iOS 5.1, which has brought software stabilization to the camera. Further, the rear camera comes with f/2.4 aperture and five-element lens to capture light efficiently and produce a sharp image.
App Store: The company claimed during the launch event that App Store offered more than 200,000 apps, which is lot more than any other tablet app store.
The company has swept in iLife suite to the iPad with iPhoto, GarageBand, iMovie, and more and these applications have been optimized for the New iPad.
4G LTE: The third generation iPad has introduced 4G LTE connectivity from the leading LTE providers, including AT&T, Verizon, Bell, Rogers, and Telus.
Other networks will benefit from the 21 Mbps HSPA+, 42 Mbps DC-HSDPA, and world-ready 3G bands.
Another thing which the company feels will lure the tech geeks is the tablet's battery life. The company claims that the iPad would support a sufficient battery life of 9 hours and without LTE it would run up to 10 hours.
Minus Points
SD Card Absent: The New iPad would be available in three versions - 16 GB, 32 GB and 64 GB. It was expected that the next generation iPad would come with an expandable microSD slot, but it is absent in the New iPad. There are many tablets in the market which have the expandable microSD slot.
No Siri: Though Apple has added a voice dictation feature to the New iPad, yet unfortunately the consumers will get a chance to experience Siri action on the tallest tablet. This may be an act of flaw for many dedicated Siri users.
Heavier and Thicker: The new iPad's screen size is same as iPad 2 which is 9.7 inches. Despite being portable, the New iPad dimensions are a little heavier i.e. 9.4mm thin and weight 652g. Hence, it can be tiring for wrist and hand muscles, if the user has to hold the new iPad one-handed for a length of time.
LTE: The 4G LTE has its negative side too. If a user would buy the new iPad 4G LTE version, it would only be supported by AT&T and Verizon. Also, both of these carriers use throttling and data limits to imprison data-consuming soul and have been pushing the cost to $30 per month for their average 4G LTE data plans.
Price Tags: The New iPad's variants are really pricey. The device would be available from March 16 with the following price tags -- 16 GB: $499, 32 GB: $599 and 64 GB: $699.
In the case of 4G LTE, the buyers will have to shell out $629, $729 and $829 respectively for the 16, 32, and 64 GB variants. This would be quite expensive, compared to iPad 2 (the company slashed its price after the launch of the New iPad) and other competitors like Amazon Kindle Fire, which would cost around $199, and ASUS MeMo 370T quad-core processor tablet, available at $249.
The New iPad's Competitors
Amazon Kindle Fire: Amazon Kindle Fire has been doing a commendable sale at $199, and the company has proven that there is a sizable consumer demand for a low-end and 7-inch tablet.
Last month, the research firm IHS iSuppli reported that Amazon shipped 3.9 million Kindle Fires in the fourth quarter of 2011, enough to snare 14.3 percent of the global tablet market. Hence, the low-end device may not be a quad-core destroyer or Retina Display-packing beast, but it certainly comes with its own benefits.
Samsung Galaxy Tab 2 10.1: Samsung's newly-launched tablet Galaxy Tab 2 10.1 may happen to be a big competitor for the New iPad. Besides that, Apple has to still catch up with the HD support and a better battery life.
Asus Transformer Pad Infinity 700: Asus has already announced and is gearing up to release an upgraded Transformer Pad Infinity 700 tablet. The device would offer Asus's excellent 3-in-1 QWERTY keyboard accessory for extensive battery life and laptop-like usage. Plus, it would feature an impressive 8 megapixel rear camera with f/2.2 aperture and backlit sensor. There would be a 2 megapixel camera supporting HD video for high-definition video calling. That completely outdoes the iPad's VGA front camera.
Further, Asus Transformer Infinity would run on Android 4.0 Ice Cream Sandwich OS, sporting a 10.1-inch Super IPS+ 1920 x 1200 display, 1GB RAM to keep things running. And the screen will certainly give the third generation iPad a run for its money.
Additionally, Asus Transformer Infinity 700 Wi-Fi version would be powered by a 1.6GHz quad-core Nvidia Tegra 3 T33 processor, in which the 3G/4G LTE edition would use a 1.5GHz dual-core Snapdragon S4 MSM8960 based on Qualcomm's new 28nm Krait architecture.
Huawei MediaPad 10 FHD: Chinese manufacturer Huawei came out really strong during MWC 2012. With their MediaPad 10 FHD, Huawei is ready to take on the best of the tablet market.
It would feature a 1920 x 1200 FHD resolution, Android 4.0 Ice Cream Sandwich, an IPS display, and 8/16/32 GB models. Further, the device would be powered by a 1.5 GHz quad-core K3 processor which outdoes NVIDIA's new Tegra 3 SoC in performance tests.
Plus, there's a 2 GB RAM which provides an optimal multi-tasking performance. In addition, the MediaPad features an 8 megapixel camera and Dolby 5.1 Surround Sound.
Google Nexus Tablet: Rumors have it that Google may be working on a brand new Nexus tablet. This Nexus tablet may offer a Google Experience Android 4.0 Ice Cream Sandwich build, or perhaps Android 5.0 Jelly Bean. Supposedly, it'll feature a portable 7-inch display, NVIDIA's quad-core Tegra 3 processor, and a very reasonable $199 price tag.
© Copyright IBTimes 2023. All rights reserved.