New York Times' Marijuana Ad: Cannabis Company 'Leafly' Buys Full-Page Spread In Sunday Paper [PHOTO]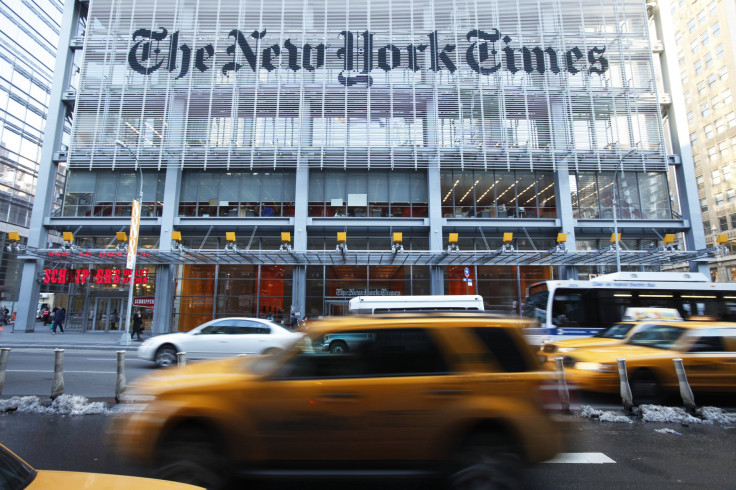 The New York Times' Sunday edition featured its first full-page ad promoting marijuana. The ad was for a mobile app called Leafly, which bills itself as the "Yelp for marijuana" and allows users to browse a catalog of cannabis products and find and review medical marijuana dispensaries in their area.
In June, state legislators passed a bill that legalized medical marijuana for New York patients. The bill, known as the Compassionate Care Act, was signed by New York City Gov. Andrew Cuomo on July 7. It allows doctors to prescribe marijuana in a nonsmokable form to people with serious ailments, similar to a state law that took effect in Minnesota in May.
Sunday's ad marks the first time the New York Times has run an ad from a cannabis company. "We accept ads for products and services that are legal and if the ad has met our acceptability standards," the New York Times spokeswoman Linda Zebian told the Wall Street Journal. "Each ad is evaluated on its own merit."
Leafly is a Seattle, Washington-based startup company whose mobile app "provides visitors with reviews of the best medical cannabis strains" and has a database of more than 800 different marijuana strains and products. When Washington state opened its first recreational marijuana stores in July, Leafly ran a full-page ad in the Seattle Times. The tagline read: "Your guide to the new Evergreen State."
"We got a lot of good feedback from that Seattle Times ad, and this is kind of a continuation of that," Leafly co-founder Cy Scott told Geek Wire. "Combined with the New York Times' editorial position, it made a lot of sense to publish an ad with them to raise awareness about Leafly."
The pot-friendly ad comes on the heels of the New York Times' weeklong editorial series on why the federal government should repeal its ban on marijuana. The editorial board argued that while there are "no perfect answers to people's legitimate concerns about marijuana use … neither are there such answers about tobacco or alcohol, and we believe that on every level — health effects, the impact on society and law-and-order issues — the balance falls squarely on the side of national legalization."
The New York Times is hardly the first newspaper to come out in support of legalization, but the move was seen as significant because of the publication's influence.
Advertising marijuana products, even where weed is legal, is a grey area of the law. Most publications will not accept advertisements from marijuana companies over fear of running into trouble with federal law enforcement. In 2011, federal prosecutors targeted newspapers, radio stations and other media outlets in California that advertised medical marijuana dispensaries. U.S. Attorney Laura E. Duffy, who led the effort to crack down on marijuana advertisements in California, said such advertisements were "inappropriate" and "against the law."
Federal law prohibits people from advertising illegal drugs in newspapers, magazine or other publications, although an exception is made for ads that do not explicitly offer those drugs for sale or distribution.
© Copyright IBTimes 2023. All rights reserved.
FOLLOW MORE IBT NEWS ON THE BELOW CHANNELS