Nexus 4 Sold Out Again In US As Google Apologizes, Calls Supplies 'Scarce And Erratic'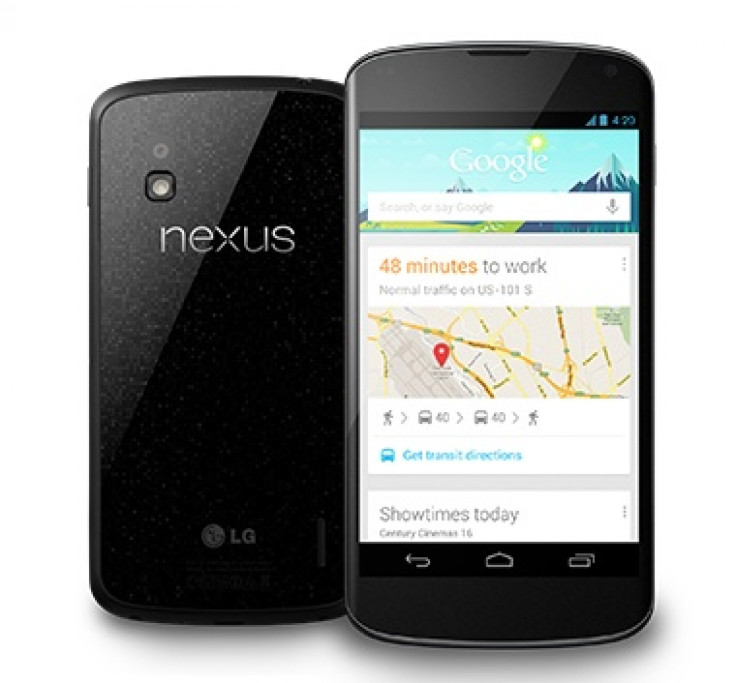 Google and LG's Nexus 4 sold out almost immediately upon launch in mid-November, and the handset's availability has been fluctuating ever since. Google's managing director for its United Kingdom and Ireland branches has offered an apology to customers that have been affected by these Nexus 4 delays.
Google's Dan Cobley told users that what they are experiencing is "unacceptable" and reassured them that the team is "working through the nights and weekends to resolve this issue." He continued to write that supplies from the manufacturer are "scarce and erratic," and that there has been poor communication with these manufacturers.
"I can offer an unreserved apology for our service and communication failures in this process," Cobley wrote.
Those who have placed orders and originally received a three to five day shipping estimate will now have their orders fully processed, Cobley's apology letter read. These users should expect an email notification early this week that will deliver tracking information. Customers who received pre-Christmas shipping estimates will get their orders processed this week.
"I realize that the people who ordered the Nexus 4 early are among our most committed and loyal users, and we are doing all we can to put things right," the Google executive wrote. "Sorry again."
After initial stock sold out within minutes on Nov. 13, UK orders were replenished on Dec. 4. Although Cobley promised that customers' orders would be processed this week, he did not confirm that these users would receive a tracking number for their order.
The good news is that a senior Google executive is addressing the matter, which means that it's being taken as a serious priority. Both the 8GB and 16GB versions of the Nexus 4, which cost $299 and $349 respectively, are currently sold out in the U.S. Google Play Store.
The search engine giant unveiled its Nexus 4 smartphone alongside its brand new Nexus 10 tablet, creating a family of Nexus-branded devices. The 4.7-inch Nexus 4 comes equipped with a Qualcomm Snapdragon S4 processor, an 8-megapixel main camera and 1.3-megapixel front facing camera. Other features include Bluetooth and Near Field Communication capabilities, wireless charging, Google Now, and the company's latest iteration of its mobile operating system: Android 4.2 Jelly Bean.
When the handset originally launched last month, shoppers were met with some technical issues with the Google Play Store as they tried to purchase the device. In some cases, especially in the UK, buyers would add the smartphone to their cart and it would mysteriously disappear by the time they proceeded to the checkout. In the UK's Google Play Store, the item was listed as "Notify Me" rather than offering an option to purchase the phone.
Those problems haven't persisted since, and hopefully Google users will receive some information on the status of their orders within the next week.
© Copyright IBTimes 2023. All rights reserved.
FOLLOW MORE IBT NEWS ON THE BELOW CHANNELS