NFL Draft 2015: Top 3 Defensive Players Available Out Of USC, Nebraska, Michigan State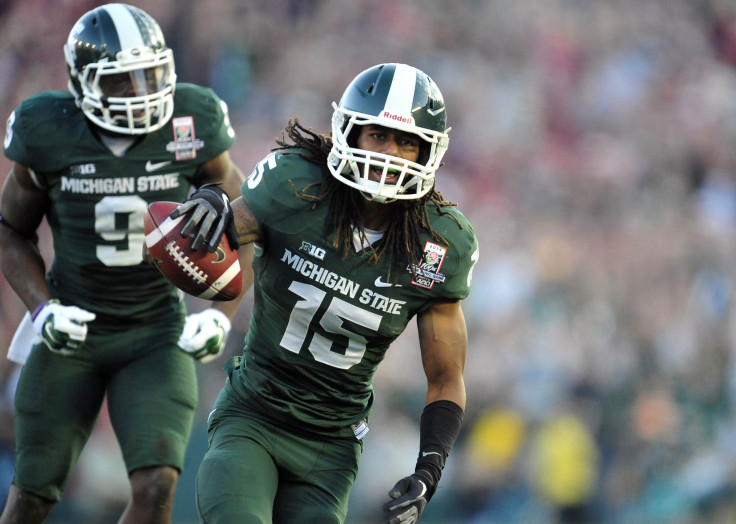 For the next five months, the Tampa Bay Buccaneers will be at the center of 2015 NFL Draft debates. Television pundits, draft analysts and fans will specifically discuss whether they opt to take Florida State quarterback Jameis Winston or Oregon quarterback Marcus Mariota, the consensus best passers in this year's draft.
But there's plenty more behind the curtain in this draft, especially on the defensive side of the ball. The Buccaneers could even change their expected course and take a defensive player, rather than the franchise quarterback they desperately need to pair with receivers Mike Evans and Vincent Jackson, and running backs Doug Martin and Bobby Rainey.
Should the Bucs or any team after them in the draft order focus their energy on the defensive talent in the draft, the three players below will likely get the most consideration. Each is ranked among the best at their respective positions by CBS Sports and other publications. But of course, lots could change between now and the NFL Combine, taking place Feb. 13-17, and when April 30 rolls around.
Leonard Williams, DT, USC
The Trojans official site has the junior Williams listed as a defensive end but, due to his massive size, at the next level he could move to defensive tackle. Williams, standing 6-foot-5 and 300 pounds, was inarguably the best defensive lineman in the country in the 2014 season.
Racking up 7.0 sacks and 80 total tackles, Williams led a USC defense that ranked fifth overall and third against the run in in the Pac-12. Scout have marveled at Williams's speed and tenacity.
With Gerald McCoy already in tow, the Bucs are highly unlikely to move on Williams at No. 1, but the Tennessee Titans at No. 2 could snap him up. The Titans were No. 31 against the run last season, conceding 17 total rushing touchdowns.
Randy Gregory, DE, Nebraska
Gregory missed three games this season, and was limited in a fourth, but in only 10 total games he ranked third in the Big Ten with 7.0 sacks and was a first-team all-conference selection. He only played two years in Lincoln, coming out of the junior college ranks, but in that short span the 6-foot-6, 240-pound Gregory accumulated 17.5 sacks.
With his height and arm length, Gregory has the ability to create leverage against opposing offensive lines and be a top-level defensive end in the NFL. He missed a decent amount of time this season, so there might be injury concerns, but Gregory can alleviate those doubts with a solid showing at the Combine.
At the very top of the draft, there aren't very many teams desperate for a pass rusher, but Cleveland at No. 12 or New Orleans at No. 13 might be a solid fit. There will be talk of drafting for need or just selecting the best player available, a conversation that will certainly cover Gregory.
Trae Waynes, CB, Michigan State
Named to the AP All-American third team this season, Waynes came up with 43 tackles and three interceptions for a Spartans defense that was second in the Big Ten with 18 picks.
Waynes did suffer a major knee injury in his senior year of high school, which forced him to redshirt his first year in East Lansing. However, he's started 26 straight games for the Spartans, and totaled 98 tackles, 12 pass break-ups and six interceptions in 35 career games.
The last defensive back to go in the Top 5 was Patrick Peterson to Arizona in 2011, and Waynes could break that minor streak. After Tampa Bay, Tennessee at No. 2, Jacksonville at No. 3, and Oakland at No. 4 all have a need for a top cornerback. Jacksonville and Oakland ranked 32nd and 27th in the league, respectively, in total interceptions.
© Copyright IBTimes 2023. All rights reserved.