NFL Fantasy Football Defense Rankings Week 6: Top Picks And Sleepers, Who To Start, Sit [NFL 2013]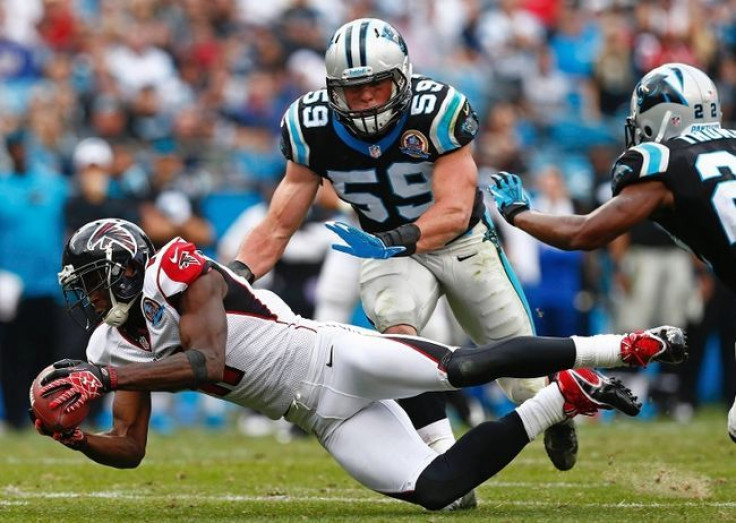 What a difference a year and new coaching staff can make. The Kansas City Chiefs finished last season 20th in total defense, 25th in points allowed, and were last in the AFC in takeaway-giveaway differential at minus-24. But after five weeks in 2013, the Chiefs have the best defense in the NFL and fantasy leagues.
The Chiefs have made such a huge jump with tons of pressure along their frontline. Headlined by Justin Houston's 8.5 sacks, and another 4.5 from Dontari Poe, the Chiefs lead the NFL with 21 sacks. They're also tied for third with seven interceptions, and first in opponent third-down percentage.
But in Week Six against AFC West rival Oakland, the Chiefs are a shaky start for any fantasy owner. Las Vegas books currently have Kansas City as eight point favorites, and while they should pull out a victory, their steady fantasy production won't be there.
For one thing Houston is listed as questionable while he recovers from a concussion. Houston's limited participation in practice on Thursday was a good sign, but the Chiefs might err on the side of caution with their young defensive superstar. Starting free safety Kendrick Lewis is also nursing an ankle injury, and hasn't practiced all week.
Again, key injuries upfront and in the secondary won't necessarily cause Kansas City to crumble, but will limit their one weak spot: rushing defense. The Chiefs are 21st overall against the run, and gave up 98 rushing yards to the woeful New York Giants, who are 29th in total rushing yards.
The Raiders are ninth in rushing, with early-season surprise quarterback Terrelle Pryor leading the team with 229 yards on the ground. Add in an improving Darren McFadden, and rising Rashad Jennings, and the Raiders have plenty to throw at the Chiefs up the middle and slow the game down. The Oakland offensive line does have several injury questions to worry about, but McFadden totaled 224 yards in games against the Chiefs last year.
Check out a few of the other teams to start instead of the Chiefs this week, and one more to sit.
Start:
Cincinnati Bengals
The Bengals are winless on the road, but meet a Buffalo squad that's missing rookie quarterback E.J. Manuel, and the only other passer on the roster that's seen action this season is rookie Jeff Tuel. Cincinnati can generate enough pressure up front to force whoever starts in the backfield into a few turnovers.
Houston Texans
In two of their three consecutive losses the Texans have given up 170-plus yards. However, this week the Rams are in town. The St. Louis running game showed life with rookie rusher Zac Stacy, but even he can't pull St. Louis up from 30th in the NFL in rushing after two games.
Carolina Panthers
A sneaky good defense that's in the top 10 against the pass and rush with second year linebacker Luke Kuechly leading the team in tackles (38) and tied for interceptions (2). They have faltered, as evidenced by a 1-3 record, but Carolina will face a Minnesota offense that can't seem to build any consistent momentum behind Adrian Peterson.
Tampa Bay Buccaneers
If their Week Six opponent Philadelphia was starting Michael Vick, Tampa Bay would probably be scratched. But since Eagles head coach Chip Kelly is completely unwilling to name a starter, the Buccaneers get a nod this week. Should Nick Foles start, the Bucs and Darrelle Revis will neutralize him, while the ninth ranked rushing defense will keep LeSean McCoy largely in check.
Sit:
New Orleans Saints
Like the Chiefs, the Saints have also greatly improved its defense. Eleventh in total yards allowed and ninth on third down are both solid stats, but this week the Saints are at New England. This game will be a total shootout, with any chance of either defense putting up solid fantasy numbers completely out the window.
© Copyright IBTimes 2023. All rights reserved.