NFL In Los Angeles? St. Louis Rams' Owner Designs Stadium For Two Teams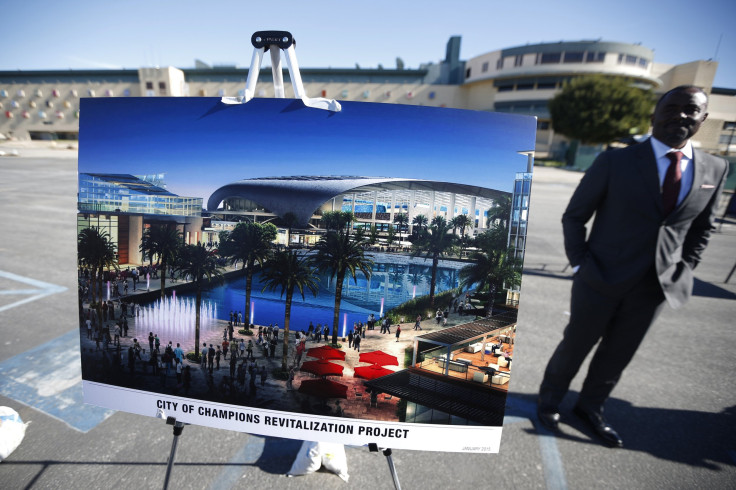 When the league's owners get together at the 2015 NFL Annual Meeting, the possibility of moving one or two teams to Los Angeles will be a major topic of discussion. St. Louis Rams owner Stan Kroenke is set to present plans for a stadium that would be built in Inglewood.
Designs for the proposed building have been completed, showcasing a $1.86 billion venue that would be privately financed, according to The Los Angeles Times. While the stadium isn't quite ready to be built, the owner will show the rest of the NFL's top decision-makers how close he is to building a state-of-the-art venue that could be the home for multiple football teams.
The proposed stadium has two home locker rooms, and an NFL return to L.A. would likely include two teams. While Kroenke doesn't need a partner to help build the venue, the league reportedly views Los Angeles as a two-team market.
Kroenke hasn't announced an intention to move the Rams from St. Louis, but it appears he's headed in that direction. Three-quarters of the league's 32 owners would have to approve any relocation, and a vote isn't expected to take place in the immediate future.
St. Louis is doing what it can to keep the Rams, offering $400 million for a potential new stadium. The St. Louis businessmen who are leading Missouri Gov. Jay Nixon's plan for a new stadium won't be making any proposal at this week's meeting of the owners in Phoenix. The Rams currently play in the Edward Jones Dome, which opened in 1995.
The plans for the Inglewood stadium propose a venue unlike any other in the NFL. A clear roof would cover the stadium, and the transparent material from which it's made would provide an "outdoor feel," as described by the LA Times. Because the stadium would be set into the ground, the building's above-ground profile would be just 175 feet, which is much lower than most other closed stadiums.
The Oakland Raiders and San Diego Chargers are also exploring the possibility of relocating to L.A. The two teams have announced a plan to build a shared stadium in Carson, California, having submitted a proposal for a new $1.7 billion venue in February.
The three teams could use the potential move as a bargaining chip for a new stadium in their current cities, but there are some who believe that Los Angeles will get a team soon. Last month, ESPN's Chris Mortenson said he thinks L.A. will probably have two teams in 2016, and New York Giants owner John Mara recently echoed the same sentiment to ESPN.com.
"I think there will be one or two teams playing in L.A. next year," Mara said.
It would take less than three years to build Kroenke's stadium, according to the owner's architectural firm, HKS. HKS also designed Indianapolis' Lucas Oil Stadium and Dallas' AT&T Stadium.
© Copyright IBTimes 2023. All rights reserved.