NFL Playoff Picture 2022: Vikings, Chiefs Can Clinch Division Titles, 49ers Win NFC West In Week 15
The San Francisco 49ers became the first team to clinch a division championship in the 2022 NFL season on Thursday, and a pair of teams can join them this weekend. The Minnesota Vikings and Kansas City Chiefs are on the verge of making the playoffs in Week 15.
The Vikings can clinch the NFC North title with a win over the Indianapolis Colts on Saturday. If the Chiefs beat the Houston Texans in Week 15, they will win a seventh consecutive AFC West title and secure a spot in the postseason.
Minnesota is favored by just north of a field goal at home against Indianapolis. Kansas City is the biggest favorite on the Week 15 schedule with a two-touchdown point spread against one-win Houston.
Scenarios exist for both the Vikings and Chiefs to clinch division titles in Week 15 without a win.
Minnesota also wins the NFC North with a tie. If the Detroit Lions fail to beat the New York Jets, the Vikings will stay in first place for good, regardless of their outcome against the Colts.
The Green Bay Packers and Chicago Bears have already been eliminated from NFC North contention. The Packers had won the division championship in three straight seasons.
The Los Angeles Chargers, who host the Tennessee Titans on Sunday, are the only other team that's alive in the AFC West. A Kansas City loss combined with a Los Angeles defeat would result in a division title for the Chiefs. In the unlikely event that both the Chiefs and Chargers play to a tie, Kansas City will be guaranteed a first-place finish.
The Chiefs are on the verge of winning their seventh straight division title to extend the longest active streak in the league. The Vikings and Chiefs both enter Week 15 as the No. 2 seed in their respective conferences.
The Buffalo Bills and Dallas Cowboys can both clinch a spot in the playoffs in Week 15, but their division races will still be ongoing. The Philadelphia Eagles became the first team to secure a playoff berth in Week 14.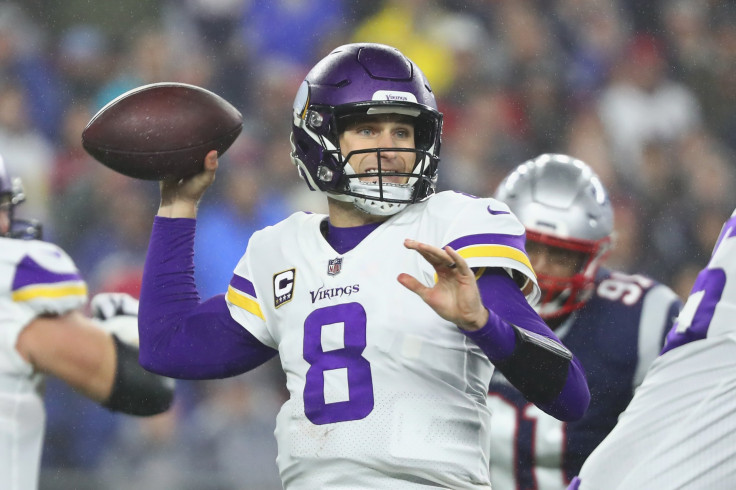 © Copyright IBTimes 2023. All rights reserved.