Nokia's Lumia 800 Hits the Stands; No Takers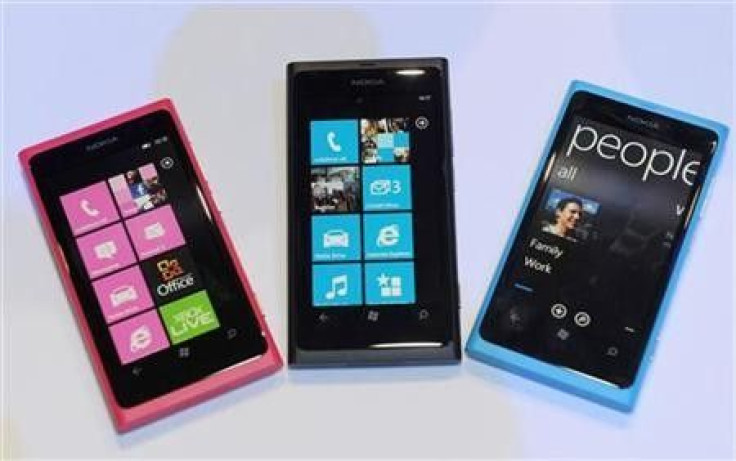 Nokia's long-awaited Windows phones may be too little, too late in the smartphone war dominated by Apple and Google, despite positive reviews by handset critics.
Its first Windows model, the Lumia 800, has won little interest from consumers, with only 2 percent of Europeans in the market for a smartphone saying they would pick it, according to a survey by Exane BNP Paribas.
Analysts said there was nothing particularly wrong with the sleek-looking handsets, other than a software glitch on some models affecting battery life, but consumers were just not biting.
Smartphones using Microsoft software have just a 2 percent market share, compared with Google Android at around 50 percent and Apple at 15-20 percent.
There isn't much room left for a third ecosystem. The smartphone market is consolidating fast, said Bernstein analyst Pierre Ferragu who rates Nokia a sell.
Nokia's shares have fallen over 20 percent since the October 26 launch of the new phone, with investors fearing Nokia would be unable to claw back the market share it has lost in the past several years to rivals like Apple.
Phones using Nokia's old Symbian software, which it decided to dump in favour of Microsoft, are still in circulation and outsell Windows phones 10 to 1.
But as Nokia keeps shifting to Windows, sales of Symbian have a lot of room to disappoint over coming quarters and some analysts are warning of lower dividends and weaker-than-expected earnings ahead.
Now even Microsoft has started to hedge its bets, making its software increasingly available for rivals to Windows Phone.
Smartphones are built on mobile computing platforms, and the most modern combine web browsers, navigation systems, cameras and portable music systems. A so-called feature phone -- a market Nokia still dominates -- has far fewer of these applications.
FIRST STEP?
Nokia officials defended the Lumia, and a spokesman said there was positive momentum while declining to give any data. One executive argued that Nokia had never counted on the first Lumia phones to lead to a quick turnaround but instead expected it to be the first step towards recovery.
In fact, there are just as many analysts recommending a buy on the shares as there are sell ratings.
Those who are keeping the faith believe the new assault on the smartphone market may be enough to give Nokia a place at the table.
Many of them say the range of concerns over the Finnish company are fully priced into the shares, while the company's strong cash position and some prized patent assets could attract a takeover approach.
With current, and upcoming models, Nokia can win back market share in both -- in feature phones and in smartphones, said Swedbank analyst Jari Honko, who rates the shares a buy. Today's share price does not take into account any recovery in the Nokia market position.
Optimists also cite an improvement in Nokia's product portfolio, which looked out of date when Stephen Elop took over as the chief executive in September 2010.
And while some argue there is no room for a third alternative to Google and Apple, some developers and operators do see room for more competitors in this market.
The 2012 Windows 8 upgrade could also attract a wider audience by making the way smartphones, tablets and PCs work more similar.
For investors, the biggest positive surprise could be an acquisition offer. After Nokia signed a deal with Microsoft, rumours of full takeover by Microsoft or at least buyout of smartphone unit have made rounds on a weekly basis.
Last week the stock jumped 4 percent when Danske Bank suggested Microsoft could buy Nokia's smartphone unit.
But even if investors do not get a rich buyout - online gambling company Unibet is putting odds on Microsoft buying Nokia in 2012 at just 1 out of 15 - analysts say the company's relatively-solid finances should at least offer some security.
Nokia had 1.36 euros per share of cash at the end of the last quarter. It also has a strong patent portfolio - on its own worth more than a euro per share - and owns top digital mapping firm Navteq and half of No. 2 mobile network gear maker Nokia Siemens Networks.
© Copyright Thomson Reuters 2023. All rights reserved.