North Dakota's 'Racy' Tourism Ad: 'Legendary' or an Epic Fail?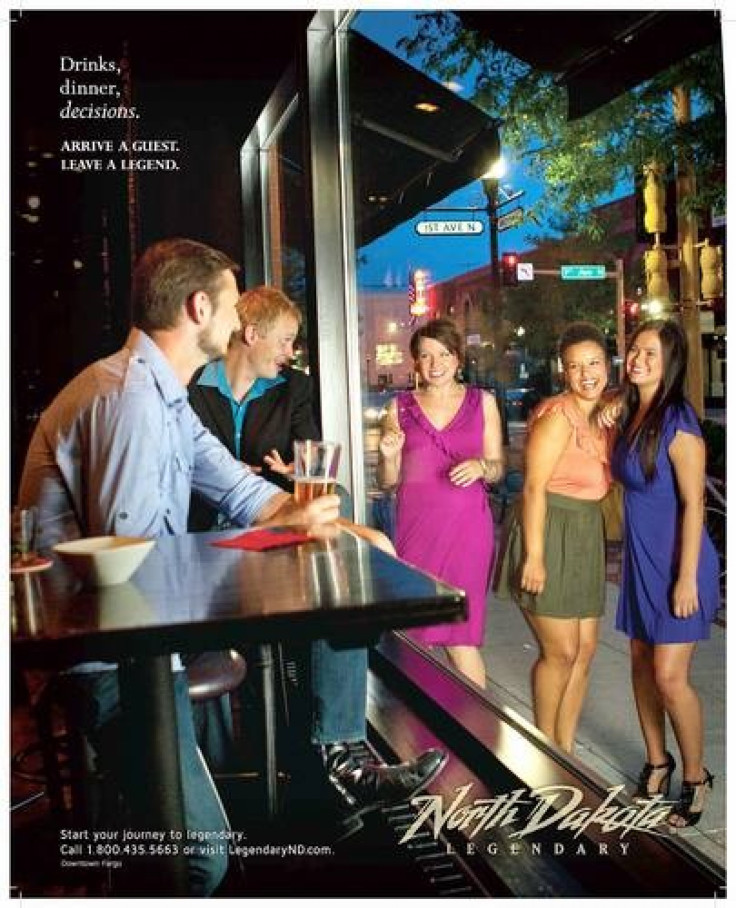 Last week, North Dakota's tourism department unveiled a new ad showing two guys staring at three girls at a Fargo bar with the text: Drinks, dinner, decisions. Arrive a guest, leave a legend.
The full campaign featured six 15-second television ads and 10 new print ads - but one of them got a lot more attention than the others.
I was shocked, Sara Otte Coleman, director of North Dakota's tourism division, told the International Business Times. I was really surprised. When you look at the ad in a series and you look at it melded in with all the other North Dakota experiences the ad is just an evolution of the series of 'legendary' branding in North Dakota.
The nightlife ad quickly drew criticism and late Thursday the state's tourism division yanked it from its Facebook page and attempted to explain its actions.
The reason we pulled the ad was because of the nature of the comments coming in across the social media sites, Coleman said. It was not something that we could endorse. It was very derogatory toward the models and it was taken down because of the crass comments.
Coleman claimed that the ad was simply meant to highlight the state's nightlife in a youthful way by showing a few young ladies on a girl's night out.
Yet, one of the biggest criticisms of the ad is the use of the words arrive a guest, leave a legend, when placed next to the image of two guys admiring three girls.
North Dakota has branded itself as Legendary for over a decade and tourism officials hoped to branch out from the traditional images of North Dakota as a destination only for nature-lovers.
People expect that all we have is national parks and natural beauty, Coleman said. People wonder if there will be nice meals and amenities - somewhere to see a play or have a drink.
She noted that Fargo -- where the ad was shot - has been ranked one of the top 10 up and coming cities in America and has a vibrant nightlife.
Though the ad was pulled last week, comments from outraged North Dakotans continue to pour in on Facebook.
That ad was just fine, Facebook user Rebecca Kasilag said. I don't agree with what others are saying about it. It was just some attractive young folks staring at each other with laughter in their eyes, it could have been about anything. Folks accusing you of putting in a racy ad need to keep THEIR heads out of the gutter.
How long do residents really want to perpetuate the belief that North Dakota women still wear wool petticoats and don't leave the kitchen, Megan Ehrenberg asked. I think the nightlife ad was great.
However others called it a campaign fail saying that it was sickening and inappropriate.
Patt Finken of Odney Advertising, the agency that created the ad, was quoted as saying that it was meant to be a little flirty, a little fun, but would not comment further when called on Tuesday.
Coleman said the whole ordeal's been really interesting because the ad was never meant for a U.S. audience. It was actually created to draw Canadians down to the state for a fun weekend getaway.
But now we've had a lot of eyes on it, Coleman joked. So maybe people will see that we do have plenty of restaurants, bars, and amenities in North Dakota.
© Copyright IBTimes 2023. All rights reserved.