Nvidia Steps Into The Cloud With New Hardware, the Nvidia GRID
CEO says the new hardware is "packed full of GPUs" to support cross-platform cloud gaming.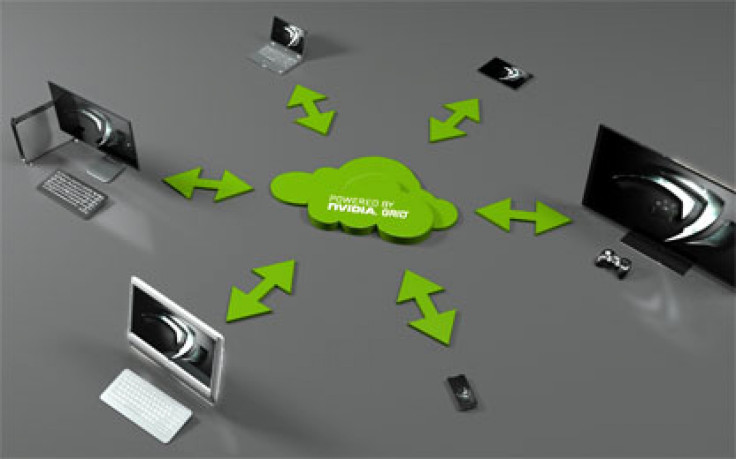 CES 2013 has only just begun, and graphics processing unit king Nvidia (Nasdaq: NVDA) is already taking a big step into the cloud for its new gaming technology.
At a press conference Sunday before the 2013 Consumer Electronics Show in Las Vegas, the Santa Clara, Calif.-based chipmaker introduced the Nvidia GRID, a new graphics card used for cloud computing to enable cross-platform gameplay among desktop PCs, smart TVs and smartphones. CEO and founder Jen-Hsun Huang spelled out the new card's capabilities on stage at a Las Vegas convention center to kick off its presence as CES this year. The GRID consists of a rack of 20 servers that can support up to 24 simultaneous users.
Much like other cloud-based gaming services like OnLive, GRID is "packed full of GPUs," Huang said, boasting a processing power equivalent to 240 of Nvidia's standard GPUs that is able to process up to 200 teraflops -- approximately the computing power of 700 units of Microsoft's (Nasdaq: MSFT) Xbox 360 video game console.
As Peter Relan, the CEO of the cloud gaming company Agawi, told us late last year, the idea for cross-platform gaming has long been seen as a natural step toward an integrated user experience similar to the way that movie viewers now enjoy Netflix on their TVs and mobile devices. But thanks to the public dilemmas faced by cloud gaming companies like OnLive, the question of successfully developing hardware to support robust computer graphics that strain even the most powerful gamer PCs through a cloud was less simple.
"They were just too early," Relan said of OnLive, whose cloud computing services were questioned when the company was hit with massive layoff last August. "I've heard that their idea of cloud-based gaming was when they did a trial in England, they had to put servers in planes and fly them. At 37,000 feet, that's one kind of cloud computing. But it's a different kind of cloud computing."
Nvidia, which has long been recognized as an industry leader for graphics processors along with its chief rival Advanced Micro Devices (NYSE: AMD), is eager to change this image. In a demonstration at CES, the company showed off GRID-powered gameplay across several devices, switching seamlessly between the separate devices. Huang also added a handful of partners already in NVIDIA's starting line-up for the GRID, including, Cloudunion, Cyber Cloud, G-cluster, Playcast, Ubitus, and Agawi itself.
We'll be bringing you more news on these companies and more throughout the week at CES.
© Copyright IBTimes 2023. All rights reserved.