NYC Man Exposes Genitals, Sexually Assaults Woman On Subway
Police are searching for a man who allegedly sexually assaulted a woman on a Manhattan subway and then pushed her when she tried to take a picture of him.
The 23-year-old woman was sitting on a southbound No. 1 train at around 11:25 a.m. Monday when an unknown man stood next to her. At some point, the man exposed his genitals and even made them touch the woman's right arm, the New York City Police Department (NYPD) said as per WABC-TV.
"I didn't freeze, I just immediately said 'What do you think you're doing? Why are you touching me?'" the woman said in an interview with the network.
Both the suspect and the victim got off at the 28th Street station. According to the police, the woman confronted the man and tried to take a picture of him using her phone. But the suspect grabbed the device out of her hand and threw it on the ground, breaking it, the New York Post said in a report.
The suspect then shoved the woman and she shoved him back before he fled the scene. The woman did not sustain any physical injury from the altercation, the police said.
The woman told WABC she had screamed for help after getting down at the platform. However, fellow passengers did not come forward to provide her any kind of assistance.
"After I entered the platform and I was just screaming and chasing after him and he had pushed me, all of that, people saw and just didn't do anything," she recalled. "I've been seeing so many Asian American stories out there. Just the hate crimes going on... and so I thought to myself, whether this was a hate crime or not if I ever get into an altercation, I wanna stick up for myself."
The NYPD later released a surveillance image of the man as well as a photo taken by the woman. Authorities are asking the public to help them identify the man in the photos.
The suspect is said to be in his 30s, about 5 feet 11 inches to 6 feet tall and weighing around 180 pounds. He has a medium build, black hair in dreadlocks and a black beard. He was last seen wearing a red headwrap, a red checkered face mask, a black T-shirt, black cargo pants and a pair of boots in black and tan, reported WPIX.
Anyone with information is asked to call the NYPD's Crime Stoppers Hotline at 1-800-577-TIPS (8477). Those who speak Spanish may dial 1-888-57-PISTA (74782).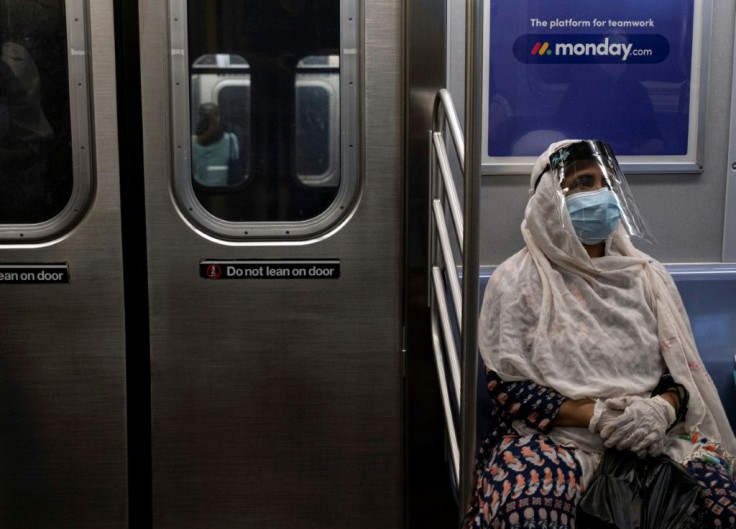 FOLLOW MORE IBT NEWS ON THE BELOW CHANNELS