Obama And Cameron Hail US-UK Relations Ahead Of Key Meeting On Syria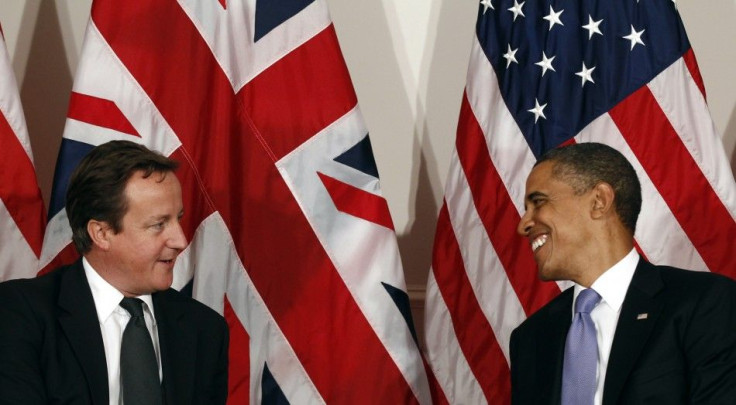 President Barack Obama is introducing British Prime Minister David Cameron to one of his favorite past times: college basketball.
A day before the two meet for extensive and serious talks in Washington, the two leaders will go to Dayton, Ohio for the opening games of the NCAA March Madness tournament. They will attend the match between Mississippi Valley State and Western Kentucky, who are competing for a spot in the 64-team tournament.
Wednesday's meeting, which is a precursor to the upcoming NATO and G-8 summits in May, will cover a range of topics, but is largely meant to highlight the relationship between the United States and the UK.
There's a strong working relationship and actually even a strong personal bond between Prime Minister Cameron and President Obama, White House deputy press secretary Josh Earnest said last week.
We maintain a special and... essential friendship and partnership with the government and people of the United Kingdom. The United Kingdom is our NATO ally and our closest partner in the world.
In a sign of that cooperation more significant than a college hoops game, the two leaders also penned an op-ed together for The Washington Post where they said that the U.S.-UK partnership is essential for dealing with persistent issues such as the state of the global economy, stopping al-Qaeda, and ending the violence in Syria.
All of these issues will be on the agenda for Wednesday's meeting.
With President Bashar al-Assad continuing to attack his own people, Syria may be the most time-sensitive topic. In the piece, Obama and Cameron outlined their plan to end the violence through diplomacy.
We condemn the Syrian regime's horrific violence against innocent civilians, they wrote.
With our international partners, we'll continue to tighten the noose around Bashar al-Assad and his co-horts, and we'll work with the opposition and the United Nations-Arab League envoy Kofi Annan to plan for the transition that will follow Assad's departure from power, they added.
© Copyright IBTimes 2023. All rights reserved.