Obama Mum On Mike Brown, Ferguson Riots, But Praises Robin Williams; Critics Notice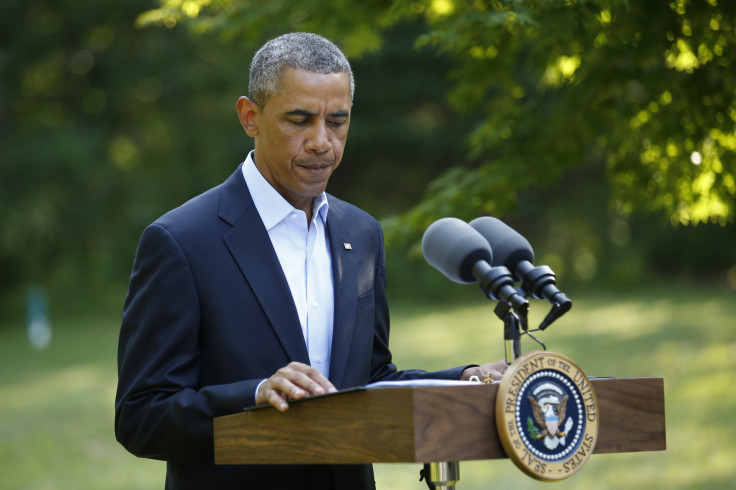 Updated Tuesday, 4:50 p.m.:
The White House issued the following statement on the shooting death of Mike Brown:
"The death of Michael Brown is heartbreaking, and Michelle and I send our deepest condolences to his family and his community at this very difficult time. As Attorney General Holder has indicated, the Department of Justice is investigating the situation along with local officials, and they will continue to direct resources to the case as needed. I know the events of the past few days have prompted strong passions, but as details unfold, I urge everyone in Ferguson, Missouri, and across the country, to remember this young man through reflection and understanding. We should comfort each other and talk with one another in a way that heals, not in a way that wounds. Along with our prayers, that's what Michael and his family, and our broader American community, deserve."
Original Story:
Less than three hours after Robin Williams' death was reported, President Barack Obama issued a warm tribute to the beloved actor. "Robin Williams was an airman, a doctor, a genie, a nanny, a president, a professor, a bangarang Peter Pan, and everything in between," Obama's statement read.
The sentiment may have comforted millions of fans in shock over the 63-year-old actor's apparent suicide, but for many of those mourning the death of Mike Brown -- the black teenager who was gunned down by police in suburban St. Louis on Saturday -- Obama's words added insult to injury.
For the last two days, Brown's supporters have been calling on the president to issue a statement condemning the 18-year-old's killing, which sparked a wave of unrest and looting in Ferguson, Missouri, on Sunday, amid a social media campaign calling for justice. Brown, a recent high school graduate, was scheduled to begin college on Monday. Although many details surrounding his death are still unknown, police confirmed that he was unarmed when he was shot and killed during an altercation on the streets of Ferguson.
Brown's killing followed two other recent incidents of African-American men being killed by police. On Sunday, Brown supporters launched a White House petition calling on Obama to issue a statement on all three killings and demand congressional action. Late Monday afternoon, when the president made brief remarks about new developments in Iraq, some had hoped he would take the time to weigh in on Brown's death. But the president did not veer from the topic at hand.
For many Twitter users, Obama's quickly issued statement on Williams' death on Monday made his continued silence on Brown that much more frustrating.
In 2012, the president issued a statement on the killing of Trayvon Martin, noting that, "If I if I had a son, he'd look like Trayvon." The sentiment was quickly twisted around and used as political ammunition by his foes on Capitol Hill.
Got a news tip? Email me. Follow me on Twitter @christopherzara.
© Copyright IBTimes 2022. All rights reserved.
FOLLOW MORE IBT NEWS ON THE BELOW CHANNELS