Obama's India Visit: Why China And Pakistan Remain The Elephants In The Room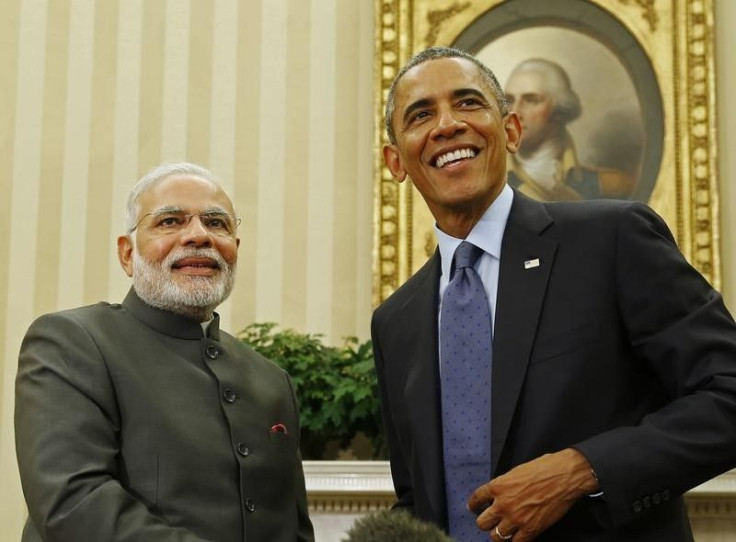 Each time India and the U.S. sit down to discuss defense and security, there are two proverbial elephants in the room -- Pakistan and China. On Sunday, when U.S. President Barack Obama and Indian Prime Minister Narendra Modi meet, it would be no different.
On Jan. 12, during a brief India visit, U.S. Secretary of State John Kerry had said that defense and security would be among the main issues on the agenda during Obama's visit. Early in December, an inter-agency U.S. delegation led by Puneet Talwar, U.S. assistant secretary of state for political and military affairs, had also come calling on New Delhi. Obama's India visit, his second as president, comes at a time when tensions between India and Pakistan are again on the rise, even as India's nuclear-armed western neighbor and arch rival grapples with fundamentalist Islamists, who are now training their guns on children as witnessed during an attack on a army-run school in Peshawar.
"I've made it clear that even as the United States works with Pakistan to meet the threat of terrorism, safe havens within Pakistan are not acceptable," he said, in an interview to India Today magazine. "Like people around the world, Indians and Americans were horrified at the senseless slaughter of so many students and teachers at the school in Peshawar, which was a painful reminder that terrorists threaten us all," he added.
And then there is the threat from organizations like the Islamic State group and al Qaeda, who have been recruiting members into their ranks from the Indian subcontinent. In December, it was reported that the Mumbai attacks of November 2008 could have been averted had India, the U.S. and the U.K. shared the available intelligence.
Obama follows at least two other important world leaders who have visited New Delhi in the last eight months, since Modi ascended to power as the head of a Bharatiya Janata Party government that won a landslide mandate ousting a decade-old regime led by the Congress party.
In September, just before Modi and Obama first met in Washington, Chinese President Xi Jinping was in New Delhi, followed by Russian President Vladimir Putin in December. Despite the bonhomie with China, India remains wary of its eastern neighbor's maneuvers in the Indian Ocean region, even as it remains mindful of the fact that Russia, its long-time friend, has of late warmed up to Pakistan, having signed a defense agreement with the latter. Moscow is reportedly also miffed with India over its growing dependence on the U.S. for its military purchases, even as a majority of India's arsenal continues to be of Russian origin. But, for the foreseeable future, India will continue to depend more on Russia than the U.S.
"Even if no new weapons are purchased, India will continue to need spare parts for the weaponry of Soviet/Russian origin and also depend on Russia for their upgrades and modernization," according to a research paper published by the New Delhi-based Institute for Defence Studies and Analysis, a government-funded think tank.
And ever since U.S. companies Boeing and Lockheed Martin were edged out of the race by their European rivals for a multi-billion dollar fighter jet deal, the U.S. has been pushing India to close at least half a dozen others that have been in the works for the last few years. These include deals on helicopters, reconnaissance planes and anti-tank missiles. In November last year, the Indian defense ministry cleared one of these -- a $2.5 billion deal to buy M777 howitzer guns from the U.S. But, other potential deals have languished.
Going by reports, all indications are that the two countries will try and expand the scope of their defense engagement. A report in NDTV, an Indian television network, said that the two countries could also allow each other to use their military facilities.
Yet, such close cooperation requires mutual trust, which, despite the positive overtures, has often been in short supply in the U.S.-India dynamic. In February 2013, for instance, Chuck Hagel, the current U.S. defense secretary, had said that India had "financed problems" for Pakistan, in Afghanistan. "India for some time has always used Afghanistan as a second front, and India has over the years financed problems for Pakistan on that side of the border. And you can carry that into many dimensions, the point being [that] the tense, fragmented relationship between Pakistan and Afghanistan has been there for many, many years," Hagel had reportedly said, drawing sharp criticism from India.
However, the U.S. now needs to lean on India to counterbalance China, which is also getting involved in Afghanistan. And India, fearing that a politically unstable Afghanistan could become a breeding ground for jihadists, would want the U.S. to stay on in that country for much longer and in good numbers. During his U.S. visit in September, Modi had said that the withdrawal of U.S. forces must be "slow and calibrated."
While opinion is divided on how much tangible progress would be made when Modi and Obama meet, hopes from the interaction of the leaders of the world's largest democracies run high. "I think the President's trip leaving this weekend, may well produce some very tangible and positive results" Hagel reportedly told reporters at a Pentagon news conference, according to NDTV.
© Copyright IBTimes 2023. All rights reserved.
FOLLOW MORE IBT NEWS ON THE BELOW CHANNELS