Ogden Utah Police Shooting: Suspect Matthew Stewart Is War Veteran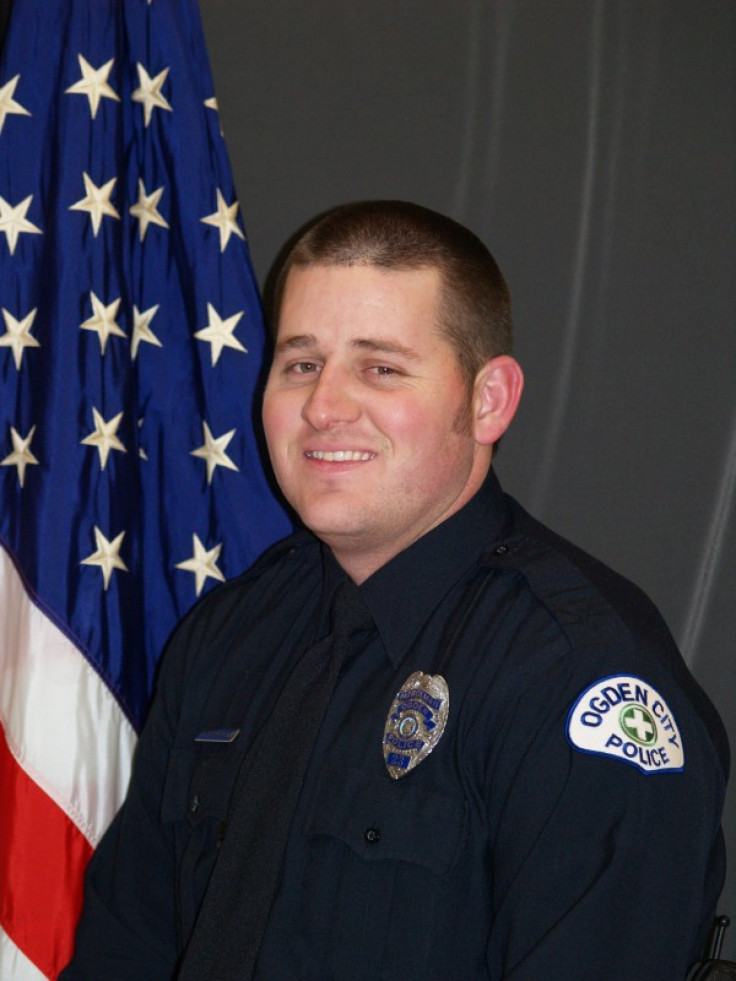 Six police officers were shot -- one fatally -- Wednesday night in Ogden, Utah, while trying to serve a drug-related search warrant.
One officer was killed in the shootout. The suspect, who neighbors say is a veteran of the Iraq War, has been hospitalized for unknown injuries and was allegedly self-medicating before the warrant was served.
Shootout During Ogden Drug Raid

The unexpected shootout began around 9 p.m. MST, after members of the multi-agency Weber-Morgan Narcotics Strike Force raided a home in Ogden, north of Salt Lake City.
Police knocked on the door and identified themselves, according to Chief Wayne Tarwater.
The order was for a knock-and-announce warrant, when officers knock to announce their presence. If no one answers, under certain circumstances, they will go ahead and enter the home.
That's exactly what happened, Tarwater said. When there was no answer, they forced entry onto the door. When they entered, the officers came under fire.
'It's a very, very sad day for Ogden.'
Six police officers were shot by resident Matthew David Stewart. They were Shawn Grogan, Kasey Burrell, Michael Rounkles, Sgt. Nate Hutchinson, Jason Vanderworf and Jared Francom. Twelve officers were on hand when the warrant was served.
Since the shootout, Ogden Regional Medical Center reports that Vanderwarf has been released, while Grogan, Burrel, Rounkles and Hutchinson are still being treated.
Francom died of his gunshot wounds. He leaves behind a wife and two young children.
It's a very, very sad day for Ogden, Tarwater told The Post.
Stewart has also been hospitalized with non-life threatening injuries. It's unclear if he was also shot.
'This is a family.'
Mayor Mike Caldwell called the shooting, which occurred on his first full day in office, a one in a billion event.
It's amazing what these officer do, [how they] put themselves in harm's way, he said.
It was an overwhelming first day in office, he added. We will be forever changed.
At a news conference with local press, Fox reports that several officers fought back tears as they discussed the Ogden shooting. Tarwater said 40 officers from seven different agencies visited the wounded cops Wednesday night.
This is a family. This is a law enforcement family, he said. The law enforcement community is mourning.
Suspect Was War Veteran
Police said Stewart, 37, had a minor police record, which Utah court records reveal to be a class B misdemeanor count of operating a vehicle without insurance. Investigators declined to give any more information on the suspect.
According to Stewart family neighbors, the shooter was an Iraq War veteran who suffered from depression and kept mostly to himself.
We'd see each other across the yard and say hello, Jerri Johnson told The Tribune. My ex-husband knew him and knew that he was an Iraq veteran. My ex-husband had also been in Iraq.
But according to an Army spokesman, Stewart was stationed at Fort Bragg in North Carolina in the 1990s before serving in Germany until 1998, when he left the military for good. He received an Army Achievement Medal and a National Defense Service Medal.
Michael Stewart, the suspect's father, told KUTV News that his son suffered and was self-medicating, but denied he had any plans to sell the narcotics: My son is no drug dealer.
'Chaotic end to a quiet night.'
The Ogden shooting follows a year in which U.S. cities saw an increase in officers killed while in active duty.
The number of officers who died in 2011 increased 16 percent nationwide from last year, according to the National Law Enforcement Officers Memorial Fund.
Mat Weinberger, who lives half a block away from Stewart, told The Salt Lake Tribune that at first he thought the noise was just kids playing with fireworks. Chaotic end to a quiet night, he told the paper.
He remembered hearing between 30 to 40 shots fired.
Those officers not wounded in the shootout continued to search the home, but would not say what they found, or what they were looking for. [The warrant] was based on probable cause there was drug activity in that location, Tarwater said.
© Copyright IBTimes 2023. All rights reserved.