Olympus Reported Considering Link with Electronics Majors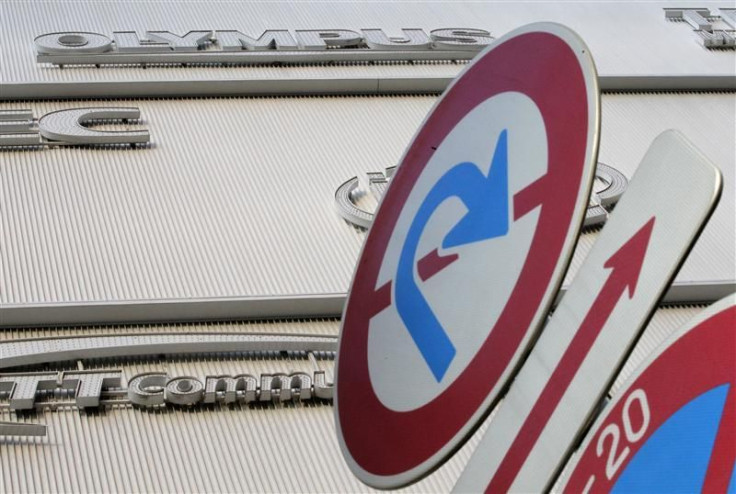 (Reuters) -- Japan's scandal-ridden Olympus Corp is considering an equity alliance with five prospective investors, including electronics groups Sony, Panasonic and Samsung Electronics, a Tokyo newspaper said Thursday.
Olympus, a maker of cameras and medical equipment, has been wounded by a $1.7 billion accounting fraud that burst into the open in October, shredding its share price and leaving its management in disgrace and its balance sheet in need of capital.
The Asahi Shimbun newspaper listed the three electronics giants as among those prepared to inject fresh capital into Olympus in return for a stake in the company and a seat at the table of the global healthcare industry.
Olympus dominates the global market for gastro-intestinal endoscopes, regarded as the kind of high-tech, profitable and stable business that major electronics firms would covet.
The newspaper listed the other two candidates as Japan's Terumo Corp, a medical equipment firm, and Fujifilm Holdings, which also makes endoscopes and has long been rumored to be interested in Olympus.
Olympus planned to decide on a tie-up as soon as February, the Asahi said, citing sources familiar with the matter.
The report follows persistent speculation that electronics firms are interested in Olympus's endoscope business.
But both Samsung and Panasonic had only this week issued denials, though these failed to extinguish talk in Japan that an electronics firm might yet take a stake in Olympus, once the company has finally put the accounting scandal behind it.
Sony Chairman and President Howard Stringer, speaking at the Consumer Electronics Show in Las Vegas this week, declined to comment on speculation that his firm was also interested in Olympus, saying it was inappropriate to comment at present.
Panasonic President Fumio Ohtsubo, speaking at the same event, said: The situation is unclear so we aren't doing anything at this time.
And Han Myoung-sup, head of Samsung's digital camera operation, said in Las Vegas the South Korean firm was not interested in acquiring Olympus. There'll be not much to gain from doing M&As, as we already have strong brand value.
Olympus's camera business runs at a loss.
(Reporting by Chikafumi Hodo in Tokyo and Miyoung Kim and Timothy Kelly in Las Vegas; Editing by Joseph Radford and Alex Richardson)
© Copyright Thomson Reuters 2023. All rights reserved.