'One Piece' 1048 Summary: Great Flame Fire Dragon Vs Monkey God Gun
KEY POINTS
"One Piece" 1048 is scheduled to release next Sunday
The upcoming chapter is titled "Twenty Years"
"One Piece" 1048 continues the epic roof fight between Kaidou and Luffy
"One Piece" 1048 spoilers tease that the epic battle on the roof of Onigashima is reaching its zenith. Legendary mangaka Eiichiro Oda is slowly bringing out the big guns by unraveling the powered-up Kaidou and Luffy's surprising new attack that fans have been speculating about for too long.
The summary of "One Piece 1048'' is now available. According to insiders, the upcoming manga installment is titled "Twenty Years." The chapter reportedly starts with Oden's heir Momonosuke pushing Onigashima away from the Flower Capital.
Kaidou is still on the roof of the Skull Dome and based on the summary, it looks like the emperor of the sea and the strongest creature alive survived Luffy's powerful attack in the previous chapter. Kaidou transforms into a fire dragon using a technique called Great Flame Fire Dragon.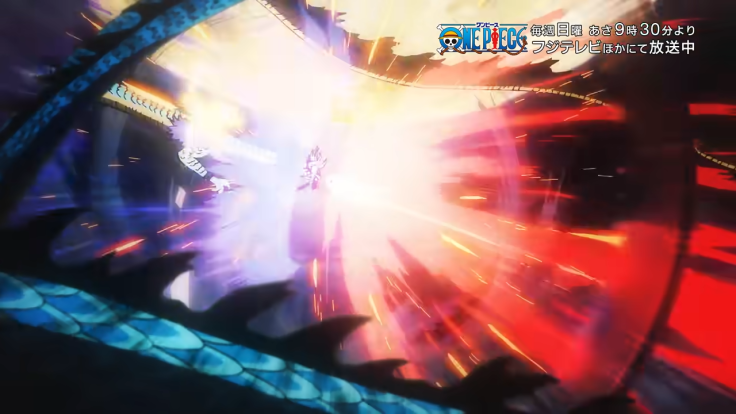 This new form allows the yonko to be so powerful that everything that touches his body will melt. Luffy, the Worst Generation pirate who swore to defeat Kaidou, also became powerful and used a new attack called Gomu Gomu no Bajrang or Monkey God Gun.
Fans have long been anticipating that Luffy would transform into Sun Wukong, the Chinese mythological character also known as the Monkey King. Sun Wukong battled with and defeated the Dragon King and other sea demons. Some fans think this is what's going to happen in the fight soon with the first hint now available. While fans are excited, it is still anybody's guess if Oda has planned that Luffy is going to turn into Sun Wukong.
"One Piece" 1048, according to spoilers, features Kawamatsu, who is nostalgic about the events that took place in Wano Kuni a couple of decades ago. He remembers the fire that burned down the Kuri Castle, Kaidou discovering that Oden has a son, the slaughter of the people in the closed country, the rebellion of the Daimyo, including Tonoyasu, and the three samurai Yamato meeting at the cave.
"One Piece" 1048 also shows Orochi in the present day, still on fire but already in his hydra form, attempting to take Komurasaki or Hyori away. But, Denjiro arrives and cuts off his head. Below, in the Flower Capital, people send their wishes with some of them hopeful that Orochi would die, while others wish to get out of the cesspool that is Wano.
The last panel of the upcoming chapter features Kaidou and Luffy preparing to clash using their respective powerful attacks. "One Piece" 1048 is slated to release coming Sunday. The raw scans could surface online sometime between Thursday and Saturday.
© Copyright IBTimes 2023. All rights reserved.
FOLLOW MORE IBT NEWS ON THE BELOW CHANNELS