Panama Papers: UEFA Headquarters Raided By Swiss Officials After FIFA President Implicated In Data Leak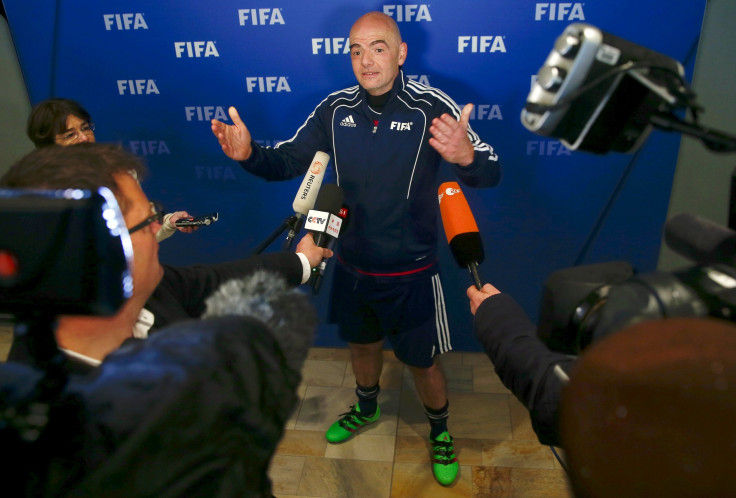 Swiss police raided the headquarters of the Union of European Football Associations in the city of Nyon Wednesday to seize contract details, less than a day after the Panama Papers revealed that new FIFA President Gianni Infantino co-signed contracts with a company that is central in the soccer authority's corruption scandal.
In particular, the raids sought contract information from a deal in which UEFA sold broadcasting rights to an Argentinian company owned by Hugo Jinkis, who was indicted in the United States last year for fraud and bribing FIFA officials, according to the Telegraph. Those rights, the Panama Papers revealed, were immediately sold to another broadcaster for about three or four times the amount that was paid. Then-UEFA director of legal services Infantino, who has previously denied any connection to the soccer scandal, co-signed the sale to Jinkis' company, the vast document leak from a Panama City law firm revealed.
It is not clear if the connections revealed by the Panama Papers are illegal in any way, but the fact that Infantino and UEFA have consistently and categorically denied involvement of any kind is yet another setback for the soccer organization after a year of tough press. UEFA released a statement following the Swiss raids indicating that any past statements made that are proven false are the result of the major task of reviewing thousands of contract documents — not the result of being intentionally misleading — and that it is fully complying with warrant requests from Swiss officials.
Panama Papers Leak vs. Other Whistleblower Leaks | FindTheData.org
"I am dismayed and will not accept that my integrity is being doubted by certain areas of the media, especially given that UEFA has already disclosed in detail all facts regarding these contracts," Infantino said Tuesday after the Panama Paper reports were published.
The Panama Papers, the largest data leak in history, revealed a vast network of offshore financial deals in Panama, including alleged tax evasion and money laundering by many world leaders, their families and associates.
© Copyright IBTimes 2023. All rights reserved.
FOLLOW MORE IBT NEWS ON THE BELOW CHANNELS