Parents Outraged After Scientology-Sponsored Group Delivers Anti-Drug Messages At New York City Schools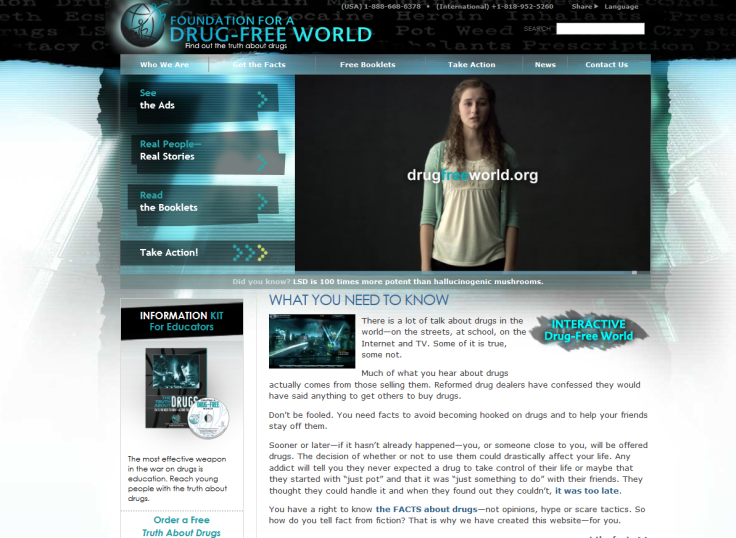 Some New York City parents are outraged after a Scientology-backed group held anti-drug presentations at 30 New York City public schools last year. The Foundation for a Drug-Free World, a nonprofit sponsored by the Church of Scientology, made the announcement on its Facebook page on Jan. 23. The group said the free anti-drug programs were given to elementary, middle and high school students in each of the five boroughs as well as New York City Police Department youth programs.
"We didn't know anything about that, but Scientology, to me, it's a kind of ungodly thing that I don't really support," Claude Baptiste, who has a son in the sixth grade at Junior High School 14 in Sheepshead Bay, Brooklyn, told the New York Daily News. Photos of the foundation at J.H.S. 14, P.S. 111 in Manhattan and Bronx Regional High School were shared on its Facebook page. "I wouldn't want my kids to be a part of it, it's not based on my fundamental religious beliefs."
The group, founded in 2006, is described as a nonprofit organization "dedicated to the eradication of illicit drugs, their abuse and their attendant criminality," according to the Church of Scientology's website. Meghan Fialkoff, the executive director of the organization's Northeast chapter affirmed in a statement that it is a "secular program" that has received orders from more than 500 educators in New York for their material. Critics, however, say that the program's materials use pseudoscience and fear, not facts.
A City Limits reporter attended a presentation run by the foundation at an after-school program in Queens in June. The presenter, David Tidman, told a group of teenagers that LSD and other drugs can cause flashbacks.
"A certain amount of that drug or medicine stays in your body for weeks, months, even years, and later on what happens is it can dislodge from the fat tissue and reactivate in your body," he said.
Dr. Amir Garakani, a psychopharmacology specialist at Mount Sinai Hospital, told City Limits that while LSD has been linked to flashbacks, there is so scientific basis that other drugs cause similar side effects. "There's no pharmacological basis for that. It's not accurate," he said.
The idea that drugs can be stored in the body for years and reemerge years later, causing users to become high again, stems from a belief purported by L. Ron Hubbard, the founder of the Church of Scientology. In his book "Clear Body, Clear Mind" he claimed the human body stories lipid-soluble drugs for years. This belief is seen in the church's drug rehabilitation program Narconon, which uses saunas for participants to detoxify themselves. All of this contributes to entering a state of mental purity that Scientologists call "clear."
The group's program materials claim that cocaine can lead to "depression so severe that a person will do almost anything to get the drug -- even commit murder" or suicide. Another pamphlet said heroin can cause spontaneous abortions in women. A video on the foundation's website shows a group of teen actors speaking about their drug use. The minutelong video quickly turns graphic, showing teens pointing guns, stealing, running from law enforcement and falling unconscious while driving -- all presumably caused by the drugs to which they were addicted.
The Department of Education says they refer schools to community-based organizations to provide drug counseling. They do not refer the foundation or its services nor are they involved in any kind of partnership with the organization. Schools can still use outside organizations, however, as long as they don't violate any laws or department regulations, including having a religious instructor.
Fialkoff asserts that the program is secular and that the Church of Scientology is among one of its many sponsors. "We have been to more than 600 locations in the city, including public schools, private schools, religious organizations and after-school programs," she said.
Jerry Otero, youth policy manager at the Drug Policy Alliance and drug prevention programmer at the New York City Department of Education, told DNAinfo that the foundation is taking advantage of a support staff shortage in the public school system. In 2009, hundreds of school support staff, including drug counselors, were laid off.
"I know it parades around as an evidence-based prevention program and not everyone really knows its genesis or its roots," he said. "They found a gap where they can insert themselves."
This isn't the first time an organization tied to the Church of Scientology has been accused of purporting inaccurate information in schools. In 2005, California's Department of Education conducted a review of Narconon after it led presentations in its public schools. The review, conducted by 14 independent experts on substance abuse and health education, found the group inaccurately stated that "drugs are stored in fat and later released," they can "burn up vitamins and nutrients resulting in pain and relapse" and marijuana induces vitamin-loss which causes the "munchies."
Otero said New York City schools should refer to more reliable materials to teach students about substance abuse. "We can help kids by providing them with honest, scientific information," Otero said. "Without using scare tactics, we can promote an understanding of the legal and social consequences of drug use."
The Church of Scientology did not return International Business Times' request for comment.
FOR FREE to continue reading
✔️ Unlock the full content of International Business Times UK for free
offer available for a limited time only
✔️ Easily manage your Newsletters subscriptions and save your favourite articles
✔️ No payment method required
Already have an account?
Log in
© Copyright IBTimes 2023. All rights reserved.